RELEASE DAY REVIEW: Like Father, Like Son by Sarah Masters

Author: Sarah Masters
Book: Like Father, Like Son
Page/Word Count: 140 pages, 50K words
Categories: Gay Romance, Mystery & Suspense
Release Date: September 19th 2017
Publisher: Pride Publishing
Cover Artist: Posh Gosh
Buy Links:




Blurb: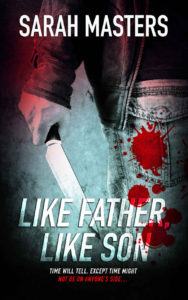 Murder is never a good thing…
Fingertips have been turning up in various locations around the city. The problem is, Detective Inspector Matt Blacksmith has no idea why they're being left where they are. He knows who they belong to, though, so that's something. However, the man they used to be attached to isn't anywhere in sight, and Matt worries he's been killed.
Detective Sergeant Aaron Thaxter is the man who has stuck by Matt through thick and thin for the past few years. In and out of bed, he's always there, the steadying hand that keeps Matt from drowning in the memories of his past. When the case takes a murky turn, forcing Matt to acknowledge those memories yet again, Matt is grateful that Aaron is there to help him.
Robby Zeus knows that being in a gang isn't all it's cracked up to be. Despite his dreams of being someone to be feared and respected, now that the reality of being in a gang has slapped him hard around the face, he's desperate not to get himself into any more trouble. With the help of Matt and Aaron, Robby faces being wrenched from the only life he's ever known to somewhere safe, away from the gang, where he can live a good life with his ma. But things have never been that easy for Robby. Can he be free from the leaders of the two gangs he's tied to?
Time will tell. Except time might not be on anyone's side…

4✨s – Sarah Masters is a new author for me and I was drawn to this because I enjoy mystery and suspense. But there's a different sort of suspense story here than I expected. Alternating POV's between Robby, the witness, and Matt, provide an unusual perspective into the thoughts of a wanna-be gang leader and a driven, principled police detective. A couple of scenes are a tad gruesome and the narrative is sometimes stark, yet it still grabs the attention. Robby is a remarkable character, depicted with intense realism as he begins, nearly too late, to see the true consequences of choices he's made. As he says of himself, he's not the smartest of men but has the capacity for self-reflection, even as his resolve weakens.
Matt is dedicated, empathetic and pragmatic, and has trouble keeping his perspective when an unexpected personal connection to the case comes up. Aaron, his partner in all ways, is a quiet, solid figure in the background mostly, but I could sense the strength and support Matt drew from him. Their exchanges of dialogue were often witty and loving under the mundane words they used. The plot is all suspense, as the case is mostly laid out from the start. I did feel kind of dropped into the middle of the story for a while, as both the relationship and case were already underway as it began. It drew me in quickly though, and kept me turning pages to get to the outcome. The closing scenes include a brief intimate and tender exchange that encapsulates the dynamic between Matt and Aaron, and the epilogue finishes the narrative quite nicely.
I'd recommend this for anyone preferring a less predictable style of suspense in an urban British setting, with a more cerebral storyline and not relying on any sexual component. It's quite gripping in its own way and ultimately a very satisfactory tale.
About Sarah Masters:
Sarah Masters is a multi-published author in three pen names writing several genres. She lives with her husband, youngest daughter, and a cat in England. She writes at weekends and is a cover artist/head of art in her day job. In another life she was an editor. Her other pen names are Natalie Dae and Geraldine O'Hara.
Sarah also co-authors with Jaime Samms, and as Natalie Dae she co-authors with Lily Harlem under the name Harlem Dae.