RELEASE DAY REVIEW: Manny Get Your Guy by Amy Lane

Author: Amy Lane
Book: Manny Get Your Guy
Series: The Mannies
House Line: Dreamspun Desires
Page/Word Count: 236 pages, 57K words
Categories: Contemporary Romance, Gay Romance
Release Date: July 1, 2017
Publisher: Dreamspinner Press
Cover: Paul Richmond
Buy Links: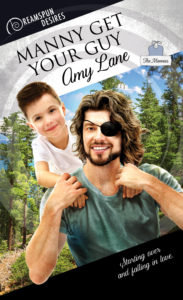 Blurb:
Starting over and falling in love.
Tino Robbins's sister, Nica, and her husband, Jacob, are expecting their fifth child. Fortunately, Nica's best friend, Taylor Cochran, is back in town, released from PT and in need of a job.
After years in the service and recovering from grave injury, Taylor has grown a lot from the callow troublemaker he'd been in high school. Now he's hoping for a fresh start with Nica and her family.
Jacob's cousin Brandon lives above the garage and thinks "Taylor the manny" is a bad idea. Taylor might be great at protecting civilians from a zombie apocalypse, but is he any good with kids?
Turns out Taylor's a natural. As he tries to fit in, using common sense and dry wit, Brandon realizes that Taylor doesn't just love their family—he's desperate to be part of it. And just like that, Brandon wants Taylor to be part of his future.

4✨s – I really enjoyed The Virgin Manny and was happy to see that the Robbins family was back in another installment. Fast forward a few years and Taylor, the bad boy of the first book plays a starring role as an injured veteran trying to rebuild his life and find his place in the world. His past isn't something he's proud of, he's jaded and broken, and—in his mind, no match for innocent, eager-to-love and be loved Brandon.
To be honest, I didn't like Brandon as much as I wanted to. He appears on page full of love and gratitude for his cousin Jake, Jake's wife (Tino's sister) Nica, their brood of 4 (soon to 5), and the whole extended family. That should have endeared him to me, but his instant dislike of Taylor annoyed me. Yes, Taylor has a history with Nica, Jake isn't exactly thrilled that he's being considered for the manny position, and the tension is palpable. However, Brandon's whole reaction from "who's that hot guy" to "oh hell no" happened so fast, it couldn't be attributed to the past he really didn't know. Translating that into insta-like/lust/love was eh, but then he became pushy about it. Like won't take no for an answer pushy that kept be attributed to his age and inexperience. This man was in his twenties, so that ticked me off.
But then there were other things that made me want to forgive him. The way he wanted to be Taylor's hero, his own family drama and the way they treat him, and mostly how desperately Taylor wants him to be real. In the end, I wanted him to be real for Taylor, I wanted all that stupidity to just be age and inexperience because Taylor needed someone to believe in…and in that way, for Taylor, I wanted to believe they would live happily every after.
Another big plus was seeing that Tino and Channing's own family grew, how big Sammy got, and knowing Nica and Jacob made it all work (in spades). The Robbins are the unofficial star of this series so far, with the family everyone wants to be part of, and I hope that continues.

About Amy Lane: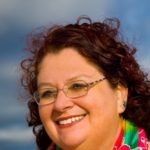 Angst and pain, Amy Lane Amy Lane has two kids in college, two gradeschoolers in soccer, two cats, and two Chi-who-whats at large. She lives in a crumbling crapmansion with most of the children and a bemused spouse. She also has too damned much yarn, a penchant for action adventure movies, and a need to know that somewhere in all the pain is a story of Wuv, Twu Wuv, which she continues to believe in to this day! She writes fantasy, urban fantasy, and m/m romance–and if you accidentally make eye contact, she'll bore you to tears with why those three genres go together. She'll also tell you that sacrifices, large and small, are worth the urge to write.
Where to find Amy Lane:






July's Blog Contest:
Leave a comment for an entry into a contest to win a $25 Dreamspinner Gift card. Every comment left on a blog post in June will equal one entry, so comment often!