RELEASE DAY REVIEW: Misdemeanor by C F White

Author: C F White
Book: Misdemeanor
Series: Responsible Adult, Book #1
Page/Word Count: 226 pages, 77K words
Categories: Gay Romance, Contemporary Romance
Release Date: July 4, 2017
Publisher: Pride Publishing
Buy Links: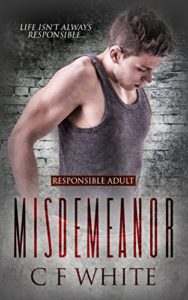 Blurb:
Love isn't always responsible.
After his mother tragically dies and his deadbeat father goes off the rails, nineteen-year-old Micky is left to care for his disabled little brother, Flynn.
Juggling college, a dead-end job and Flynn's special needs means Micky has to put his bad-boy past behind him and be the responsible adult to keep his brother out of care. He doesn't have time for anything else in his life.
Until he meets Dan…

3✨s – If you're looking for some angst this book series is for you. Misdemeanor is book one in what will be a trilogy. Again, I didn't read the entire blurb so I didn't realize it was book one, thus my super surprise at the mega cliffy!
There were so many interesting and well done parts to this book. Lots of very dark and difficult themes, some handled better than others.
Micky has it rough. He's 19, sole caregiver to his little brother Flynn and has a crazy HUGE chip on his shoulder. Throughout the book you get more insight into why and how that chip got so big, but my goodness I don't know how Micky is able to stand upright. His character is complicated, frustrating and just chock full of angst. Yet he tries, he's so good to Flynn, he wants to be better in so many ways. His self-sabotaging will make you pull your hair out and scream at your kindle!
Then there's Dan. He's just sailing through life, works hard and has a soft heart. When he meets Micky the sparks fly, but the age difference and lives they lead are a huge barrier.
The two of them are so flipping sweet together though, and Dan with Flynn had me swooning.
Difficulties for me:
Very British book, so much so it took me out of the story at times.
Very uncomfortable with the character Dougie. So one sided, and honestly they spent so much time talking about his weight, how unkempt he was and how he's constantly shoving food in his mouth. Seemed mean, and unnecessary to the story.
The angst. The back and forth was insane. The maturity was just not there in Micky's character, and only a little better in Dan.
Jason and his twin-just ugh. There were several characters that were just so terrible-looking at you Jack and Aaron's dad- adding another layer of irritation to an already frustrating story.
Then that cliffhanger!
I will read book two with strong hopes for some resolutions and a touch of light at the end of their tunnel.
About C F White: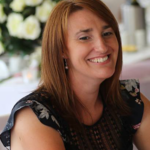 Brought up in a relatively small town in Hertfordshire, C F White managed to do what most other residents try to do and fail—leave.
Studying at a West London university, she realised there was a whole city out there waiting to be discovered, so, much like Dick Whittington before her, she never made it back home and still endlessly searches for the streets paved with gold, slowly coming to the realisation they're mostly paved with chewing gum. And the odd bit of graffiti. And those little circles of yellow spray paint where the council point out the pot holes to someone who is supposedly meant to fix them instead of staring at them vacantly whilst holding a polystyrene cup of watered-down coffee.
She eventually moved West to East along that vast District Line and settled for pie and mash, cockles and winkles and a bit of Knees Up Mother Brown to live in the East End of London; securing a job and creating a life, a home and a family.
Having worked in Higher Education for most of her career, a life-altering experience brought pen back to paper after she'd written stories as a child but never had the confidence to show them to the world. Having embarked on this writing malarkey, C F White cannot stop. So strap in, it's gonna be a bumpy ride…
Where to find C F White:



July's Blog Contest:
Leave a comment for an entry into a contest to win a $25 Dreamspinner Gift card. Every comment left on a blog post in June will equal one entry, so comment often!