RELEASE DAY REVIEW: Never Let You Go by Andrew Grey

Author: Andrew Grey
Book: Never Let You Go
Series: Forever Yours, Book #2
Page/Word Count: 200 pages, 60K words
Categories: Gay Romance, Contemporary Romance
Release Date: September 8, 2017
Publisher: Dreamspinner Press
Cover: L.C. Chase
Buy Links: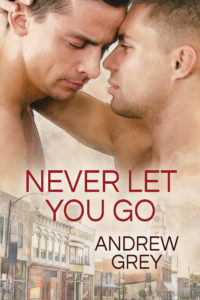 Blurb:
Friends since they met in school, Ashton and Brighton soon become much more. Ash and his aunt are Brighton's haven away from his mess of a family, and when Ash enlists in the Army, Brighton learns to endure his long absences and eagerly awaits his return from missions.
Until one day Ash doesn't come back, and Brighton thinks his greatest fear has come true.
Months pass and Brighton grieves for Ash, not knowing that a terrible misunderstanding sent Ash running, unable to cope when he thought Brighton had betrayed him. Even after an emotional reunion, their relationship isn't the same—Brighton is now responsible for his young niece, and he's having a hard time rediscovering the trust he once had in Ash. Ash must still tend to his mental health, but before he can, he'll have to deal with a past secret that puts all their lives at risk. With so many forces determined to tear them apart, can Brighton and Ash hold on to each other and never let go?

4✨s – Sigh….. I've never read a single Andrew Grey book I didn't love.. especially when he writes hot guys with kids. I'm a sucker for that.. This one, was no different, although I wanted to "lovingly" throat punch these two a couple of times.
See, we get a heartbreaking beginning when war hero, Ash comes back from his last mission a LOT longer than he was supposed to be gone for. Having been taken prisoner and held for months and spending the rest of the time recuperating in rehabs and hospitals; the only thing that kept him alive was getting back to his Aunt that raised him and the love of his life, Brighton.
Unfortunately, things aren't the way he hoped when he got back… it's a big mess. A mess that could've been cleared up had things gone differently…. Vague? Yeah, sorry… I don't wanna give anything away… Anyway, so, Ash is back in town and trying to settle in with his Aunt and figure out what he's going to do with himself now that he's home for good…. Easier said than done, when you think the love of your life has moved on and started a family…which is partly true… Brighton did become the guardian of the cutest little girl, his niece… and like I said.. hot guys with kids is so my thing, so I loved that aspect and it made Ash redeemable in my eyes because he's just all around great with her.
Now, once things get worked out in a comfortable way for Ash, the threat of the past comes back and rears it's ugly head. He warred with what to do, leaving to make people safe or staying to keep them safe himself…. Either way, he had the people he loved, best interest at heart and you can't fault him for that…it's admirable, even.
I thought that Brighton could've been a bit more understanding to what Ash had been through. Maybe he was being paranoid, but after what he'd been through, he deserved to be overly cautious. I hated that anyone called him an idiot or said that he messed up… he did it because he thought it was the right thing to do. So, shame on Brighton and even Aunty Petey, and between you and me, the cousin really got on my nerves. I wasn't a fan of him… Brighton's mom too, they both rubbed me the wrong way…
BUT, where there's a will, there's Andrew Grey and he did not disappoint with that ending. Alls well that ends well and everything works out the way it's supposed to; with everyone, happy and healthy and in love. This was a cute little story about a second chance. I'll always be a fan.

About Andrew Grey: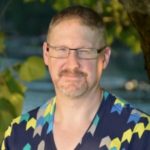 Andrew Grey is the author of nearly 100 works of Contemporary Gay Romantic fiction. After 27 years in corporate America, he has now settled down in Central Pennsylvania with his husband Dominic and his laptop. An interesting ménage. Andrew grew up in western Michigan with a father who loved to tell stories and a mother who loved to read them. Since then he has lived throughout the country and traveled throughout the world. He has a master's degree from the University of Wisconsin-Milwaukee and now writes full time. Andrew's hobbies include collecting antiques, gardening, and leaving his dirty dishes anywhere but in the sink (particularly when writing) He considers himself blessed with an accepting family, fantastic friends, and the world's most supportive and loving partner. Andrew currently lives in beautiful, historic Carlisle, Pennsylvania.
Where to find Andrew Grey: