RELEASE DAY REVIEW: New Lease by B.G. Thomas
Author: B.G.Thomas
Book: New Lease
Page/Word Count: 46 pages, 12K words
Categories: Gay Romance, Contemporary Romance
Release Date: April 12, 2017 (re-release)
Publisher: Dreamspinner Press
Cover: Bree Archer
Buy Links:





Blurb: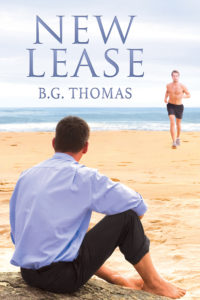 Wade Porter spent his whole life in the shadow of a lover who doled out snippets of love and time as he saw fit—and who insisted that love stay deep in the closet. But now that man is gone, and Wade finds the oceanside cottage where they spent so many weekends together in the Florida Keys cold and empty. He has come one last time, not even sure he wants to keep living.
To his surprise, the house next door is occupied by another bereaved and lonely man. Kent Walker is an artist of romantic gay paintings who is open to the future—and determinedly interested in Wade. Kent wants to show Wade the beauty in being an openly gay man and the possibilities for a real relationship.
Maybe Kent can help Wade let go of the past and discover a better way to live—and love.
Author's Note: First Edition published in Two Tickets to Paradise by Dreamspinner Press, 2012.

3.5✨s – At twelve thousand words, New Lease felt more like an extended prologue than a story and as the beginning of Wade and Kent's affair, I guess that's pretty accurate.
Wade has returned to Key West off season to spend one last week in the bungalow he shared with his former lover. I won't call him partner because Gene was married to a woman for the entirety of their relationship. So, for twenty years, Wade accepted being the other person, the dirty little secret, living off the scrapes of a controlling older man who shaped his entire view on relationships and even being gay.
Aside: I know cheating is a no-go for so many so, I'll say that for me, Wade's memories of how it played it out made it…not palpable, but realistic. There's a lot to be mad at Gene for, but where I'd normally give the stink eye to the "other person," I just felt sorry for Wade.
At the lowest point in his life, Wade is ready to end it all when he spots Kent in the bungalow next door. Kent is also mourning a lover, but his relationship was healthy, open and loving…something Wade has never experienced in his life. With both their emotions so close to the surface, they lean on each other and it's through Kent's worldview that Wade realizes how truly limited and unfulfilling his own life has been.
Together, they just might be able to help each other heal…at the very least…and maybe it's the start of second chapter for both of them. The ending was more in the moment than a promise for the future, but it was filled with potential that made it sweet.
Overall, a quick, enjoyable read meant to tug the heart strings.

About B.G.Thomas:

B.G. Thomas lives in Kansas City with his husband of more than a decade and half, and that marriage has been legal since 2014! They share their home with their fabulous dogs, Sarah Jane and Oliver. He is lucky enough to have a lovely daughter as well as many extraordinary friends.
B.G. loves romance, comedies, fantasy, science fiction and even horror—as far as he is concerned, as long as the stories are character driven and entertaining, it doesn't matter the genre. Since he's gone conventions since he was fourteen years old, he's been lucky enough to meet many of his favorite writers, many of whom inspired him to pursue his own writing dreams.
Excited about the growing male/male romance market, he decided to begin writing for the first time in years. Gay men are what he knows best, after all. He submitted his first story in years and was thrilled when it was accepted in only four days, and since then has had over thirty short stories, novellas and novels published.
"Leap, and the net will appear" is his personal philosophy and his message to all. "It is never too late," he states. "Pursue your dreams. They will come true!"
Where to find B.G.Thomas:





Other books by B.G.Thomas:
[amazon_link asins='B00D2K4ZQ0,B00JXNCLHK,B00M4U4HSK,B00WFAPUYY,B01LZ1A97Q' template='ProductCarousel' store='jegbo07-20′ marketplace='US' link_id='6d80679c-1f6c-11e7-b723-c379da2eee95′]