RELEASE DAY REVIEW: Off the Beaten Path by Cari Z.

Author: Cari Z.
Book: Off the Beaten Path
Page/Word Count: 200 page, 67K words
Categories: Gay Romance, Shifter Romance
Release Date: September 18, 2017
Publisher: Dreamspinner Press
Buy Links:





Blurb: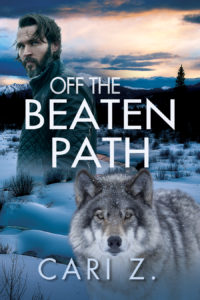 When Ward Johannsen's little girl Ava shifted into a werewolf, she was taken into custody by the feds and shipped off to the nearest pack, all ties between father and daughter severed. Ward burned every bridge he had discovering her location, and then almost froze to death in the Colorado mountains tracking her new pack down. And that's just the beginning of his struggle.
Henry Dormer is an alpha werewolf and an elite black ops soldier who failed his last mission. He returns home, hoping for some time to recuperate and help settle the pack's newest member, a little pup named Ava who can't shift back to her human form. Instead he meets Ward, who refuses to leave his daughter without a fight. The two men are as different as night and day, but their respect for each other strikes a spark of mutual interest that quickly grows into a flame. They might find something special together—love, passion, and even a family—if they can survive trigger-happy pack guardians, violent werewolf politics, and meddling government agencies that are just as likely to get their alpha soldiers killed as bring them home safely.

4✨s – Another unique shifter book. Without giving away too much, we have an experiment gone wrong, military and government misdeeds, fear and isolation of an entire group of people and heartbreaking separation of families. We also have die hard devotion, incredible family ties, smoking hot chemistry and a daddy who will literally go to the end of the world for his daughter.
Ward and Henry just fall into each other, the organic way their love and trust grows fun to watch. Without the Alpha, Omega and Beta titles to denote roles in the pack you get a better character flow and development. No one is any one type, when Henry needs Ward to be his protector the role comes naturally. There is a well-done ebb and flow in this world that makes for a great story.

About Cari Z.:
Cari Z was a bookworm as a child and remains one to this day. In an effort to combat her antisocial reading behavior, she did all sorts of crazy things, from competitive gymnastics to alligator wresting (who even knew that was legal!) to finally joining the Peace Corps, which promptly sent her and her husband to the wilds of West Africa, stuck them in a hut, and said, "See ya!" She also started writing, because some things she just thought she could do better. She's still climbing that ladder, but can't stop herself from writing, or from sharing what she creates.
Cari enjoys a wide range of literary genres, from the classics (get 'im, Ahab) to science fiction and fantasy of all types, to historical fiction and reference materials (no, seriously, there are so many great encyclopedias out there). She writes in a wide range of genres as well, but somehow 90% of what she produces ends up falling into the broad and exciting category of m/m erotica. There's a sprinkling of f/m and f/f and even m/f/m in her repertoire, but her true love is man love. And there's a lot of love to go around.
Cari has published short stories, novellas, and novels with numerous print and e-presses, and she also offers up a tremendous amount of free content on Literotica.com, under the name Carizabeth.
Where to find Cari Z.: