RELEASE DAY REVIEW: Only Forever by Scotty Cade

Author Name: Scotty Cade
Book Name: Only Forever
Page/Word Count: 43K words, 134 pages
Categories: Contemporary, MM Romance
Release Date: November 30, 2016
Publisher: Dreamspinner Press
Buy Links: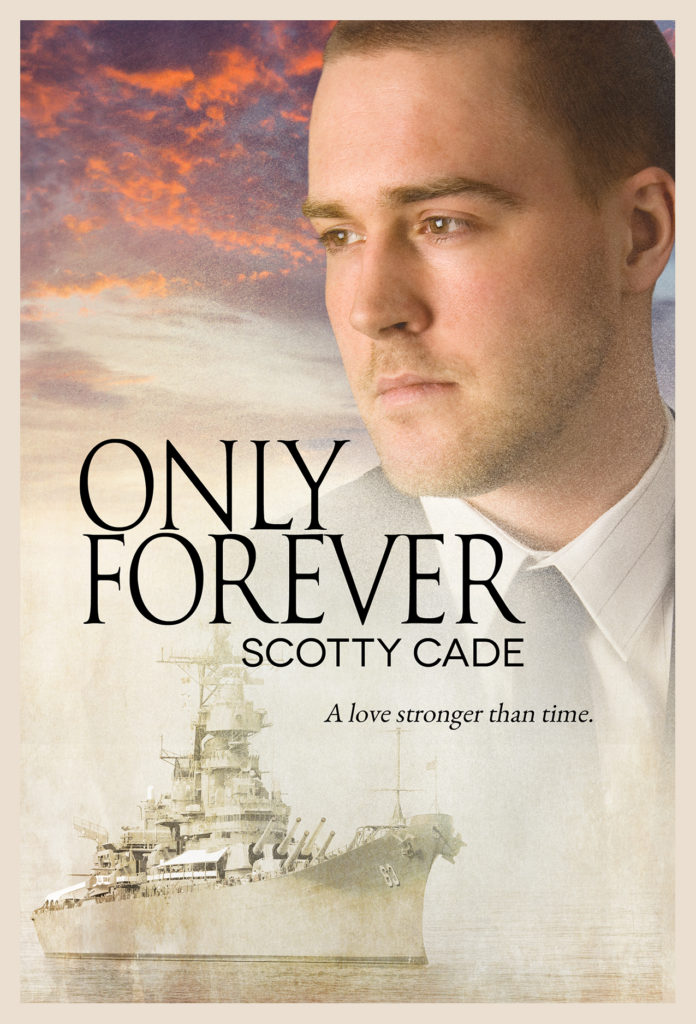 Blurb:
Master Captain Theodore Gourdin has always loved the ocean. But his devotion to maritime life left little possibility for a long-term relationship. After two failed marriages, Theo gave up on finding the person who completed him and decided the sea was his soul mate. When offered the opportunity to captain the newly launched megayacht Eternity, Theo jumped at the chance. With Eternity's maiden voyage looming, Theo focused all his energies on hiring his crew and readying his ship. The last thing he expected was to finally lose his heart in the process.
After twelve years at sea, First Officer Heath Rawlins was restless and in need of a change. A gay seaman's life could be a lonely one, but to Heath the positives far outweighed the negatives. With excellent recommendations and an impressive résumé, he was quickly offered a position on the private megayacht Eternity. Heath's heart skipped several beats when he finally met the ship's captain. He was handsome and charming. And… familiar? Had they met somewhere before? Highly unlikely. But as smitten as Heath was with the gorgeous captain, everything inside him screamed, Abandon ship! Rough seas ahead!

4✨s – Hmmm, what an interesting twist that I did NOT see coming.
I will say that I went into this one with no knowledge of what it was about, nor had I read anything by this author previously. I will also say that I am not a fan of paranormal's… they just don't appeal to me; I know some people love shifters and ghosts and all that but I just can't seem to get into them. I like the reality of a book, the way I can relate to the characters and the stories and I just don't feel like I can with paranormals… however, in saying that.. I'll say that this one, although it was an insta-love at it's finest and who doesn't like those every once in a while, it honestly took me a little bit to figure out what was happening. It was such an interesting twist, I know it may make me a bit dense, but I honestly didn't see it happening lol
First I was like, whaaat? Then I was like, Huh? Then I was like, awwww. So, you see… sometimes going outside of your comfort zone can be a good thing. Let's see if I can break it down without giving too many spoilers away. Beware though, sometimes I can't help myself……
Okay, so I know nothing of seamen or their ranks or really even what they do… but Heath was a First Officer and having been on the same ship for the last six years, he was looking for a change of scenery. He sent his resume to several different places but one in particular got in touch with him right away. After their correspondence to each other they agreed to meet to see if they could do well, working for each other. Not only was Heath attracted to Theo- The Captain of the new megayacht, Eternity; but he had the sense that he'd known him before….They both did and neither of them could shake the feeling…. I really felt for Heath, the sea was really all he knew, he'd been on a ship since he graduated and lost his entire family in a tragic accident some years back. I was glad he got along so well with Theo…
Here's a little about Theo…. He had a couple divorces under his belt, I'm not sure how old he is, I know Heath was in his early thirties, but either I didn't see how old Theo was or, it just didn't say; either way, it was a little disappointing that Theo wasn't gay right off, but like he'd mentioned, he just felt like he hadn't met his soulmate yet, and of course, why would he? He was waiting on Heath… because they had met before, they'd had a great love before; just not in this lifetime….
It's so complicated to explain without giving everything away and I really want to!! LOL.
If you like reincarnation stories or true soul mates, don't pass this one up. That ending too… sigh… it was heartbreaking but hopeful in the sense that you knew these two would find each other again. I really, enjoyed it and I'm glad I went in blind or I may not have given it a chance. Fool me, eh?
I received this book in promise to leave an honest and unbiased review.

Where to find the author: