RELEASE DAY REVIEW: P.S. I Spook You by S.E. Harmon

Author: S.E. Harmon
Book: P.S. I Spook You
Page/Word Count: 256 pages, 87K words
Categories: Gay Romance, Mystery & Suspense, Ghosts
Release Date: June 12, 2017
Publisher: Dreamspinner Press
Buy Links: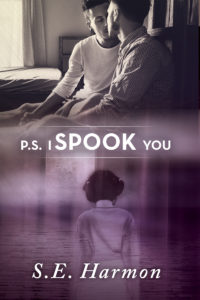 Blurb:
SSA Rain Christiansen used to be the agency's golden boy. It just takes one moment of weakness, one slight, tiny, itty-bitty paranormal sighting, and all of a sudden he's the agency's embarrassment. His boss gives him one last chance to redeem himself—go down to Brickell Bay, play nice with the local police, and leave the ghost sightings behind. Rain is determined to do exactly that, even if it kills him.
Cold-case detective Daniel McKenna's latest investigation is going nowhere fast. Five years earlier, high school student Amy Greene went missing after leaving her part-time job and was never seen again. Daniel is glad to finally have the FBI help that his department requested, even if it does come in the form of his ex.
It doesn't help that Rain is pretty sure he's falling in love with Danny all over again—if he ever stopped. Add to that the frustration of seeing ghosts at every turn while he works a case that's stalled in its tracks, and Rain is starting to wonder if second chances and happy endings are just for fairy tales.

5✨s – Special Agent Rain Christiansen has been on suspension pending a mental evaluation. He sees ghosts and when he reached out to the parents of one of the ghosts, things didn't go well for him. When he finally gets temporary clearance to return to work, it's under the condition that he investigates a cold case and that he proves his mental stability. He's given a stack of cold cases and he picks the one that also happens to be in his home town of Brickell Bay. Rain is picked up at the airport by Danny McKenna, Danny is a detective with the Brickell Bay PD and Rain's ex-boyfriend.
I loved this book. Loved it. Rain has ghosts popping up everywhere and at any time, and more often than not, the conversations are quite funny. The chemistry between Danny and Rain is off the charts all the while full of angst, and doubt. There's no question they both care deeply about each other, but either admitting that is a difficult endeavor.
There is a long list of suspects that might have killed Amy. The story definitely kept me guessing as to who did it. The story has a full list of characters that add so much to the book. My favorite is Ethan the ghost.
My favorite part of the book is Rain's conversations with himself. They proved to be very entertaining. I really hope there is another book. I would love to know what happens next with Rain and Danny.

About S.E. Harmon:
S.E. Harmon has had a lifelong love affair with writing. It's been both wonderful and rocky (they've divorced several times), but they always manage to come back together. She's a native Floridian with a Bachelor of Arts and a Masters in Fine Arts, and used to spend her time writing educational grants. She now splits her days between voraciously reading romance novels and squirreling away someplace to write them. Her current beta reader is a nosy American Eskimo who begrudgingly accepts payment in the form of dog biscuits.
Where to find S.E. Harmon:




June's Blog Contest:
Leave a comment for an entry into a contest to win a $25 Dreamspinner Gift card. Every comment left on a blog post in June will equal one entry, so comment often!