RELEASE DAY REVIEW: Pandora by Marguerite Labbe

Author: Marguerite Labbe
Book: Pandora
Page/Word Count: 210 pages, 76K words
Categories: Gay Romance, Horror & Thriller, Fantasy/Paranormal/Sci-Fi
Release Date: April 25, 2017
Publisher: DSP Publications
Cover: Reese Dante
Buy Links:





Blurb:
2nd Edition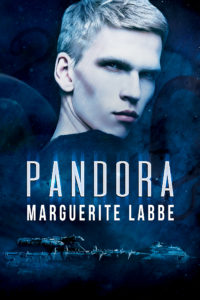 Haunted by the screams of the men he murdered, ex-Marine medic Riff Khora is serving a life sentence on board a prison ship. Seeking more punishment for his crime, he strikes a deal with the corrupt Captain Vidal—an exchange of pleasure and pain—and forges a new life leading the team that surveys space wreckage for salvage.
Ship engineer Zed Jakobsen's psychometric abilities make prison a sentence worse than death, and the barrage of emotional stimuli is an unending torment. His only regret is that he didn't kill the monster who sent him to prison, and only a glimmer of hope to escape a judgment he doesn't deserve keeps him clinging to a brutal existence.
When they board derelict ship Pandora and discover a lone survivor, the hell of prison life plunges into abject horror. An epidemic of violence and insanity consumes their ship, driving the crew to murder and destruction. Mutual need draws Riff and Zed together, and their bond gives them the strength to fight a reality they cannot trust. But Vidal possesses the only means of escape from the nightmare, and he's not letting anyone leave alive.
First Edition published as Pandora in the Deep Into Darkness: Aliens, Alphas and Antiheroes Anthology by Smashwords, 2015.

3✨s – This was a very strange read. I normally enjoy all genres, including sci-fi. The premise is that there is a prison ship which is full of evil leaders. We meet Riff and his crew, and all of them have secrets. A lot of secrets. When Zed joins the team
The story line was slow, very slow. So many random twists that it was difficult to follow, and to stay interested. With the alternating point of view I was often confused about whose mind we were in and how they related to the story. Mainly Zed and Riff, but even between them it became frustrating. Don't get me started on the black outs and whatever was going on with Noyes, just so much crazy.
And all of the secrets. Good googly moogly! Even when most things come to light (and still so many questions remain) I was left scratching my head. The end was an odd wrap up of a kind of sort of HFN, with just enough of a resolution to end the book for me. I'd definitely give this author another try.

About Marguerite Labbe:
Marguerite Labbe has often been called both Trouble and Sunshine by those who know her. She's not sure how she manages to make both those nicknames work together, but apparently she does. She's a New Hampshire girl who married an Alabama boy, an Air Force brat who has somehow managed to settle herself firmly in Southern Maryland, with one overgrown son and two crazy cats.
Marguerite loves to spin tales that cross genre lines, where stubborn men build lifelong ties of loyalty, friendship, and family no matter the odds thrown against them, and where love is found in unexpected places. She has won the Rainbow Award for Historical Romance with Fae Sutherland, as well as the Rainbow Award for Paranormal and the Rainbow Romance Award for Excellence, also in Paranormal.
When she's not working hard on writing new stories, she spends her time reading novels of all genres, enjoying role-playing and tabletop games with her friends, and helping out her husband with Apocrypha Comics Studio.
Where to find Marguerite Labbe: