Author Name: Helena Stone
Book Name: Patience
Series: Dublin Virtues, Book #1
Page/Word Count: 170 pages, 62K words
Categories: Contemporary Romance, Gay Romance
Release Date: March 28, 2017
Publisher: Pride Publishing
Buy Links: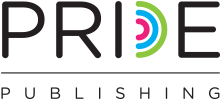 Blurb: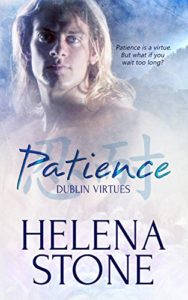 Patience is a virtue. But what if you wait too long?
While Xander Ekman's dream of becoming a successful artist has come true, his love life has gone from bad to worse. Sick of the endless string of one-night stands, he accepts the challenge when his best friend, Erik, bets him that he can't be celibate for a month. Now all he needs is a reminder to keep his distance in the heat of the moment.
Troy Moriarty doesn't have time for love. He's too busy trying to keep his recently opened tattoo parlor afloat. Besides, ever since the man who was supposed to be his business partner abandoned him to run the shop on his own, he has a hard time trusting others.
When Xander turns to Troy for a tattoo that will remind him to be patient, the attraction is instant. But faced with Xander's month of celibacy, Troy's trust issues, and a nemesis lurking in the background, their relationship may be doomed before it has a chance to begin.

4✨s -Xander has had a series of one night stands that have left him feeling empty. When his best friend/roommate, Eric, calls him out on the latest one night standing after he just left, Xander is forced to admit that he's not happy with his love life. Eric knows that Xander wants more than just sex so he proposes a bet…Xander has to abstain from sex for one month. Whoever loses the bet has to take care of the condo for a month. Xander jumps at the challenge because he wants to change his ways. The following morning as Xander is contemplating the next month of no sex
he decides he needs a reminder to stop and think before acting on impulse and wanders into a tattoo parlor.
Troy is trying to make his new tattoo shop work and be successful. He's still very bitter that his friend and crush, Shane, bailed on the business at the last minute. Troy and Shane had come up with the idea of the business together. Troy signed the lease, bought all of the equipment and right before opening the shop, Shane told him he was moving to Florida to work for a tattoo shop leaving Troy to try to make the business work on his own. Troy's biggest problem is he's not a good artist. He cannot draw the complex artwork that some of his customers want.
Troy tattoos the Kanji symbol for patience on Xander's hand. Troy knows who Xander is, but doesn't say anything. Xander thinks Troy looks familiar, but dismisses it. When Troy discovers that Xander is an artist, he's thrilled and even more so when Xander offers to do the artwork for a tattoo a customer wants.
This is a good story. I like that Xander is honest enough to admit that he wants more out of life than a series of one night stands. Xander wants a relationship and maybe someday a family. The tattoo as a reminder to slow down and think is definitely something that I would do and could relate to. Troy also wants to find someone to settle down with and is not in the market for a hookup. The two have wonderful chemistry and are both looking for the same things in life.
Their best friends, Eric and Lorcan are good secondary characters that add to the story. I enjoyed the month of dating and getting to know one another.
The issue I had with the whole story is that Xander seemed to think that a relationship has to start with sex. He keeps Troy at arm's length through much of the month for fear that Troy won't want him if they don't have sex which is just sad. Troy spends much of the month arguing with himself over whether or not Xander is a good guy based on how originally met Xander and rather than just talk to Xander about it, he dwells on it. Troy also has way too difficult of time letting Shane go which hinders the beginning of his relationship with Xander.
The characters are well developed, the writing is very good, the story is good, but I think it could have been better without all of the secrets and the assumption that relationships are built from sex.
Author Bio: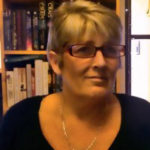 Helena Stone can't remember a life before words and reading. After growing up in a household where no holiday or festivity was complete without at least one new book, it's hardly surprising she now owns more books than shelf space while her Kindle is about to explode.
The urge to write came as a surprise. The realisation that people might enjoy her words was a shock to say the least. Now that the writing bug has well and truly taken hold, Helena can no longer imagine not sharing the characters in her head and heart with the rest of the world.
Having left the hustle and bustle of Amsterdam for the peace and quiet of the Irish Country side she divides her time between reading, writing, long and often wet walks with the dog, her part-time job in a library, a grown-up daughter and her ever loving and patient husband.
Where to find Helena Stone:






Other books by Helena Stone:
Products from Amazon.com
‹
›