RELEASE DAY REVIEW: Remember When by SJD Peterson

Author: SJD Peterson
Book: Remember When
Page/Word Count: 210, 68K words
Categories: Contemporary Romance, Gay Romance
Release Date: August 28, 2017
Publisher: Dreamspinner Press
Cover Artist: Garrett Leigh
Buy Links: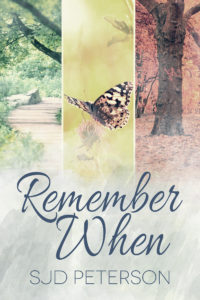 Blurb:
Life is simple and hopeful in youth. Luke and Nelson are best friends exploring their budding sexuality. They have big plans for the future, and nothing can stand in their way or tear them apart—except a family move that puts a continent between them.
Ten years later Luke and Nelson meet again, but nothing is simple anymore. As strong as the attraction remains, obligations and expectations come between them as Luke is forced to honor family responsibilities over the desires of his heart.
Impossibly fate sees fit to offer them a last opportunity to see what might have been. Will the third time be the charm, or is trust so badly broken it is impossible to repair? Can they recapture the innocent love they once knew and make up for all the wasted years? In a love story that spans half a lifetime, two friends destined for each other will have to fight hard for their happily ever after.

3✨s – Friends to lovers is a trope that I like; adding a second chance storyline plus an author I've often enjoyed, had me excited to read this. Written in three parts, it's completely character driven, offering shifting POV's from Nelson and Luke. Best friends for years, their time together as teens is recounted first and is fairly short, describing their first sexual adventuring and then being parted. Part two begins as they meet unexpectedly a decade later, while both are on business. This is the longest part of the narrative, as they reconnect and the childhood feelings they sustained become deeper. The final section is 17 years later, discovering whether there is anything left from the remains of the past.
I really like Nelson's character, the more sensitive of the two men and far more introspective. I really felt for him as he contended with Luke's declarations and departure. His anger and eventual capitulation to circumstances was understandable. 1998 was still a time when Luke's decision was to be expected. Luke's character had too little depth, telling us he had lots of emotions but still coming across as shallow and self absorbed. I might have liked him better if the final part of the story didn't leave me feeling shortchanged, as it kept my interest up to that point. If Luke still felt so strongly about Nelson, why did he do nothing until they accidentally stumbled over each other again? Their reunion scenes did little to elevate the storyline or my emotions. If equal page time was given to establishing them again as a couple and with more romantic content, it could have been a great story. I can't say I recommend this strongly but naturally, other readers may find more substance than I was able to.

About SJD Peterson:
SJD Peterson, better known as Jo, is an Amazon bestselling and award winning author of gay romance. Her books have received starred reviews in USA Today.
Jo currently lives in Greenville, South Carolina, having had enough of the Michigan winters to last her a lifetime. She has no idea where she'll end up next but wherever she goes, it will be snow and ice-free.
Where to find SJD Peterson: