RELEASE DAY REVIEW: Runaway Rock Star by C.J. Anthony

Author: C.J. Anthony
Book: Runaway Rock Star
Series: States of Love | Ohio
Page/Word Count: 87 pages, 30K words
Categories: Gay Romance, Contemporary Romance
Release Date: May 10, 2017
Publisher: Dreamspinner Press
Cover: Anna Sikorska
Buy Links: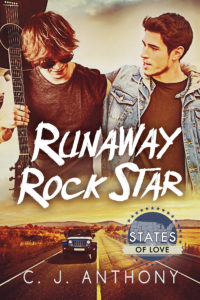 Blurb:
Just hours before Brandon Harris is supposed to head home to Cincinnati for a Labor Day family picnic, his boss at the Rock & Roll Hall of Fame forces him into giving a private tour to bratty British pop-rock star Lucas Black. Before he knows it, he finds himself swept up in a whirlwind road trip through Ohio with Lucas riding shotgun.
Lucas grabs hold of this wild opportunity to run away—even for a few precious days—from the gilded cage that is his carefully managed life. He's just looking for a little fun and freedom as a normal person. From roller coasters to a college football game, Brandon begins to see the real Lucas Black buried under the famous persona. But by the time he and Lucas discover their mutual attraction, they only have one night left before both of them have to go back to their real lives. The fun is over…unless Lucas can run away for real this time and keep their adventure going.

3✨s – A fun road trip romance, so unbelievable you wish it were true. Lucas is the loner rock star, has real talent but is being made to tow the line. Everybody is telling him what to do, this llittle foray into the real world with Brandon is exactly what he needs.
Brandon is fantastic, a true music lover and mama's boy. What started as a holiday weekend in his hometown becomes a whirlwind that he never expected. Together Lucas and Brandon both open themselves up to what could be the best future ever, but taking that step will give them both a shot at happiness.
This was a fun read, not sure anyone can make Ohio beautiful or memorable yet this story sure does try.

About C.J. Anthony: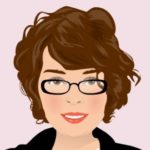 C. J. Anthony grew up watching soap operas and reading piles of books. She attributes her love of reading and romance to her mother who not only taught her to read but also made countless trips to the library lugging those piles of books home for her to read. It wasn't a far jump to start writing her own stories, early childhood tales about flower families and travelling to the moon with her best friend.
C. J.'s favorite stories to read and write include "opposites attract" pairings—couples who might appear to be an odd couple to the rest of the world, but to each other fit together perfectly, finding their own happy ever after with a little hard work and a whole lot of love.
Not surprisingly, C. J. is a big lover of rom coms—she'll gladly take Julia Roberts standing in front of Hugh Grant asking him to love her, over car crashes and shoot-em up movies any day. She also watches way too much TV and every singing reality show there is. She loves music and musicians of all genres and attending live concerts.
She spends most of her time juggling a day job and a commute and freelance design work on the side and falling asleep on her couch, dreaming of a day when she can work all day in her pajamas while living in a house by the beach.
Where to find C.J. Anthony:




May's Blog Contest:
Leave a comment for an entry into a contest to win a $25 Dreamspinner Gift card. Every comment left on a blog post in May will equal one entry, so comment often!