RELEASE DAY REVIEW: Tea or Consequences by KC Burn

Author: KC Burn
Book: Tea or Consequences
Page/Word Count: 210 pages, 69K words
Categories: Gay Romance, Mystery & Suspense
Release Date: September 22, 2017
Publisher: Dreamspinner Press
Cover: Brooke Albrecht
Buy Links:




Blurb:
Riley Parker: temp, twink, geek… sleuth?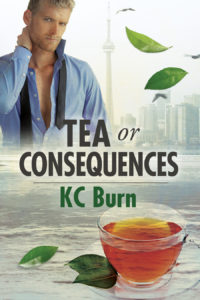 Maybe Riley isn't living up to his full potential, but being a temp executive assistant suits him. He's never bored at work, he's got friends who let him geek out, and he's got a carefully crafted twink exterior… which might be getting constrictive now that he's on the other side of thirty. Life isn't perfect, but it's comfortable.
It all unravels when he takes a job working for a tea-obsessed cosmetics queen, the owner of Gautier Cosmetics. During the launch party for a new product, Riley finds his boss dead under suspicious circumstances, and the homicide detective is none other than Tadeo Martin, Riley's high school obsession who never knew he was alive.Tad drafts Riley to get the scoop on the inner workings of Gautier, and for Riley, it's like a drug. His natural inquisitiveness is rewarded with more and more Tad. Unfortunately, his snooping puts him in the running for two other roles: suspect and victim. The killer doesn't care which.

4✨s – Riley is happy working as a temporary executive assistant. He goes in, gets the job done, avoids all the office politics, and leaves while everyone's still smiling. I actually envied him this and wished I thought of it when I was working in the corporate world. Anyway, he takes a position in a major cosmetics firm and enjoys working for the owner, a ruthless businesswoman who doesn't want anyone to see her soft side.
When she's murdered on the night of a big launch, there's a whole room full of potential suspects including Riley—who found her—and her kids, two ansty, graspy, unlikeable characters. Enter Tad, former classmate, one-time crush, and the detective on the case. Riley doesn't think Tad remembers him and the circumstances of their reunion aren't great, but it doesn't stop those old feelings from resurfacing. This all made for a great whodunit, some steamy romance and a happily ever after that, if we were skimming the surface, would have been very satisfying.
Sometimes, I wish I could stop there, but my first WTF moment was when Riley went back to work. Like, dude, you just found a dead body, it's time to put that temp role to work and move on. But no, he went back and started digging around. Not only that, he reported his findings to Tad who encouraged him (say what?). And of course, they get into a "no we shouldn't, yes we should" sexual relationship that was as hot as it was frustrating. Not because they were breaking all sorts of rules (like, the list was LONG), but because when it came down to "are we more than hooking up?" Tad used it as an excuse to back off. Oh no, we can't, you're a witness. He lost me there and I wasn't all that interested in seeing Riley forgive him.
That said, this book was entertaining with interesting and sometimes amusing case of side characters, and a mystery that kept you going back and forth between the two standout suspects.

About KC Burn:
Author of gay erotic romance, writing for Loose Id, Carina Press & Dreamspinner Press. Occasionally NSFW. KC Burn has been writing for as long as she can remember and is a sucker for happy endings (of all kinds). After moving from Toronto to Florida for her husband to take a dream job, she discovered a love of gay romance and fulfilled a dream of her own—getting published. After a few years of editing web content by day, and neglecting her supportive, understanding hubby and needy cat at night to write stories about men loving men, she was uprooted yet again and now resides in California. Writing is always fun and rewarding, but writing about her guys is the most fun she's had in a long time, and she hopes you'll enjoy them as much as she does.
Where to find KC Burn: