RELEASE DAY REVIEW: The Bravest Thing by Laura Lascarso

Author: Laura Lascarso
Book: The Bravest Thing
Page/Word Count: 226 pages, 80K words
Categories: Gay Romance, Contemporary Romance, New Adult
Release Date: April 17, 2017
Publisher: Dreamspinner Press
Cover: AngstyG
Buy Links: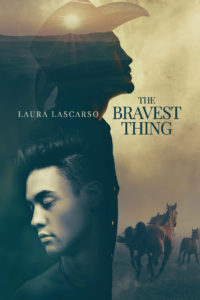 Blurb:
High school junior Berlin Webber is about to reap the fruits of his hard work and land a football scholarship—if he can keep his sexuality a secret from his best friend, Trent, and their homophobic coach. Then Hiroku Hayashi swerves into the high school parking lot on his tricked-out motorcycle like some sexy comic book villain, and Berlin knows he doesn't stand a chance.
Hiroku is fleeing his sophisticated urban scene to recover from drug addiction and an abusive relationship when he arrives in Berlin's small Texas ranch town. Initially sarcastic and aloof, Hiroku finds in Berlin a steady, supportive friend who soon becomes more. As Hiroku and Berlin's romance blossoms, they take greater risks to be together. But when a horrific act of violence tears them apart, they both must look bigotry in the face. While Berlin has always turned to his faith for strength, Hiroku dives into increasingly dangerous ways of coping, pushing them in opposite directions just when they need each other most.
Two very different young men search for the bravery to be true to themselves, the courage to heal, and the strength to go on when things seem darkest. But is it enough to bring them back together?

3.5✨s – This was a difficult read, beautiful and memorable, but heartbreaking.
You are meant to love Berlin from the start. And I did. Yet his character was also very frustrating. He was so submissive to Hiro's entire being, his presence that there were times I couldn't stop shaking my head and muttering at him.
The same could be said for Hiro's parents. Hiro's larger than life persona, as well as tangible pain ruled their home. When terrible, unspeakable things happen to Hiro they allow him to be the decision maker, I needed them for them to be his parents, and I'm sure Hiro seemed to need the same. It was difficult to remember that the characters were 17 and 18. There is so much ugly. Pain and terror.
Yet there is also a great amount of beauty. Love. The relationships that grows between Hiro and Berlin is stunning. So tender, yet the strength they both garner from it is powerful.
The dialogue was well-written, full of teen drama and snark, yet achingly honest as well.
Incredible secondary characters.

About Laura Lascarso: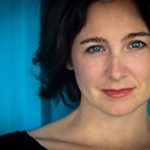 Laura Lascarso lives in North Florida with her darling husband, two children, and a menagerie of animals. Her debut novel, Counting Backwards (Simon & Schuster 2012) won the Florida Book Award gold medal for young adult literature. She aims to inspire more questions than answers in her fiction and believes in the power of stories to heal and transform a society.
Andre in Flight is Laura's first full-length work with Dreamspinner Press but hopefully not her last.
Where to find Laura Lascarso:




Other books by Laura Lascarso:
[amazon_link asins='B01M4P2I0M,B0061OZJZU,B00VP6C1ZU,B00SXOLO0A,B00XW7BC00′ template='ProductCarousel' store='jegbo07-20′ marketplace='US' link_id='e78f0ee4-2369-11e7-a4cc-b301e25d963c']