RELEASE DAY REVIEW: The Tinder Stories by Tory Temple

Author: Tory Temple
Book: The Tinder Stories
Series: Oceanside Fire Series
Page/Word Count: 206 pages, 68K words
Categories: Contemporary Romance, Gay Romance, Anthology
Release Date: June 19, 2017
Publisher: Dreamspinner Press
Cover: Garrett Leigh
Buy Links: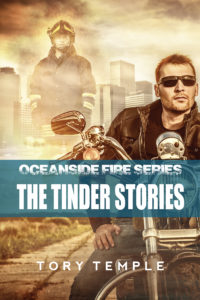 Blurb:
Return to Oceanside Fire, where the sizzling passion between men scorches everything they touch—especially each other. For firefighter Chris Matthews and instructor Morgan Daniels, it's dislike at first sight—but that doesn't mean there's any relief from the heat building between them, and it only takes a spark to set the tinder ablaze.
Will Chris and Morgan go from enemies to lovers, or will they remain enemies with healthy libidos who stoke each other's flames? Morgan is no fan of firefighters in general, and he finds Chris especially grating. But when they're together, the sexual tension is thick enough to cut with a knife—and there's only one way to work it off. A battle of wills is sure to follow. Add in an age difference, and finding common ground will be an uphill battle. Even if they succeed in building a relationship, secrets and suspicion could reduce everything to ash.

3✨s – This new edition is a compilation of three previously published stories, Tinder, Embers and Sparks. Is there anyone that doesn't love a hunky firefighter? I was quite entertained reading depictions of realistic firefighter action and descriptions of time spent in the firehouse. There's also a healthy number of sex scenes, that were hot, heavy and burned up the pages! The 15 year age-gap is a favorite trope, too.
Chris is a secondary character from the first Oceanside book, Heat, and in Tinder, Morgan is an instructor for the fire department's required classes. Morgan dislikes firefighters, despite having been one, and seems to especially dislike Chris at first. It's really because he doesn't want to be attracted to Chris but eventually they become lovers. The story follows them as they eventually become boyfriends and Embers continues two years later when they live together. After two books from Chris's POV, Sparks is written from Morgan's, and someone from his past drives a wedge between him and Chris.
Unfortunately, the stories fell short in giving the characters satisfactory depth. There were few scenes with anyone besides just the two of them. Chris was better developed, having more dialogue with coworkers and his parents. Morgan was one-dimensional and I found his character unlikable, with too much dialogue being dismissive and condescending to Chris. His dislike of firefighters never seemed logical, even with the reasons given. Chris's character ignored issues or ran off in a snit, and no resolution or compromise ever discussed. Also, in book three, Morgan repeatedly thinks of him as "the boy". It sounded detached and not the thoughts of a man in love.
It might sound as if I disliked more than I liked, yet it did read easily, there were times when Morgan and Chris had positive dialogue and there was some redemption for Morgan in book three. Having all three stories combined helped. If you really like firefighters, are in the mood for a super-steamy story without emotional overload, you might enjoy this a great deal.

About Tory Temple:
Tory Temple lives and works in southern California where she happens to spend a lot of time around firefighters. It makes for excellent storytelling, so Tory definitely uses that to her advantage! She is guardian to three pit bulls who only attack with kisses, two snobby cats, as well as other assorted friends from the animal kingdom. (Husband included.) Her fondest wish is to be a stay-at-home dog mom. You can tempt her with promises of cheese and/or Mexican food. On Saturday nights, she is usually watching Netflix and thinking about how to get the newest firemen in her head to hook up. Tory loves reader e-mails and looks forward to hearing from anyone who wants to drop her a line.
Where to find Tory Temple:





June's Blog Contest:
Leave a comment for an entry into a contest to win a $25 Dreamspinner Gift card. Every comment left on a blog post in June will equal one entry, so comment often!