RELEASE DAY REVIEW: Tried & True by Charlie Cochet

Author: Charlie Cochet
Book: Tried & True
Series: THIRDS, Book #10
Page/Word Count: 254 pages, 91K words
Categories: Gay Romance, Mystery & Suspense, Shifter Romance
Release Date: November 24, 2017
Publisher: Dreamspinner Press
Cover Artist: L.C. Chase
---
Blurb:
When THIRDS agent Dexter J. Daley met Team Leader Sloane Brodie, he couldn't have imagined how slamming into his new partner—literally—would shake both their worlds. Now four years later, they've faced dangers, fought battles both personal and professional… and fallen deeply in love. Now their big moment is finally in sight, and they're ready to stand up together and make it official. Unfortunately, as the countdown to their big day begins, an enemy declares war on the THIRDS….

With their family in danger, Dex and Sloane are put to the test on how far into darkness they'll walk to save those they love. As secrets are unearthed, a deadly betrayal is revealed, and Dex and Sloane must call on their Destructive Delta family for one last hurrah to put an end to the secret organization responsible for so much devastation.

Dex and Sloane will have plenty of bullets to dodge on the way to the altar, but with happiness within their grasp, they are determined to get there come hell or high water…


Look Inside

---

4.5✨s – Tried & True is the 10th book in the THIRDS Series and picks up right where Darkest Hour Before Dawn left off.
Dex and Sloane are just a few short weeks away from their wedding. Dex has planned everything with Lou and Sloane is happy to let him. Tony is going to officiate the wedding and the whole team will be a part of the ceremony. What could possibly go wrong? As we've all learned throughout the series, nothing ever goes easy for Dex and Sloane.
As the two prepare for their wedding and train for their new positions with TIN, everything in their world feels right and wonderful, until the carpet is pulled out from under them. Tony is kidnapped and Dex is hell bent on getting him back.
This book has the perfect amount of action, steamy sex, and enough love to make my teeth ache. I absolutely loved it. We get to learn more about Sparks and her past, more about Hudson and Wolf and definitely more about their enemies that continue to come after the team and Dex. The plot twists in this book were fantastic and surprising, but the author pulled it together perfectly so it was also completely believable.
Dex and Sloane's road to the altar is fraught with danger, but there's a perfect balance of love too. This is one of my favorite THIRDS books.

About Charlie Cochet: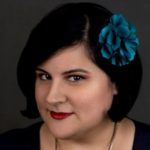 Bringing you stories with heroes, humor, and heart.
Charlie Cochet is an author by day and artist by night. Always quick to succumb to the whispers of her wayward muse, no star is out of reach when following her passion. From adventurous agents and sexy shifters, to society gentlemen and hardboiled detectives, there's bound to be plenty of mischief for her heroes to find themselves in, and plenty of romance, too!
Currently residing in Central Florida, Charlie is at the beck and call of a rascally Doxiepoo bent on world domination. When she isn't writing, she can usually be found reading, drawing, or watching movies. She runs on coffee, thrives on music, and loves to hear from readers.
Where to find Charlie Cochet: