RELEASE DAY REVIEW: Two-Man Advantage by Leigh Carman

Author: Leigh Carman
Book: Two-Man Advantage
Series: A Players of LA Novel, Book #3
Page/Word Count: 200 pages, 65K words
Categories: Gay Romance, Contemporary Romance, Sports Theme, BDSM & Erotic Romance
Release Date: July 7, 2017
Publisher: Dreamspinner Press
Cover: Catt Ford
Buy Links:




Blurb: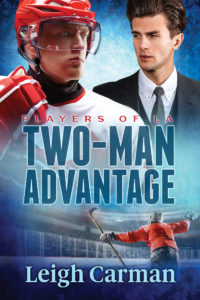 A hockey star skating on the edge of a catastrophe.
A PR specialist so adept, he's called "the fixer."
Working together will be the biggest challenge of both their careers.
The LA Vikings hockey team is fed up with the violent outbursts of its huge right wing, Viktor Novak, who is not an enforcer but persists in acting like one. Hounded by a homophobic and domineering father, Viktor takes out his frustrations by spilling blood—on and off the ice. Now he has one last chance to clean up his image, or his career is over.
That's where Bowen Miller comes in.
Bo has taken on the hardest cases and succeeded—by micromanaging every aspect of a client's life—at the expense of his own happiness. But in the stubborn, hot mess that is Viktor, Bo might have met his match—both in and out of the bedroom. One man is out of control, and one controls everything. But when sex and attraction come into play, those roles are open to negotiation.

4.5✨s – This was my first Leigh Carman novel, and although sports aren't my thing, big hunky hockey players often are. Viktor is a star player, built like a Viking but he's pillaging players out on the ice and costing the team both goals and goodwill. After a lifetime under the thumb of his father and the family hockey legacy, as well as the loneliness of his deep, dark closet, Viktor is losing it and endangering his career. Enter Bowen Miller, PR fixer and the epitome of control freaks, to get Viktor in line and repair his reputation. It works, up to a point.
The first person, present tense narrative and alternating POV, was splendid at providing character insight. These two took me right up to the edge of dislike, with their angry exchanges and the battle of wills. But the thought processes behind it all, made me want to wrap Viktor in a fuzzy blankie and take him home. The underlying sexual tension was delicious and when it snapped, it was filthy hot! Their personalities switched over completely in the bedroom, where Viktor got Bo to let go and hand over control.
I did get just a bit weary of the frequent anger and stubbornness of Bo and Viktor, which is what lost the half point, and there were not many lighter moments to ease the mood. But the transition and unfolding of motivations from the characters turned the book into an absorbing read. Secondary characters were mostly peripheral, except for Dom, Bo's friend from college and Viktor's sister, Natalia (awesome name, right?). Minor hockey action was good for me, and it's a great enemies-to-lovers story with a secondary hurt/comfort trope. Recommended!

About Leigh Carman: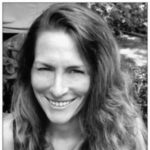 Leigh Carman was born and raised in New England with all of its fall foliage and winter snow. She escaped to the South, where she currently lives outside Atlanta, Georgia, with her husband, two kids, and French Bulldog, Shelby.
She loves the Red Sox, the Patriots, and anything chocolate (but not white chocolate—everyone knows it's not real chocolate so it doesn't count), and has left explicit instructions in her will to have her ashes snuck into Fenway Park and sprinkled all over while her family enjoys beer, hot dogs, and a wicked good time.
Leigh also writes M/F dark romance under the name Heather C. Leigh. She also loves exploring the underbelly of fame and the crushing weight of those under the microscope 24/7.
Where to find Leigh Carman:






July's Blog Contest:
Leave a comment for an entry into a contest to win a $25 Dreamspinner Gift card. Every comment left on a blog post in June will equal one entry, so comment often!