RELEASE DAY REVIEW: What's the Use of Wondering? by Kate McMurray

Author: Kate McMurray
Book: What's the Use of Wondering?
Series: WMU, Book #2
Page/Word Count: 200 pages, 57K words
Categories: Gay Romance, Contemporary Romance, New Adult
Release Date: July 3, 2017
Publisher: Dreamspinner Press
Cover: Aaron Anderson
Buy Links:




Blurb: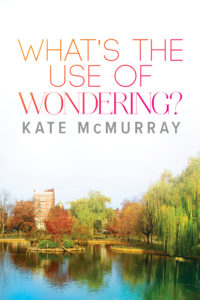 Violinist Logan has spent most of his life training for a career in music. But as the pressure mounts during his junior year, he questions whether playing in an orchestra is the future he wants, or one chosen by his parents. His new roommate—that annoying jerk Peter from last year's production of Guys and Dolls—complicates matters. Crammed into a dorm room with the overconfident but undeniably hot accounting major, Logan can't stop snarling.
Then Peter sprains his ankle building sets, and Logan grudgingly agrees to play chauffeur. But instead of putting further strain on their relationship, spending time together reveals some common ground—and mutual frustration. Logan discovers he isn't the only one who doesn't know what he wants from life, and the animosity between him and Peter changes keys. But just as the possibility of a happier future appears, Logan gets a dream offer that will take him away from Western Massachusetts University—and Peter. Now he has to decide: will he live the solitary life laid out for him, or hold on to Peter and forge his own path?

3.5✨s – Logan is a self-righteous jerk. Hair trigger temper. Violin virtuoso. Lonely beyond belief, being pushed into a career and life he's no longer sure he wants.
Peter is a gem. Outgoing, confident, loudmouth and somewhat opinionated 😉 He wants to make his family happy, as he gets closer to graduation he is hurtling toward a life that will deny his artist side.
The two men end up rooming together in their third-year sparks both fly and fizzle. Communication is nonexistent. Prickly vs sweet. Angry vs quiet. Gay vs….gay?
Once honestly becomes key to Logan's life (why it took 20 years who knows??) he fights for balance. Love that even with the incredible differences between Logan and Peter's world where they converge creates a beautiful picture. Their strengths complement each other as wells as the highs and lows in temper and life are able to meet in a happy medium. They both realize the chance is worth the work.
The title was a bit of a stretch. I love musical theater, yet even knowing the shows the single paragraph about the lyrics Logan likes doesn't flow throughout the rest of the story.
I'm an epilogue whore, this one definitely makes me happy!
Overall a sweet coming of age/transitioning to adulthood story. Never touching too hard or deep on difficult issues these two find their way and their HEA. And who doesn't love their an HEA??

About Kate McMurray: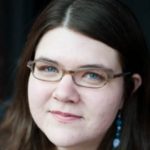 Kate McMurray writes smart romantic fiction. She likes creating stories that are brainy, funny, and, of course, sexy with regular-guy characters and urban sensibilities. She advocates for romance stories by and for everyone. When she's not writing, she edits textbooks, watches baseball, plays violin, crafts things out of yarn, and wears a lot of cute dresses. She's active in Romance Writers of America, serving for two years on the board of Rainbow Romance Writers, the LGBT romance chapter, and three—including two as president—on the board of the New York City chapter. She lives in Brooklyn, NY, with two cats and too many books.
Where to find Kate McMurray:








July's Blog Contest:
Leave a comment for an entry into a contest to win a $25 Dreamspinner Gift card. Every comment left on a blog post in June will equal one entry, so comment often!