SERIES SPOTLIGHT: Shatterproof Bond Series Box Set by Isobel Starling

Author: Isobel Starling
Book: Shatterproof Bond Series Box Set
Series: Shatterproof Bond, Books 1 – 3
Page/Word Count: 45K, 51K, and 70K
Categories: Bisexual Romance, Contemporary Romance, Gay Romance, Mystery & Suspense
Release Date: August 29, 2016
Buy Links:



Blurb: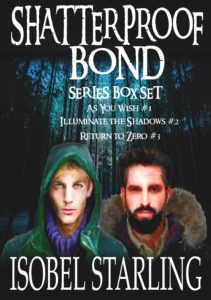 The Shatterproof Bond series will clutch at your heart and leave you aching for more. Come along on a thrilling, adventure with Scotsman Declan Ramsay and Englishman Sam Aiken featuring soaring M/M romance, love, laughter and sizzling lovemaking.
Sam and Declan meet at their sibling's Scottish castle wedding during novel # 1 "As You Wish".  The couple's relationship deepens in novel #2 "Illuminate the Shadows" and as they get to know one another the true nature of the Aiken family business is revealed.  Novel #3 "Return to Zero" see's Sam and Declan up to their necks in trouble in the Scottish Highlands, and Declan has to dig deep to save the man he loves.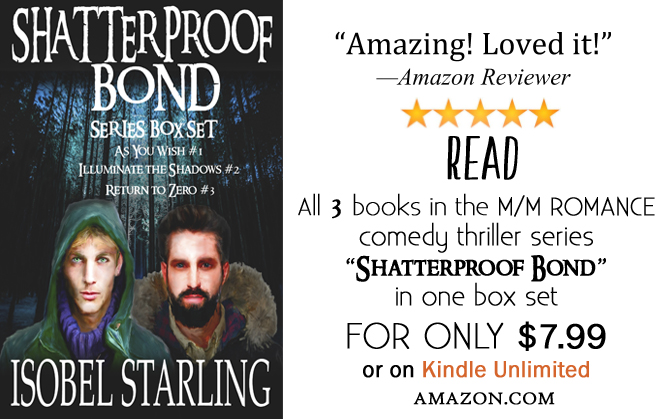 About Isobel Starling:
Born in Germany, Isobel Starling spent most of her twenty-year professional career making art in Ireland.  She relocated to the UK and, faced with the dreaded artist's creative block, Isobel started to write and found she loved writing more than making art.
The Shatterproof Bond series is an Amazon Gay Romance bestseller.  Isobel has just completed her eleventh book and signed French and German and Italian, translation and publishing rights deals for the whole Shatterproof Bond series.  The As You Wish translation "Comme Vous Voudrez" is a best seller on Amazon France.  It was released in German in March 2017.  The series is also available as audiobooks.
5 Questions with Isobel Starling:
As an author myself, I know inspiration is everywhere and can strike at the most inopportune moments (like in the shower, when you don't have anything to write with!). So, what was the inspiration behind Shatterproof? I have always been intrigued by the thriller genre and historically, gay men have been embroiled in the spy game since time immemorial. I have read many M/M romance novels that deal with espionage, duplicity, dirty deals, secrets, and lies. And although I found them highly entertaining, none of them really hit the spot. So I decided to write the series I wanted to read and add lots of things that I enjoy in a good book- intrigue, romance, mystery, great sex, and humor. I really enjoy writing them.
What is your writing process? (i.e. plotter or panster, explain) I am both pantser and plotter. I generally have an idea and run with it until it comes to an end, then I plot around it. The deeper into the Shatterproof Bond series I've got, the more tangled the web so I have to plot very carefully with the next book in the series "Powder Burns" book #5
What is the hardest part of that process for you? Releasing the book is the hardest part for me. I do almost everything myself, and Beta's are the first to read it after I'm done with a novel. Releasing a book to the public and getting that first feedback from bloggers and readers is the scariest part.
There's a big leap a writer takes from putting words down on paper for the love of it and actually publishing those words for public scrutiny. What was that journey like for you? It's been a rollercoaster. I don't think there is a writer out there who hasn't had the odd bad review. Writing is so personal. Not everyone will like every book, and it takes time to find an audience. I learned to keep my head down and just keep writing. The first book is always the one we learn with and make all of the mistakes with. I am writing my 14th book at the moment and I hope I have learned from my mistakes. My goal is to keep trying to improve my craft and write wonderful stories. If a writer starts this journey with the expectation of being a millionaire they are going to be disappointed. It takes a long time to make any money as an author, and so the only wish I have is to write good books because I love it.
What can readers expect from you next? I am currently writing the next Shatterproof Bond novel "Powder Burns" But before that, the next book I will release is called "Sweet Thing" It is a contemporary M/M romance about a French male model, Simeon Duchamp. The story follows him as he tries to get his life back after Rehab. He is learning how to live again without drink and drugs, and in the process meets a man who Is even more broken than he is… and sexy sparks fly.
Fun Quickies 
Favorite curse word: Fuck
You're auditioning for American Idol, what's your song?: "I'm a Believer" The Monkees
Over or under (toilet paper, of course): Over
Weapon of choice: Wit
Evil mastermind, easily convinced partner in crime, or innocent bystander: Mastermind, but not evil.
Where to find Isobel Starling: