The conspiracy surrounding Talk Dirty to Me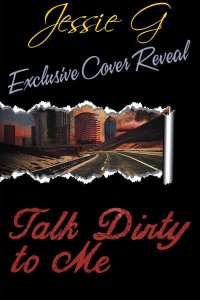 Webster's defines collusion as the secret or illegal cooperation or conspiracy in order to deceive others. Until today, I had only heard about such nefarious acts, but I've never been the target. Bear with me while I try put the pieces together for you, and then you can decide for yourself.
Wendy over at Book Lovers 4Ever apparently used the excuse of trying to find her brother to steal from Red at Bull's garage. What did she steal? The cover for my upcoming release, Talk Dirty to Me! My top secret, not-ready-to-be-revealed cover! Then Christina over at BFD Book Blog hacked Wendy's email and thought it was a good idea to use the public Wi-Fi at Starbucks to share it with the world. I knew those two were trouble, but the blatant disregard for my property didn't stop there.
Somehow the magical forces of the universe were in on this conspiracy because Denise from Two Chicks Obsessed with Books and Eye Candy just happened to be at that same Starbucks—she doesn't drink coffee—sees the cover open on Christina's laptop and manages to take a pic with her phone before getting caught. Does the nightmare end here? No, no it doesn't because Denise spotted a used condom on the floor and picked it UP—totally skeeved now—and went into the restroom to throw it out. Somehow she left her phone—unlocked of course—in the restroom where Evette from Sassy Girl Books just happened to find it on her quest to flirt with the hot man-bun sporting barista!
Is this Starbucks in Narnia? Where is the magic door? Cause none of these ladies live in the same state! Has there ever been a more graphic description of blatant conspiracy before?
Need more proof? Not only did they all share it around the internet, they are giving away copies of the book! Alrighty then, lets make them give away some books, shall we? I did a little hacking of my own and snagged their rafflecopter. You still have to visit each of their blogs (the links in the paragraphs above take you directly to the evidence of their crimes) to get the "super secret" word you'll need to enter.
Ironic, huh, they're using secret words in their conspiracy against my secret cover!