TRIPLE REVIEW: Jared's Family by V.S. Morgan

Author Name: V.S. Morgan
Book Name: Jared's Family
Series: Sequel to The Gift and Sam's Temptation (can be read as a standalone)
Page/Word Count:
Categories: Gay Romance, Interracial Romance, Contemporary Romance, Cowboys & Westerns
Release Date: February 14, 2017
Publisher: Decadent Publishing
Cover Artist: Tibbs Design
Buy Links:




Blurb: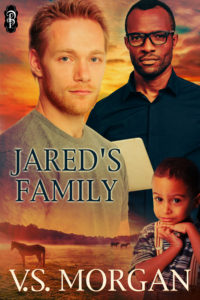 After witnessing his mother's death, a once outgoing preschooler is now a quiet shadow of himself. The little boy suffers nightmares and rarely speaks, choosing to use the basic sign language he learned in daycare. Desperate to help his little nephew, Virge Stevens takes a leave of absence from the LAPD to bring Donovan, known as D to Montana for the therapy he needs.
A chance meeting at the library changes Virge and his nephew's lives forever.
Jared Malone is one of five brothers, right smack damn in the middle. He is the peacemaker and the one who gets shit done. When his younger brother gets sick, Jared fills in reading to small children at the library. There he encounters a tall, dark, and handsome stranger and his cute little boy. Jared is immediately drawn to Virge but is still dealing with the betrayal of an abusive ex.
As the Malone family welcomes them to the ranch and into their lives, Virge's instant attraction for Jared grows, but the cowboy is fifteen years younger than him. Will he be rejected?
Both men have secrets. Secrets that could destroy the connection between them. Can they overcome the odds and find happiness together?
Excerpt:
Another blond cowboy stood in the middle, working with a horse. He had a long rope around its neck, guiding it around the ring at a quick clip. The shirtless cowboy spoke in a firm yet quiet tone. Virge nearly choked on his tongue, eyeing the golden skin and muscles on display. This was their cowboy.
The man whistled, and the horse stopped. He rubbed its shoulder, his back to them, as they reached the ring's split-rail fence.
"Daddy!" D shrieked, and the horse whinnied and shied, bumping into the man as it swung around.
"Whoa, easy, Spike," the cowboy soothed.
Virge struggled to prevent his nephew from launching out of his arms while the cowboy calmed the large, skittish animal. He'd never been near a horse and was struck by its size and power, which the other man skillfully controlled. As the cowboy turned, Virge saw a tattoo on his chest. A redwing blackbird with a rainbow-hued ribbon dangling from its beak. His heart beat a little faster seeing the colorful ink. Could he be gay? The cowboy handed the rope to a dark-haired man before pulling on a T-shirt that stretched tight over those muscles. He suppressed a disappointed sigh.
Nate chuckled. "You've got some explaining to do, bro."
"Hi, I'm Jared. I remember you from the library." He approached with a rolling gait Virge found extremely sexy and offered his hand after wiping it against his denim-clad thigh. Damn, he was built all over and tall, just an inch or two shorter than his own height.
Virge shook his hand, hyperaware of the firm grasp of warm, work-hardened skin. "I'm Virge, and this is Donovan. He goes by D."
"Glad you could make it out—"
"Why did he call Jared daddy?" Nate interrupted.
"He calls all men daddy and women mommy. If he especially likes someone, he adds their first names. D doesn't talk much, so he must like Jared." What about this cowboy had inspired his nephew to talk?

3.5 ✨s – Virge is an author and an L.A. Police Officer who takes a leave of absence when he gains custody of his nephew, Donovan or "D", after witnessing his mother's death. D is traumatized and stops speaking for the most part. He uses basic sign language to communicate. Hoping to help D, Virge takes him to Montana for therapy where they both meet Jared. Jared and his brothers run a horse ranch and the little boy instantly likes Jared. It doesn't take long for Virge and D to be invited to stay in one of the guest houses at the ranch.
I liked this book. I liked Virge and Jared. Jared's family is hysterical and their dynamic is the stuff one only reads about in books. D is a sweet kid who is too young to really understand why his mom was taken away from him, but thankfully has always had a very close relationship with his uncle Virge which helps considerably. The romance in the book is good and Virge and Jared get their HEA.
Now for the reasons I only gave the book 3.5 stars. There are way too many plots going on for such a short story. There were so many loose ends at the end of the book that I was left wondering if maybe I didn't receive the full ARC. I honestly had a problem with D calling every man he likes "Daddy". That just seemed really weird to me. Also, how did D learn sign language well enough to be able to communicate? How did Virge learn sign language well enough to communicate with D? And why did Virge have to go all the way to Montana for therapy for D? Are there really no qualified therapists in Los Angeles?

3.5✨s – So much sweet. The Morgan family is incredible, providing a safe haven and healing place for darling little D, and his uncle Virge.
There were quite a few twists to this short novella. While Virgil and Jared navigate their new attraction the world goes on, and with it so much drama.
Throughout it all there is a beauty in the friendships as well as the the family ties that make this a delightful read. With all of the incredible secondary characters this rich world will definitely keep a bit of my heart.

4✨s – I adored this story, I'm such a sucker for hot guys with kids. In this one, we have Virge, who's raising his sister's son Donovan, or "D" as he's affectionately known as. D, has been having trouble since his mothers murder, which he witnessed and has become mute and had other psychological issues, as one would being a three year old who watched his mother be killed. Still, Virge put his life on hold, at work especially so he could move to Montana and get D the help he needed with a well-known therapist. He's also a writer of a very popular book series that keeps him doing well…..On a date to the library for some reading time, Virge and D, meet Jared.
Jared is taking over reading to the kids at the library for his brother Nate who got the flu on the day he was due to read to the kids. Now, here's where I messed up, see, because I wasn't aware that these were all part of a series so Jared's family also has stories and it would've helped, had I read them before hand because there were a few times where I didn't understand who we were talking about, like Wyatt and Rafael or Gabi and Sam. I'm also very curious about Nate because even though he's a bit obnoxious, I have a feeling he's got a lot of baggage that I'll wanna read about, something about not being able to have kids, maybe? I'm not sure, yet. But, I'll look into it : )
Now, Jared and Virge are extremely attracted to each other and D becomes very close with Jared. I loved that, like I said… I'm a sucker for a hot guy who's great with kids. Unfortunately, Jared's got an ex-closeted, cop who seems to be out to cause him some trouble with Virge and D. And he does, he causes a bit of a stir up… I couldn't stand him and I knew immediately who was behind it all. I was kind of disappointed that we didn't get to see what happened to him, after all that he'd done. I mean we know he lost his job and his wife, but I dunno…. For all of you who read my reviews, you know I need me some karmatic justice… I hate when the bad guys get away with being bad guys and even though we did see the ex get into a little trouble or get found out or whatever, he just kind of disappeared after that.
The ending was so very sweet and I loved so much the way everything turned out. I loved how big this family was and how much they'd do anything to help anyone out, especially their family and the people their families cared about. It was a very sweet read and I'm definitely going to be keeping an eye out for Nate's story!
Author Bio:
V.S. Morgan has lived all over the US but calls Minnesota her home now. Her family includes her hubby, teen son, and a menagerie of pets.
She's been writing stories since she could hold a pencil and dreams of happily-ever-afters – even for two hot men – because love knows no boundaries. V.S. writes IRMC contemporary, paranormal, and suspense m/m and m/f with heart.
V.S. is a GLBT ally and a lifetime contributor of The Trevor Project.
Where to find V.S. Morgan:







Other books by V.S. Morgan:
[amazon_link asins='B00QUASQBY,B0083WA1GK,B017RUBPFE,B00O7BLCGY' template='ProductCarousel' store='jegbo07-20′ marketplace='US' link_id='40f3c528-f44f-11e6-958f-b190924d2d79′]
Giveaway:
a Rafflecopter giveaway