TRIPLE REVIEW: When It All Falls Down by Tanya Chris

Author Name: Tanya Chris
Book Name: When It All Falls Down
Page/Word Count: 185 pages, 63K words
Categories: Contemporary Romance, Gay Romance, New Adult, Coming-of-age
Release Date: February 1, 2017
Publisher: Tanya Chris Publishing
Cover: Self Pub Book Covers
Buy Links:


Blurb: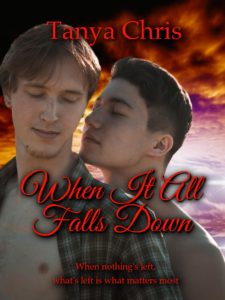 Maybe Charlie should have waited until he graduated high school before coming out, because since that revelation there's been a growing distance between him and his friends. Charlie's tough, though. He doesn't mind eating lunch alone or watching his former gang interact with their new best buddy. What he does mind is seeing Drew Lavoitt suffer the same fate.
Drew didn't come out. As far as he, or anyone else knows, he's straight. What Drew did is accidentally hit and kill a little girl. Now the boy who was voted Most Popular, and who Charlie has maybe had a crush on since eighth grade, faces financial ruin, expulsion, and the fear that if he's not everything, he's not enough.
Popularity, wealth, acclaim—these things are easily lost. In each other's arms, Drew and Charlie find something that can't be taken from them. Together the two build a foundation on which they can re-create their lives.
Excerpt:
"Drew, I'm not your boyfriend."
"At school, you said yes."
"I can be your boyfriend at school, if that makes it easier for you to be at school, but I'm not your real boyfriend. Are you really expecting me to be … faithful to you?"
"I came out to my parents for you."
"I don't understand that part either. I don't understand any of this."
"What's so hard to understand, Charlie? I want to be your boyfriend. Not just at school. All the time. But if you don't want me—"
"Come on," I said, cutting him off, "don't start the drama up. You've got to know how much I want you."
"Then we don't have a problem." He snuggled deeper into my side until he was rubbing his cheek along mine, our faces pressed right up together. Drew might not have a problem, but I did. My problem was that I wanted to turn my face into his and kiss him—not a quick brush of lips like what he'd given me in the hallway yesterday but the real thing. And then I decided, fuck it. I'd show him that being my boyfriend wasn't what he wanted.
He was startled when I did it—when I brought my hand up to cup the back of his head and hold him still so I could really get my mouth against his, my tongue between those softly parted lips. Like he hadn't been expecting it, like he hadn't known that this was what happened when you rubbed your almost-too-skinny boy body up against a gay guy. He gasped, which opened him further up to me, and his body got stiff where it had been pliant, and I thought you see? and then that thought vanished beneath a whole bunch of oh my God because once he got past that initial shock, he kissed me back.

4.5✨s – When Charlie came out to his family and friends on his 18th birthday, he didn't expect the news to alienate him from his best friends, but it did. Charlie became an island. Andrew or Andy as he's known to everyone accidentally hit and killed a little girl and since the accident, Andy has been alone.
One morning in calculus as the students are waiting for the teacher to arrive, Charlie sees Andrew Lavoitt, who is standing alone staring out of the window instead of being surrounded by students as is usually the case. Andy was voted "Most Popular" student of their class. Charlie doesn't mind being alone, but there's something very sad about Andy being alone so Charlie decides to approach him and talk. Charlie is like a lifeline to Andrew, someone he can hold on to to keep from drowning. They begin eating lunch together and hanging out after school.
Charlie has always thought that Andrew was cute, but he believes Andrew is straight and so he's content to just be Andrew's friend. The two become very close and Drew leans a lot on Charlie for support. When Drew starts giving Charlie signs that he wants to be more than just friends, Charlie is curious, but doesn't want to take advantage of Drew.
This is a YA book, but it's also so much more. While Charlie and Drew are seniors in high school, the issues they face both individually and together are struggles that adults go through every day. They way both men handled what life threw at them is amazing. This book deals with some really sad and really tough issues, but it's done very well. The author delivers the sense of loneliness, grief, isolation, need, friendship and love beautifully. I thoroughly enjoyed this book and would definitely recommend it.

3.5✨s – This book stole my afternoon. Once I opened it is read it straight through.
The author is no holds barred on the topic of guilt and grief resulting from Drew's involvement in 6 year old Jessica's death. The hole he falls down is deep and slippery, as is his self imposed isolation.
Charlie, Charlie is a gem. While he has difficulty explaining why he is drawn to Drew, he doesn't question it. Dealing with his own secrets and anger fall to the side as he helps Drew find his way back. His character is the best developed and his voice very unique.
As an aside, he has some serious willpower, I remember being 18, not so sure the no's would have persisted for so long.
Why 3.5 Stars?
We never get anything from Drew's POV. I can only imagine how much more powerful the epilogue would have been if told by him. Would have liked his take on their future.
The "okay we're all friends again" quick fix between Charlie and his pals.
What was up with the parents?? Neither set were very impressive.
I truly enjoyed their story, as always wanting more.

4✨s – I knew going into this one, there would be depressing topics, sad ones. We know that Drew had a car accident where a young girl was fatally injured. There is no sugar coating that, it was very sad, especially for her parents, as it rightfully would be. I could understand their anger, their hurt and I knew where they were coming from. Grief makes you do crazy things, doesn't it?
Through that, and the accident, it caused everyone to kind of shut themselves off to Drew, whether it be because they didn't know what to say, or they blamed him… I hated that for him, I couldn't even imagine… and he was back at school, days later? That was ridiculous. I wasn't a fan of his parents for that, even though I knew they were just trying to get things back to normal…. it was really too soon and I wish they'd been more sympathetic.
Charlie… he's amazing. I didn't picture him as the guy on the cover; matter of fact, I wasn't a fan of the cover. I know you're not supposed to judge a book by it, literally in this sense, but…. I woulda skipped it, had I had to go on cover alone, which I'll admit, I sometimes do…
Anyway… enough of my shallow-ness over the cover. Charlie was amazing. He saw that Drew, one time Mr. Popular and crush from middle school, was alone on his own little island in the land of high-school. He wanted to help him…. Charlie was so genuine and selfless and patient and kind. I did at first think that it was kind of a co-dependent kind of relationship. I didn't think Charlie was taking advantage but I can admit at first, I thought he was just nice and Drew needed it.
And in a way, it was true, Drew did need it, he needed Charlie in a bad way… Charlie made things better, but not because he was someone to lean on, but because Charlie was just what he needed. He made it okay for Drew to need someone to lean on and he made him start living again.
I loved how both guys had the best friends, even if they all kind of forgot that for a while, they all came together and pulled through as the awesome friends that they were, in the end.
This story is one of heartache and tragedy, but hopefulness and growth. I adored how it ended and I'd love to read more about these two! Their lives were just getting started together and it was perfect.
Author Bio:
Tanya writes in a variety of romantic and erotic genres, being an avid follower of many of these genres herself. Some of her favorites are M/M romance, MFM threesomes, and BDSM with male submissives. Tanya lives in New England with her boyfriend and her cat and has participated in many of the activities about which she writes, but not all of them. It's left to the reader to decide which are which.
5 Questions with Tayna Chris:
As an author myself, I know inspiration is everywhere and can strike at the most inopportune moments (like in the shower, when you don't have anything to write with!). So, what was the inspiration behind When It All Falls Down? Well, sadly, it was a moment from my own high school days which has always haunted me. A very popular boy in my high school class really did accidentally kill a child towards the end of our senior year, and I remember seeing him standing by himself, looking out of a window, and wondering what had happened to all his friends. That moment became the opening moment in When It All Falls Down. Charlie has more courage than I did, and he does what I wish I could go back in time and do – he joins Drew at the window.
What is your writing process? (i.e. plotter or panster, explain) I like to call myself a plotzer (I think there's another name for the hybrid, but plotzer sounds as clunky as my process is). When I start a book, I only know a few things about it, like the premise and usually the ending. The rest I'm discovering as I go. BUT I don't do my best writing in front of a completely blank page, so what I do is write in my head (usually while I'm running or driving), scramble to jot all that down in a notebook when I reach my destination, and then work from those notes later. So I plot about one-to-two thousand words ahead of my writing.
What is the hardest part of that process for you? Actually putting my butt in the chair. I have a daily word quota because if I didn't force myself, I wouldn't ever do it.
There's a big leap a writer takes from putting words down on paper for the love of it and actually publishing those words for public scrutiny. What was that journey like for you? I have to give a shout out to my #1 fan/beta reader, Chasia. I met her through a beta exchange thread on the NaNoWriMo forums and she's not only read every book I've ever written but she was the one who kept pushing me to publish. She insisted that if I published my books, people would read them, and she'd help market them (and she always has!).

Once Chasia talked me into getting started, a woman I'd met through a NaNoWriMo write-in event shared her self-publishing experience with me. She convinced me to get on Twitter, gave me the name of the person who did her covers, and did a final proof of my story. I wouldn't be published today if it weren't for both of those amazing women and for NaNoWriMo.
What can readers expect from you next? I'm such a terrible genre hopper. I have to apologize to my readers because if they read something of mine and like it, I'll probably never write anything like that again. My next release (planned for late April or early May) is a M/M BDSM story called Aftercare, about as far from When It All Falls Down as it can get. What readers can always expect from me though, regardless of genre, is characters who are likable, who treat each other well, and who talk through their problems.  I don't deal in "bad boys" if that means men who treat other people horribly. These are characters you can feel good about falling in love with.
5 Fun Quickies
Favorite curse word: Even though I'm from the US, I say bloody sometimes. I think that's a really bad word in the UK? But in the US it just sounds quaint
Favorite dance move (video?!?): Dirty Dancing
Over or under (toilet paper, of course): Over. This is not a debatable subject.
Weapon of choice: Sarcasm
Evil mastermind, easily convinced partner in crime, or innocent bystander: Mastermind
Where to find Tanya Chris:






Other books by Tanya Chris:
[amazon_link asins='B01CPRI552,B01MZ062HB,B01MQ2KDMM,B01IAQMHKQ,B01F2NCD72,B01GN7W7ZE' template='ProductCarousel' store='jegbo07-20′ marketplace='US' link_id='8a98250c-1870-11e7-b52d-ed6b179b18de']