UPCOMING RELEASE: Changing Lines by RJ Scott & V.L. Locey

Author: RJ Scott & V.L. Locey
Book: Changing Lines
Series: Harrisburg Railers Hockey, Book #1
Page/Word Count: 229 pages
Categories: Gay Romance, Contemporary Romance, Sports Romance
Release Date: July 12, 2017 (Pre-Order Now)
Publisher: Love Lane Books LTD
Buy Links:



Blurb: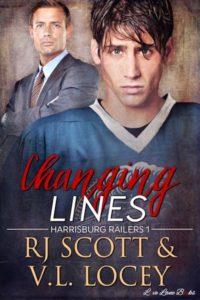 Can Tennant show Jared that age is just a number, and that love is all that matters?
The Rowe Brothers are famous hockey hotshots, but as the youngest of the trio, Tennant has always had to play against his brothers' reputations. To get out of their shadows, and against their advice, he accepts a trade to the Harrisburg Railers, where he runs into Jared Madsen. Mads is an old family friend and his brother's one-time teammate. Mads is Tennant's new coach. And Mads is the sexiest thing he's ever laid eyes on.
Jared Madsen's hockey career was cut short by a fault in his heart, but coaching keeps him close to the game. When Ten is traded to the team, his carefully organized world is thrown into chaos. Nine years younger and his best friend's brother, he knows Ten is strictly off-limits, but as soon as he sees Ten's moves, on and off the ice, he knows his heart could get him into trouble again.
5 Questions with RJ Scott:
As an author myself, I know inspiration is everywhere and can strike at the most inopportune moments (like in the shower, when you don't have anything to write with!). So, what was the inspiration behind Changing Lines? Inspiration comes at me when I am least expecting it. Mostly in the shower, or just as I am about to fall asleep! Sometimes you just need to get away from the PC and have some quiet time, and when you're part of a busy family, the shower is the only space you have to think properly! The thing with me now, is whether you can recall the inspiration by the time you get out of the shower. The inspiration behind Changing Lines was just my absolute love for MM and my complete love for hockey. Add in Vicki Locey and this new series was inevitable.
What is your writing process? I am a pantser. I have tried to plan and what happens is that I get bored, like the story has already been written. I write my first draft to about the 50% mark and then inevitably go back and delete Chapter 1 because that chapter was me *learning* how my tick. I will have one pivotal scene that has often come to me in the shower (see question 1!). What I do have are a few tools I use. Aeon timeline to look at familial relationships and timelines. This includes giving every single one of my characters a birth date. With the hockey books I map out an entire career for my guys so that I can confidently add in throw away lines that round out the characters.
There's a big leap a writer takes from putting words down on paper for the love of it and actually publishing those words for public scrutiny. What was that journey like for you? I've always written stories, in fact, I subbed to Silhouette Romance in my early twenties, but they encouraged me to go away with a very nice *not at this time* letter. I put writing for publishing on the back burner, and instead wrote for myself, and then I found fan fiction – Superatural J2 RPF to be exact!. I had a couple of fanfic friends who were published – Chris Quinton being the main one. She encouraged me to get published when I went to her for advice. I subbed my first novel to DSP, Oracle it was called, but they rejected it L. Never mind, Silver picked it up which ended up being a double edged sword. Yes, they published about 20 of my books, yes they stole all my money. I have all those books back out now, and with ARe folding as well I definitely learned a lot of lessons. The journey I've had, over the last seven years, has been bumpy, but also the most exciting thing I've ever done.
Do you have any strange writing habits or rituals? I'm not sure if this is strange, but being an indie author I get to have my own cover artist. Which means I can have my cover art done first. I need this art to inspire my writing. I have each cover blown up poster sized and put them on my office wall in front of me and I can look up and get a real feel for a character from the images. So, not weird necessarily, but definitely something that drives my writing.
What can readers expect from you next? Vicki and I have already written the second Railers' book and it is with our editor. It will be out 1 December, and again we wrote the whole 55,000 word book in three weeks. She is like the best co-author ever, and her enthusiasm is contagious!Writing on my own, I have Gabriel out next, which is the second Legacy book and a spin-off from my Texas series. So excited for readers to see what I put Gabriel through now.
5 Fun Quickies:
Favorite curse word: Fuck
You're auditioning for American Idol, what's your song?: Like A Prayer, Madonna
Over or under (toilet paper, of course): Over
Weapon of choice: Sharp blade, in case of zombies
Evil mastermind, easily convinced partner in crime, or innocent bystander: easily convinced partner in crime. Unless I'm drunk, and then I am the evil mastermind.
A Word from V.L. Locey
Thanks to Jessie for having us here. It's release week for Changing Lines, an MM hockey romance co-written with RJ Scott. Changing Lines is the first of several novels – and at least one spin-off novella – in the Harrisburg Railers series. It's also the first time that I've ever collaborated with another author and it's been a wonderful experience! RJ is a joy to work with. She's clever and funny, professional, a hard-worker, and a real hockey lover. Shame she cheers for the wrong team. I kid! Mostly. *winks*
Even though my coauthor is a Pens fan and I'm a Rangers lover, that never gets in the way of our work or our love of writing MM romance. Our processes are quite similar in many ways. We both like having cover art done before we write, we're both organic writers – or pantsers if you prefer – and we both enjoy penning heartfelt, erotic MM romances. It's been a joy being able to work with RJ, and I am looking forward lots more laughter and amazing MM hockey romance to come from our combined pens!
Skate hard and love deeply,
About RJ Scott: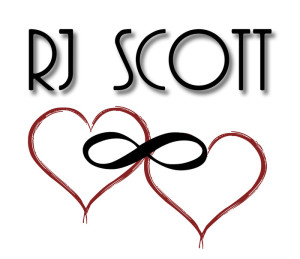 RJ Scott is the bestselling romance author of over 100 romance books. She writes emotional stories of complicated characters, cowboys, millionaire, princes, and the men and women who get mixed up in their lives. RJ is known for writing books that always end with a happy ever after. She lives just outside London and spends every waking minute she isn't with family either reading or writing.
The last time she had a week's break from writing she didn't like it one little bit, and she has yet to meet a bottle of wine she couldn't defeat.
Where to find RJ Scott:




About V.L. Locey: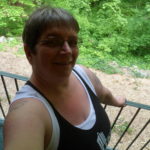 V.L. Locey loves worn jeans, yoga, belly laughs, walking, reading and writing lusty tales, Greek mythology, the New York Rangers, comic books, and coffee. (Not necessarily in that order.) She shares her life with her husband, her daughter, one dog, two cats, a flock of assorted domestic fowl, and two Jersey steers. When not writing spicy romances, she enjoys spending her day with her menagerie in the rolling hills of Pennsylvania with a cup of fresh java in hand. She can also be found online on Facebook, Twitter, Pinterest, and GoodReads.
Where to find V.L. Locey:








Contest:
a Rafflecopter giveaway