2015 LGBT Halloween Blog Hop
Happy Halloween, All Hallows Eve, Samhain, Everyone!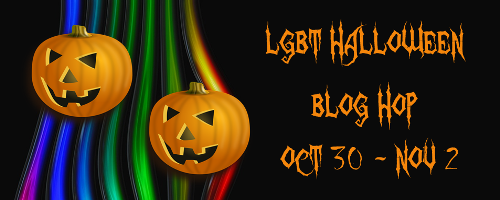 Thank you for dropping by and welcome to the hop! We have 25 prizes to give away,
donated by some talented, generous people who write LGBT characters:
Any book in Tara Lain's backlist
Duce by Kai Tyler
Cruise Control by Kerry Adrienne
Safety in Numbers by Jessie G (Sizzling Miami Series)
Trouble Comes in Threes by M.A. Church
Discovery by Thianna Durston
Rescuing Kyle by Eva Lefoy
Gay for Pay by TM Smith (All Cocks Series)
Spooky Tales One by Stephen del Mar (Short story collection)
The entire Moonlit Wolves Series by Bronwyn Heeley (7 books)
Coming Back Home by April Kelley (Pickleville Series)
Any ebook in Draven St. James's backlist
The Russian Boy by Neil Plakcy
Any book in Annabeth Albert's backlist
Shades of Sepia by Anne Barwell
Any book in Amanda Young's backlist
Any book in Lynley Wayne's backlist
Electric Candle or Jewel Cave by Elizabeth Noble
Soul Sick by Kendall McKenna
When All Else Fails by J.M. Dabney (Sappho's Kiss Series)
More Than What They See by J.M. Dabney (Sappho's Kiss Series)
On the Run by Michael Mandrake
Ivan vs Ivan by Princess S.O. (Teddy Bear Collection)
Blue by DP Denman (Blue Series – 2 copies)
And check out Bookworm Bridgette's book blog.
The grand prize is a $50 Amazon gift card
Enter today and spread the word!