Buy An Honorable Man by Sandrine Gasq-Dion on Wilde City Press
Author Name: Sandrine Gasq-Dion
Book Name: An Honorable Man
Series: Men of Manhattan, Book #7
Page/Word Count: 43K words
Categories: Comedy, Contemporary, MM Romance
Release Date: September 21, 2016
Publisher: Wilde City Press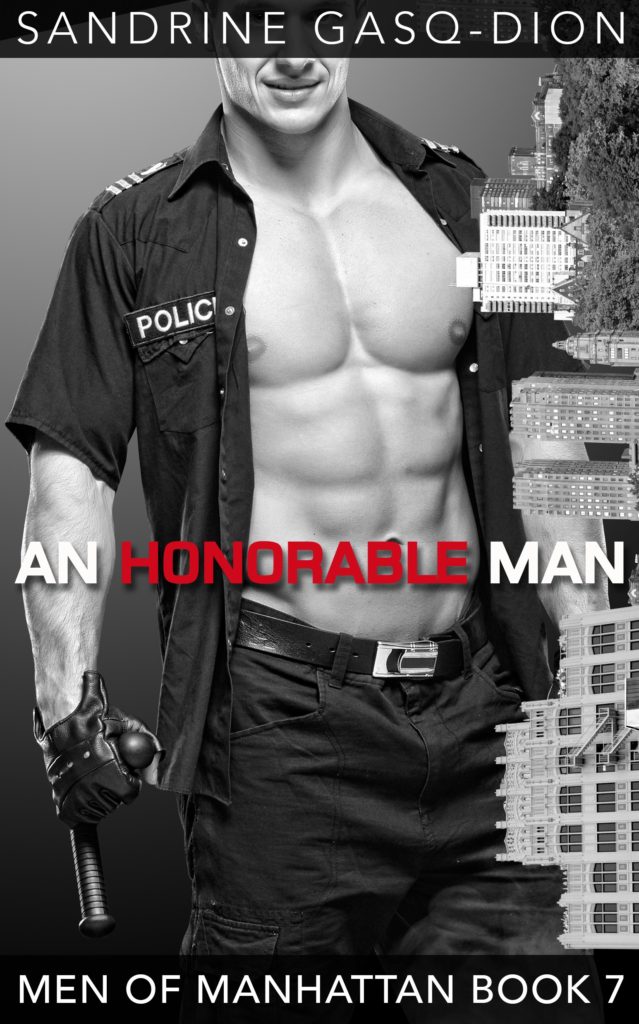 Blurb:
Officer Danny Finnegan loves his job. As one of the youngest faces on the police force, he has taken on the challenge of going undercover to catch a serial killer in Manhattan. Ten rent boys have been murdered, and Danny knows it won't be long before another one turns up dead in an alley. He and his partner, Tiernan Callahan, gear up to hit the seedy side of the city that never sleeps. There's only one problem. They need help to make Danny's cover convincing.
Bobby Laughlin left the back streets of Manhattan behind when he came way too close to becoming another number in the rent boy killings. He spends most of his time on Fire Island working at a bar. He is trying to get his life back on track when officer Danny Finnegan walks back into his life. Bobby was attracted to Danny the first time he saw him — when the boyish-looking cop took Bobby's statement after a client beat him brutally. Working with the the sexy cop could be dangerous. It would put him right back on the streets he's been trying so hard to avoid.
Bobby reluctantly takes on the task of teaching Danny how to work the streets. As things heat up on the case and in their hearts, Bobby finds himself falling for Danny, and Danny has eyes only for Bobby.
But can they catch a killer before one of them ends up as the next headline?

3.5✨s – I've been waiting for Danny and Bobby's story ever since we met them a couple books ago. I'm not real big on the "rent boy" trope, I don't like it, it's not my thing, but like I said; I've been waiting for something to happen with these two, and this series has been pretty amazing… So, now that I've read it….let's talk about it!
Bobby was the rent boy who got attacked and left by the dumpster. Danny is the cop going undercover to try to catch the guy who's doing all the killing of these rent boys…. Even though Bobby was off the streets now, working in a club serving drinks, Danny and Tiernan needed someone to help them learn the ropes; know where to go, who to talk to, what to do…. So, Danny thought of Bobby. He was a little hesitant at first, but as someone who was a victim of the murderer who just barely escaped with his life, he agreed to help them out. He took Bobby to his neck of the woods, introduced him to his pimp and they made a really good team, working together.
Of course, the more time they spent together, the more attracted they were to each other. It was cute the little things they had in common, like their dependency of hot chocolate and their hang ups with pickles lol, however, it got to be a little much and a little unbelievable… I get they have a lot in common, but do they have to be the same people? It was a bit farfetched at times. . I really liked how Danny didn't judge, not only Bobby, but he was just an all-around good guy; he didn't care what Bobby used to do or why he used to do it, he didn't look at him any differently than he would have anyone else with any other job. He got to know him and liked him because, no matter what he went through or what had happened to him, he was still funny and smart and sweet. He wasn't hard or jaded from the crappy life he'd endured; he was an all-around good guy too. I liked that for both of them, they just fit together.
There were a few instances, especially with dialogue that I thought were kind of cheesy; for example, when Danny catches someone "trying to scare" Bobby, and he knocks the guy off of him, he's like "What? You're the killer?" …. Would a cop really say that? It all sounded a bit "Scooby Doo" too me. Like, jinkies, pull off his mask and let's see who the killer really is!
I loved Danny's family…. Well, I loved his mom and dad, his brother wasn't my favorite person. I didn't like the way he treated Bobby…. I mean, I could see where he was coming from to an extent, but… he could have went about his concern in a different way, one that didn't hurt Bobby. I didn't like that.
I also knew immediately who "The Killer" was… as soon as he came into the story, out of nowhere I might add, I was like… oooh there it is…. Of course that's who it is. It's always a person of power or someone political…. I couldn't believe Brendan or Danny didn't at least consider it before he "walked into the light and revealed himself"…. (another Scooby doo moment) ….
I also didn't like that Bobby left Danny when he was in the hospital. For a second, I thought Danny's brother said something to hima gain but he didn't, he was just trying to come to terms with taking a life, which I get and all, but when he was in the hospital, Danny came to see him everyday and was with him every day, and they didn't even love each other yet, so when Danny was in the hospital and needing Bobby, I couldn't believe he just left for a month!! But of course Danny would wait for him…. Cuz he loved him and all that… but I thought jeez, what a way to stand by your man!
BUT, all in all, this story was just another good addition to an already great series. It wasn't my favorite, but I'm glad the loose ends got tied up, I'm glad they caught the person responsible for hurting Bobby and I'm really glad that Danny and Bobby found each other, they both deserved the happily ever after and I wouldn't mind reading more about these two, without all the drama; I hope we get updated in the next book… Brenden perhaps? We shall see! Looking forward to more!
Author Bio:
I have been blessed in this life to not only have parents that support me, but kids that do as well. I grew up in a loving but "Old School" French household. My parents worked for the airlines (TWA) so I was able to see a lot of Europe as a kid. I moved to Seattle Washington at the age of 22 and stayed there for twelve years before moving to Alaska for a little over two. Fairbanks, AK was one hell of an experience and I wouldn't hesitate to go back! I spent a little over a year in South Carolina before moving back to Arizona. I then left for Kansas for five years and now reside in Arizona. I've been connected to the military in one way or another for over half my life and wouldn't change a thing about it. Writing has become my full time job …more