AUDIOBOOK REVIEW: Camp H.O.W.L. by Bru Baker
Author: Bru Baker
Book: Camp H.O.W.L.
Series: Dreamspun Beyond
Length: 6 hours and 55 minutes
Categories: Gay Romance, Shifter Romance
Release Date: January 12, 2018
Narrator: Dorian Bane
Cover Artist: Aaron Anderson
Buy Links:




Blurb:
Moonmates exist, but getting together is going to be a beast….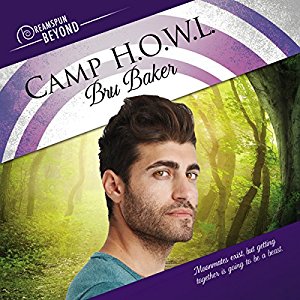 When Adrian Rothschild skipped his "werewolf puberty", he assumed he was, somehow, human. But he was wrong, and he's about to go through his Turn with a country between him and his Pack – scared, alone, and eight years late.
Dr. Tate Lewis' werewolf supremacist father made his Turn miserable, and now Tate works for Camp H.O.W.L. to ease the transition for young werewolves. He isn't expecting to offer guidance to a grown man – or find his moonmate in Adrian. Tate doesn't even believe in the legendary bond; after all, his polygamist father claimed five. But it's clear Adrian needs him, and if Tate can let his guard down, he might discover he needs Adrian, too.
A moonmate is a wolf's missing piece, and Tate is missing a lot of pieces. But is Adrian up to the challenge?
3.5✨s from Sandra (Hearts on Fire Reviews) – I really enjoyed this audiobook. Narration was paced well with a good variety of voices, and I ended up listening to this over the course of only 1 day (although I should have taken 2, I was a little burnt out by the end).
I was hoping for a little more wrap up and closure at the end. We did get an epilogue, which I appreciated, but it addressed some serious issues that I wish we had gotten to see play out. The whole book pretty much takes place and Camp H.O.W.L. (Which makes sense for Adrian's turn) but I would have liked the book to extend a little further than it did.
I often complain that books try to cram in too muchplot and villains, but I was a little surprised we didn't get more turmoil here. I will say the lack of drama is always nice, I was glad that there wasn't relationship drama.
Despite Tate's turmoil and flip flopping on accepting a relationship with Adrian, it didn't feel too dramatic and emotional. They talked through things a lot, and Tate was actually very open about his feelings and where he was coming from.
We got one steamy frontage scene, I do have to admit that I was hoping we'd get one more and it would go a little further. But again, I was blazing through this and should have paced a little better.
I enjoyed this and would definitely recommend it in audio version. The world building is unique to other shifter books I've read and it was fun to read something a little different.

About Bru Baker:
Bru Baker has been writing for Dreamspinner Press since December 2012. She believes in Happily Ever Afters, but she almost always makes her characters work to get there. She and her husband live in the Midwest with their two young children, whose antics make finding time to write difficult but never let life get boring.
Where to find Bru Baker: