AUDIOBOOK REVIEW: Off the Beaten Path by Cari Z.
Author: Cari Z.
Title: Off the Beaten Path
Length: 6 hours and 23 minutes
Categories: Gay Romance, Shifter Romance
Release Date: January 12, 2018
Narrator: Jack Wesley
Cover Artist: Brooke Albrecht
Buy Links:




Blurb: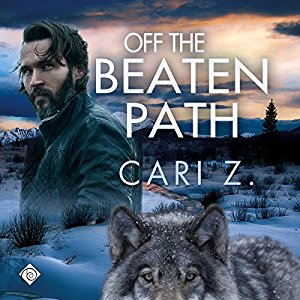 When Ward Johannsen's little girl, Ava, shifted into a werewolf, she was taken into custody by the feds and shipped off to the nearest pack, all ties between father and daughter severed. Ward burned every bridge he had discovering her location, and then almost froze to death in the Colorado mountains tracking her new pack down. And that's just the beginning of his struggle.
Henry Dormer is an alpha werewolf and an elite black ops soldier who failed his last mission. He returns home, hoping for some time to recuperate and help settle the pack's newest member, a little pup named Ava who can't shift back to her human form. Instead, he meets Ward, who refuses to leave his daughter without a fight. The two men are as different as night and day, but their respect for each other strikes a spark of mutual interest that quickly grows into a flame. They might find something special together – love, passion, and even a family – if they can survive trigger-happy pack guardians, violent werewolf politics, and meddling government agencies that are just as likely to get their alpha soldiers killed as bring them home safely.
4.5✨s from Sandra (Hearts on Fire Reviews): – CARI ZZZZZZZZZ, WHY YOU SO GOOD?!?! This was just an absolute delight. Despite the fact that the werewolf "territories" are poorly concealed prisons and "justifying their protected status" little more than indentured servitude, this was a beautiful and hopeful story. Despite Henry being at his wits end, exhausted and frustrated and used and abused. Ward was everything they didn't know they all desperately needed.
Loving his daughter with his whole heart he fully accepted (before the story even began) that best case scenario, he would stay on Pack land with Ava indefinitely and never return to his old life. He never wallowed or complained or felt bad for himself. He was grateful and overjoyed and appreciated that he was able to find his daughter and be allowed to stay with her, to help her.
The love story is slow, but also not. There's no insta-love but the two men immediately have a good dynamic based on mutual respect and understanding. Their feelings develop based on action, based on what they learn of the other man. Yes, it happens in a somewhat short period of time, but it never feels rushed. There is no "unexplained" attraction. It all makes perfect sense.
Sure I would have loved more sexy times, but it also wasn't necessary. We feel the attraction between the two men, and get to witness one sizzling peak of intimacy. The story was so rich with dynamic secondary characters and inter-pack relations that we certainly weren't lacking for story. Ava is in the story mostly as a wolf, so not too much annoying kid time or this-4-year-old-is-acting-like-a-12-year-old nonsense.
The audio version was perfect, from Henry's gruff tenor to Sam's normal (not annoying or high pitched) female voice. I really enjoyed listening to this and, full disclosure, listened to it in pretty much one sitting! I'll def keep an ear out for Jack Wesley's narration int he future.
I reeeeeeeeeeeally want Tennyson's story, and am SO EXCITED that Cari Z got approved for a second book in this amazing world! But I also (for once) really want more of Henry and Ward. I normally prefer to move on to new couples but in this case (maybe it was the lack of sex or that the pack is finally settled), but I'd also really love a second book for the two of them.
Either way I'm definitely keeping an eye out for this series. A new and complex shifter world with complex secondary characters and a slow burn love connection? YES PLEASE!

About Cari Z.:
Cari Z was a bookworm as a child and remains one to this day. In an effort to combat her antisocial reading behavior, she did all sorts of crazy things, from competitive gymnastics to alligator wresting (who even knew that was legal!) to finally joining the Peace Corps, which promptly sent her and her husband to the wilds of West Africa, stuck them in a hut, and said, "See ya!" She also started writing, because some things she just thought she could do better. She's still climbing that ladder, but can't stop herself from writing, or from sharing what she creates.
Cari enjoys a wide range of literary genres, from the classics (get 'im, Ahab) to science fiction and fantasy of all types, to historical fiction and reference materials (no, seriously, there are so many great encyclopedias out there). She writes in a wide range of genres as well, but somehow 90% of what she produces ends up falling into the broad and exciting category of m/m erotica. There's a sprinkling of f/m and f/f and even m/f/m in her repertoire, but her true love is man love. And there's a lot of love to go around.
Cari has published short stories, novellas, and novels with numerous print and e-presses, and she also offers up a tremendous amount of free content on Literotica.com, under the name Carizabeth.
Where to find Cari Z.: