BLOG TOUR: As the Sun Sets by RJ Jones

Author Name: RJ Jones
Book Name: As the Sun Sets
Series: Love for the Seasons, #3
Page/Word Count: 152 pages
Categories: Gay Romance, Contemporary Romance, Medical Romance
Publisher: Vivid Blue Press
Cover:
Buy Links:


Blurb: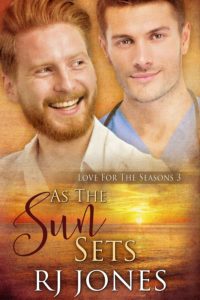 A sea change could be just what the doctor ordered.
Doctor Scott Penney used to be a Paediatric Oncologist—until he burned out. Watching children suffer and die took its toll on his mental health. To cope, he used anonymous sex as an emotional crutch, thinking it was better than hitting the bottle. But that inevitably destroyed his relationship with the man he loved.
With his tail between his legs and a year's worth of celibacy under his belt, Scott accepts a position as an Accident and Emergency consultant, leaving his career in oncology and London behind.
Ben Jenkins is a paediatric nurse who loves his seaside city, his job, and his faithful old Labrador, Happy. When he meets the new doctor, Ben falls for Scott's kind-yet-reserved personality—not to mention his good looks. Scott is great with the children who come through the hospital, but Ben senses there's more to Scott than meets the eye.
Scott tries to resist Ben's sunny charm—Scott's not boyfriend material, after all—but it's impossible not to fall in love with the sad looking old dog and his charming owner. As Scott and Ben get closer and the weather heats up, tragedy strikes and Ben is left wondering how much of Scott's history he actually knows.
For them to move forward, Ben must show Scott that no matter what happened in the past, a beautiful day can always start after the sun sets.
**This can be read as a standalone**
Excerpt:
"C'mon," I said to Scott, guiding him towards the lifts. "It's time for you to get home. You've got to be back here in a few hours."
He fell into step beside me without a word.
We walked to Scott's flat in silence. He was despondent while we ambled along the path. He didn't look at me or acknowledge my presence in any way. He was miles away, lost in his head. My exhaustion was starting to creep up on me, but I was bolstered by the fact that I didn't have to go back to work later. Scott, on the other hand, looked like he was about to fall over, and he had to do it all over again in just a handful of hours.
Scott unlocked his door and held it open for me silently. I followed him into the small flat but stayed in the living room while he stumbled off to the bathroom. I planned on making sure he got to bed, setting his alarm to wake him up, then going home and crash myself. When he emerged, bare-chested but still with my joggers on, he stopped in the hall and gazed at me. The dark circles under his eyes indicated more than just lack of sleep. He glanced at the floor, then entered his bedroom—again in silence.
I followed. Scott sat on the edge of the bed, head in his hands.
"C'mon," I said gently. "Let's get you into bed. I'll set the alarm for five-thirty."
Helping him lose the jogging bottoms but leaving his boxers in place, I then left them in a pile on the floor. I pulled the duvet back and gestured for him to get in. Scott curled up on his side and closed his eyes, the blankets pulled up to his ears like he was trying to shield himself. I was about to leave after setting his alarm when he reached out and slipped his warm hand into mine.
"Stay." His whispered word was ragged and hoarse as he looked up at me with tired, bloodshot eyes. Before I could ask if he was sure, he nodded. "Stay."
Ignoring the ache in my chest at his vulnerability, I stripped down to my briefs and T-shirt, then climbed in beside him. No sooner had my head hit the pillow, Scott scooted over and laid his head on my chest, his arm resting on my belly. I wrapped an arm around him, pulling him closer. I kissed the top of his head. "Sleep now."
I lay awake, staring at the ceiling while Scott slept. His breaths were deep and even, and I suspected just me being there helped him to nod off. Scott had been born to be a doctor. His calling was saving lives, that much was evident in the way he handled Arani's care. It made more sense to me now why he'd burned out in oncology. Losing a patient was hard on doctors and nurses both, but when it happened continuously, it would make anyone doubt themselves and their ability to perform a job. Especially someone as caring and dedicated as Scott.
I combed my fingers through his hair again and enjoyed the warm weight of his arm around me before finally falling asleep, sad yet content.

3.5✨s – This is book 3 in the series, not knowing this I started here and it worked.
I am sure everyone can relate to Scott's character, has it all yet still manages to destroy his world? Very frustrating yet honest. Smarts don't always trump common sense.
Ben is a true find. The nurse as the hero-YAY! Loved his relationships, his mom , bestie and the kids. Not to mention the shining star in the book- Happy.
The medical aspect of this story definitely kept me interested. As a nurse I have had many shifts where all I wanted to do was forget, however that could happen. Scott's self destruction is almost too difficult to read, especially since his heart is good. It's not that he sets out to hurt others, his actions hurt everyone, including himself.
Ben is almost too good to be true, but the connection between the two men is hard to define. Would have loved a bit more grit to Ben's personality, as well as a bit more determination and resolve to Scott.
The compromises in their lives, as well as the strength in their hearts made for a good read. A bit more than I expected.

3.5✨s – Like Evette, I haven't read the other books in the series and had no trouble jumping in—from that point of view. However, right off the bat, this book grips you with the devastation of a child that cannot be saved. You feel it from Scott, you feel it from the parents, and it forced me to take a deep breath before continuing. Scott's downward spiral afterwards is both heartwrenching and at times, frustration. I understood how much of himself he was sacrificing in the role he was in, I understood needing to step back and regroup, but to give up completely? All I could think of was all those kids he could have helped if he found another way to cope.
Of course, that wouldn't have brought him to Ben, lovable nurse, owned by Happy the dog, with a hippie-style mother you just have to adore. He saw that Scott needed a friend, even though he wanted more. He gave himself almost too selflessly to that friendship, even when it evolved into more without any promises to back it up. And he was entirely too quick to step aside when he thought Scott would go back to his ex. When lovable veers into doormat, I have a problem and the only thing that saved it was that anyone could see that Scott didn't intend for that at all.
Obviously, Scott didn't get to be where he is in his profession by lacking determination or intelligence, but he showed very little in this book and it left me undecided. I wanted more resolve from him, something that made me think he would eventually stand on his own and be Ben's partner, not just the recipient of Ben's support. From Ben, if he'd given Scott a swift kick in the pants, he would've been perfect.
Author Bio: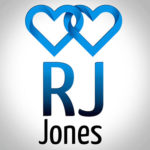 RJ started as a reader and eventually made the progression to reviewing. It wasn't until two men popped into her thoughts, insisting on telling her their story that she started to write. It started with one scene. A hot and dirty one in the shower.
RJ's initial thought was if she could write their scene then they'd shut up and allow her to concentrate on other aspects of the day. That shower scene was 3000 words long and three hours of work. But they didn't shut up. They told her their entire story and she didn't sleep for days. Sometimes she couldn't keep up with what they were telling her and she had to keep a notebook by the bed.
Whilst RJ was writing their story a side character decided he needed his story told too. Then other characters followed suit.
You see the problem? If RJ ever wants to sleep again then she needs to write.
RJ is a wife and a mother to two boys. Even her dog is a boy.
She is surrounded by males.
RJ writes emotionally charged, character driven romances. Her guys will always get their HEA, but it will never be easy.
Where to find RJ Jones:





Other books by RJ Jones:
[amazon_link asins='B01CNGQI4A,B01CWP0SF2,B014VP2X0Y,B011AKK3DM,B01DTAK3EA,B01LZASX6G' template='ProductCarousel' store='jegbo07-20′ marketplace='US' link_id='423eac4d-ff57-11e6-ac0e-cb096dcd07c1′]
Giveaway:
a Rafflecopter giveaway