BLOG TOUR: Double Dealing: A Marriage of Inconvenience by Nicole Colville

Author Name: Nicole Colville
Book Name: Double Dealing: A Marriage of Inconvenience
Page/Word Count: 240 pages
Categories: MM Romance, Contemporary
Release Date: October 31, 2016
Publisher: Hidden Pleasures Publishing
Buy Links:


Blurb: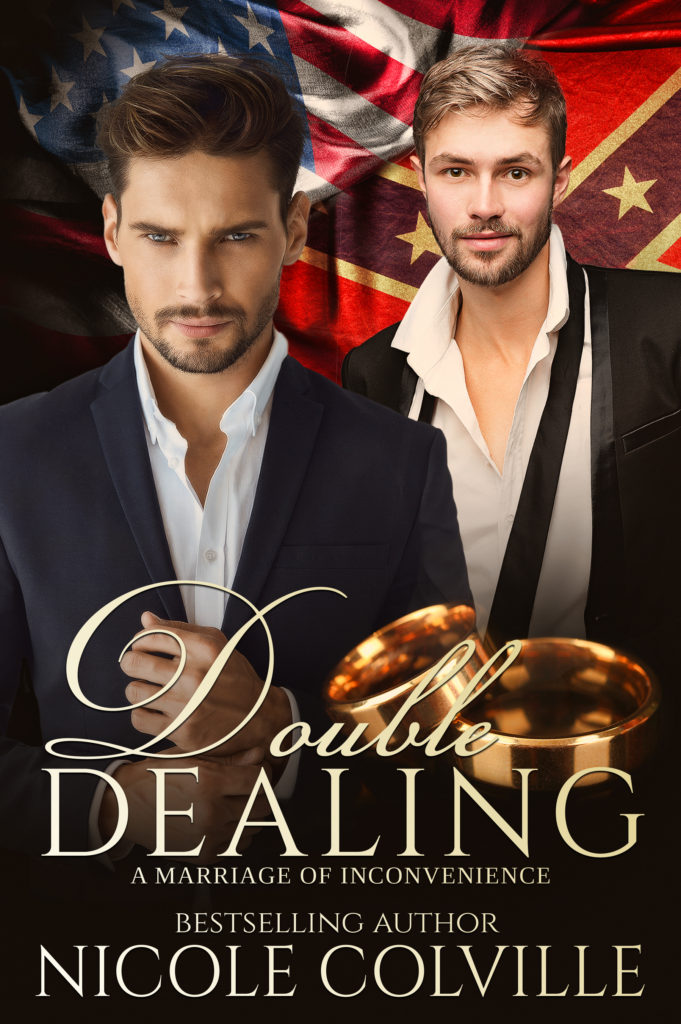 Caught in a messy merger with the mounting pressure to close a multi-million dollar deal, business mogul Ryder Granger finds things are more hostile than the average takeover, but he's not just interested in acquiring the lucrative Lyon coffee chain. He has an entirely more personal motive hidden beneath his cool exterior and designer suit.
Trace Lyon believes the merger with B&G could be the way out of the closet his strict Southern father keeps him locked in, but there's one big problem. Ryder Granger is everything Trace wants, and everything his father despises. Two years ago, they shared one incredible night together, but despite the connection and the intense heat, both walked away.
With the deal falling through, Ryder brings an unexpected offer to the table — a more personal type of merger between the two rival families, one Trace is dead against. After all, an arranged marriage in New York in 2016… That could never work out. Taking control in the only way he can, Trace agrees to marry Ryder, but secretly plots to double deal both his father and Ryder. He just has to get this whole absurd wedding out of the way first and ignore how happy Ryder makes him feel.
There are questions he's hesitant to ask, however. Is Skye a man or a woman? And, what does it mean that he doesn't really care?
Previously published under the Confidential Encounters Anthology with 30,000 new additions to read.

3✨s – It was hard for me to get through the first 46% after the prologue. Felt drawn out and repetitive. Fortunately the story picked up along with my interest.
This is a modern twist on an arranged marriage is an interesting premise. Ryder gets what he wants and he wants Trace. The connection they forged two years prior has held him captive. Instead of being angry that he can't let go Ryder wants more. Add in a forced business merger, an a$$ of a father in law, a closeted Southern gentleman and watch the sparks fly.
Trace drove me nuts. He was all over the place and often his actions hurt and dismissed Ryder. Ryder's no saint but he wants to give his walled up heart to Trace and damn is it difficult to get Trace on board. It's not that Trace doesn't have feelings for Ryder, he does, but everything is so out of his control that the relationship is the one thing he can control. The chemistry was intense and undeniable. These men epitomized stubborn, yet overall their love story was a happy one. Maybe all a bit too easy but doesn't that go along with being a billionaire? Possibly. Lots of money was thrown at their issues. Another reason I don't really enjoy billionaire boss stories
Teasers: Click to englarge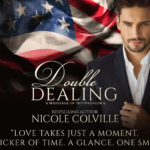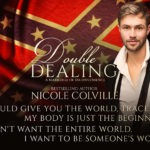 Author Bio:
Nicole grew bored being a supermodel genius who worked part time for NASA, and decided to take a break from helping solve the mysteries of the universe with Stephen Hawkins to write m/m romance.
She has a loving relationship with her hubby of twenty years, and has achieved a lot in her short life considering she's only eighteen. She has fourteen dogs of all different breeds, plus twenty cats, and when she's not tending to their every need, and solving complex math problems, she loves to sew and can be often found knitting in the garden, which she maintains all by herself with her magical green fingers.
Finding time to make all of her own clothing and master the kitchen better than Gordon Ramsey, she's also a vegan domestic goddess and can often be found cooking up a storm bare foot in her kitchen.
Okay, so that's not true, especially the cooking part, though I do tend to be bare foot and I swear like Gordon does while burning my latest creation — and I still think NASA will be getting in touch. Any day now!! *crosses fingers* I could sooo do that job because I'm so obviously awesome, but until they do…
I'm a full time author of M/M Romance and Erotica, and somehow I have several bestselling books under my belt. I've been writing for four years, and I self publish all my work under Hidden Pleasures Publishing along with my amazing team of helpers in the form my cover designer Kellie Dennis, editor Jessica McKenna, and all of my beta readers and PA's.
I'm a wife to my beloved hubby and mother to two young girls, and I do in fact have two cats who I adore, but no dog, as the hubby put his foot down. I live in Leeds in the North of England and I love it, despite the terrible weather.
My men are all seeking what everyone is, true love mixed with passion and their own happy-ever-after full of laughter and tears.
Where to find the author:


Giveaway:
a Rafflecopter giveaway