BLOG TOUR: Enduring Night by John Wiltshire

Author Name: John Wiltshire
Book Name: Enduring Night, More Heat Than The Sun series, Book #7
Release Date: October 23, 2015
Pages or Words: 80,000 words
Categories: Contemporary, Gay Fiction, M/M Romance, Thriller
Publisher: MLR Press
Cover Artist: Dana Jamroz




Today I'm very lucky to be interviewing John Wiltshire author of Enduring Night. Hi John, thank you for agreeing to this interview. Tell us a little about yourself, your background, and your current book.
Tell us something about your character's friends.
Radulf is their best friend. He's a slightly dodgy wolfhound they took from a shelter when they needed a convenient dog to 'lose' as a cover story. He's proved rather difficult to get rid of since. In Book 2 he was blinded saving Nikolas's life. I don't have to imagine his take on events, as he has his own blog. It makes interesting if not very coherent reading.

Tim Watson came into the series in the first book. He's a bit of an enigma, because he doesn't say a lot, but as Nikolas has already worked out, what he does say is usually pretty pertinent. He's the only leftwing character (he reads The Guardian!) in my books. It's been fun bringing him over to the dark side.

Squeezy (Michael Heathcote) (everyone in the army has a nickname; he got his by winning a balls squeezing contest with Ben), arrived in Book 2. He's an ex-SAS friend of Ben's. Radulf is the only one who understands Squeezy, but then the dog doesn't have the distraction of listening to the inanities that come out of his mouth. Squeezy is a bit of a star in Enduring Night. We learn a lot more about him. All three, Radulf, Tim and Squeezy, have major roles in Book 8. They were tired of being peripheral characters.

What is your character's favorite meal? Favorite dessert? Favorite snack food?
Ben eats everything and anything. In the army, he frequently piled pudding (apple pie and custard, for example) on top of his main course (such as roast chicken and all the trimmings) and wolfed it all down in one go, as he didn't have time to be fussy. Nikolas's favourite sort of day is to get away with eating nothing and being left alone to smoke, and drink his vodka in peace.
What activity does your character absolutely hate?
Nikolas hates having to be truthful about anything.
What other author's book do you think your character would be good in?
I think Nikolas would enjoy meeting Jack Reacher, or Charlie Parker. Personally, I'd like to put him in the Twilight series and just end it by letting him kill them all.
What's your favorite decade and why?
Well I've lived in quite a few. Each has had its good and bad aspects. From my own perspective, I'd have to say this one. I have retired from work very early; I'm writing and getting published, and things are looking good. From the world's point of view? Probably not this one. By now we should be living in a superb technological era of rational thought and widespread freedoms of speech, and yet I see the opposite. We are running headfirst willingly into a new Dark Age.
Blurb: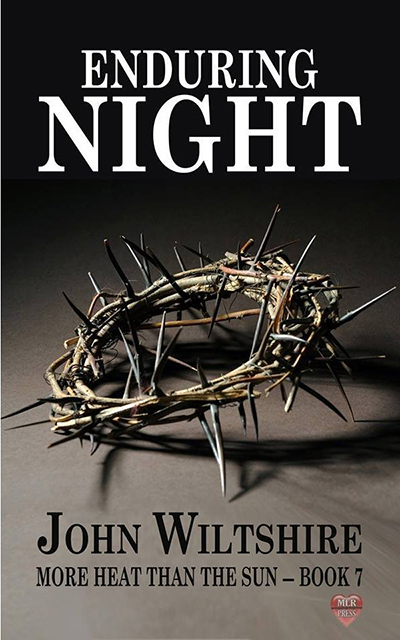 You'd have thought that Ben and Nikolas would have learnt that their romantic holidays inevitably end up as disasters. A short break on the polar ice sees them trapped in a nightmare of murder and deceit. Neither of them, however, foresees the long-term impact that endless winter has on their relationship. They return with a metaphorical darkness that threatens everything they have created together. Desperate and fearing for Nikolas's life, Ben makes a bargain with a surprising ally. For the first time, Nikolas meets an enemy more powerful than he is. But fortunately, not as sneaky…
Excerpt:
Prologue
The view from the window hadn't changed since the last time Ben had studied it—one grey, depressing wing of the building, the car park below, and some scraggly trees, still bare in January. Farther away, he could see the roofs of some houses, and perhaps, if he let his imagination run away with it, the distant hills of Bodmin moor. He didn't speculate in the realms of fiction much these days. He brought his gaze back to the utilitarian architecture.
The seagull was back, perched on the sill, as it had been day after day. Sometimes, it tapped the window with its beak. Ben was never sure if the gull wanted in, or for him to open the window and join it outside, flying or falling. Freedom either way.
Secretly, Ben thought the gull was an albatross. It was so vast, so impressive, that it seemed inconceivable that it could be an ordinary gull blown in from Plymouth Sound and sitting on the grimy ledge. The first albatross perhaps to make it to England, tossed on ocean currents all the way from the Chatham Islands, lost, alone. If it was, then it was in good company. Ben had never felt so lost or so alone, and he had spent a fair proportion of his life being buffeted by metaphorical winds far stronger than those that prowled the vast oceans of the world.




Meet the author:
John is English, an ex-army officer, who emigrated to New Zealand and now spends his time surfing and procrastinating on YouTube.






Tour Dates & Stops:
23-Oct:
Mikky's World of Books
,
Velvet Panic
,
Reviews by Jessewave
,
Sinfully Addicted to All Male Romance
26-Oct:
BFD Book Blog
,
My Fiction Nook
,
Happily Ever Chapter
27-Oct:
Scattered Thoughts & Rogue Words
,
Jessie G. Books
,
Boy Meets Boy Reviews
28-Oct:
Wake Up Your Wild Side
,
MM Good Book Reviews
,
Inked Rainbow Reads
,
Bayou Book Junkie
29-Oct:
The Hat Party
,
Cheekypee Reads and Reviews
Rafflecopter Prize: E-copy of 'Enduring Night' by John Wiltshire
a Rafflecopter giveaway