BLOG TOUR: Flight: Queer Sci Fi's Third Annual Flash Fiction Contest
Author Name: Anthology of 110 Authors
Book Name: Flight: Queer Sci Fi's Third Annual Flash Fiction Contest
Page/Word Count: 214 pages
Categories: anthology, asexual, bisexual, fantasy, flash fiction, gay, gay fantasy, gay science fiction, genderfliud, horror, lesbian, lesbian fantasy, lesbian science fiction, paranormal, science fiction, short stories, transgender
Release Date: September 21, 2016
Publisher: Mischief Corner Books
Cover Artist: Mila May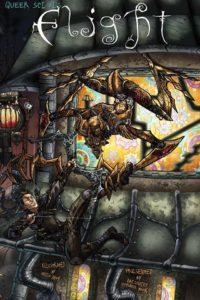 Blurb:
A 300-word story should be easy, right? Many of our entrants say it's the hardest thing they've ever written.
Queer Sci Fi's Annual Flash Fiction Contest challenges authors to write a complete LGBTQ speculative fiction micro-story on a specific theme. "Flight" leaves much for the authors to interpret—winged creatures, flight and space vehicles, or fleeing from dire circumstances.
Some astonishing stories were submitted—from horrific, bloodcurdling pieces to sweet, contemplative ones—and all LGBTQ speculative fiction. The stories in this anthology include AI's and angels, winged lions and wayward aliens. Smart, snappy slice of life pieces written for entertainment or for social commentary. Join us for brief and often surprising trips into 110 speculative fiction authors' minds.
Excerpt:
Smoke, by Zev de Valera
He rubbed his temples and squinted at the soft light of his surroundings through the fans of his thick eyelashes. The last drink had been a mistake.
Was that a shaker he'd felt, or the onset of a hangover?
He clutched a silken pillow and waited.
Suddenly, he felt his home tremble; a few pieces of glass and ceramic ware teetered and then fell to their demise.
Shit. This is the real thing.
With an effort, he hauled himself from his bed.
How many years had it been since the last one?
Sixty? Seventy?
The shaking ceased, and he looked around his small dwelling.
A model unit when he'd purchased it. Now filled with the result of years of collecting: a gramophone, a first generation television set, a water clock. And much more. All of it all had sentimental value—as did the photos of the various men that sat atop or alongside the items in his collection. Some of these men had loved him. All of them had once owned him. Now he owned their memories. That was the bargain.
Another shake. Followed by several unnerving tilts. He willed his cherished possessions to remain in place and willed himself into sobriety and a more becoming appearance as he prepared himself for work.
What to wear?
He selected a red brocade tunic and pants. A classic look always worked best for the initial consultation.
A resounding thud.
He peered up into the small shaftway at the center of the ceiling.
A pop.
Then a small circle of light at the end of the shaft.
He sighed, folded his arms, and transformed into a cloud of red smoke.
Up and away to meet his new master.
Judge's Choice — J. Scott Coatsworth

The shortest story I've ever written for submission was 6000 words and it nearly broke me. The task of putting in the necessary details and inspiring emotion in such a limited space was daunting to say the least, so when Scott emailed me about this anthology and said all the authors participating were given a limit of 300 words, I had to read it. And I don't read sci-fi (much) and rarely review it because it's not my preference and I don't want that to color my reviews. But 300 words? I want to shake every one of these authors hands for a job well done.
In the Foreword, Scott writes: "You may not fall in love with every story here—in fact, you probably won't. But if you don't like one of them, just move on to the next, and you're sure to find some bite-sized morsels of flash fiction goodness."
Whenever I get an anthology, I try to look at each story individually and rate them on their own merit, however this one really needs to be taken on the whole. There will be some entries you love, some that leave you wondering, and some that you just don't like, but each one is an outstanding accomplishment because the author will make you feel something in 300 words.
For me personally, I had to read this in sessions with only a dozen or so stories at a time. I found that as I kept moving on from one page to the next, my brain started refusing to see individual stories and kept trying to link them, which wasn't fair to the story. As soon as that happened, I'd step away so that I could come at the next one as it was meant to be read, on its own.
I know reviews are supposed to have stars (right?), so I would go with 4 stars which means I really enjoyed it and I'm grateful for the chance to read it. Did I love it? Some of the stories I did, some left me wondering, and still others were just not my cup of tea at all. Overall though, an outstanding, totally out of the box anthology that has something for everyone.
BTW, this review is nearly 400 words which proves that I would never have been able to do what these authors have done.
Teasers: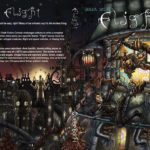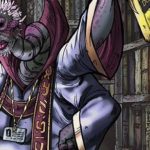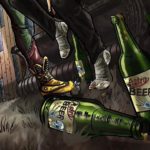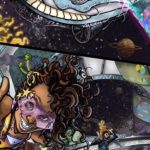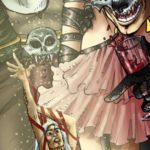 Anthology Info:
In the first year of the Queer Sci Fi Flash Fiction contest, we received about 15 entries for the theme "Endings". In the second year, it was 115 for "Discovery". This year, we had more than 170 entries from people around the world, and from all parts of the LGBTIQA rainbow. "Flight" represents 110 of those people and their stories.