BLOG TOUR: Ghost by J.M. Dabney

Author: J.M. Dabney
Book: Ghost
Series: Executioners, Book #1
Page/Word Count: 157 pages
Categories: Transgender Romance, Contemporary Romance
Release Date: July 18, 2017
Publisher: Hostile Whispers Press
Buy Links: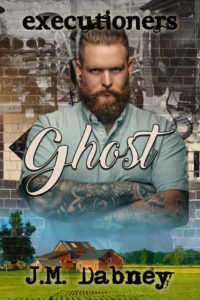 Blurb:
Gideon Jane earned the name Ghost for his reclusive nature when he joined a group of guys in Powers, Georgia in a band called Executioners. It had been his way of settling into small town life after living in New York for the past twenty years. He loved the band and his small organic farm. What he didn't love was being single, but it appeared it was his new reality. He didn't want his ex back, although he did want something. What that was eluded him until the evening he walked into Nightingale's Books.
Small town girl Harper Sage knew pain, and she'd lived with it—she had the scars both mental and physical to prove it. It would've been easier to hop in her car to find safety and anonymity, but Harper stayed to prove she was stronger than hurled fists and bruising prejudice. She found herself within the safety of a close-knit group of rough bikers and bar bouncers. That didn't mean it was all perfect.
What's a girl to do when she craves normalcy and acceptance: she just smiles. Choices are made, some with dire consequences and others that bring her closer to her dream. Will she make the right decision or finally discover escape is her best option?
Author Note: This book contains scenes of violence and descriptions of self-harm.

4.5✨s – Gideon Jane a/k/a Ghost moved to Powers, GA after a breakup with his cheating boyfriend. He set up a small farm and other than playing in the band, Executioners, he kept mostly to himself. But Ghost was ready to find someone to share his life with.
Harper Sage grew up in Powers, GA. She was bullied, taunted and hurt physically, mentally, emotionally, basically in every way for being transgender, but she didn't hide who she was. She has a small group of friends who make sure she's doing okay and a very scary self-appointed bodyguard named Joker. After her friends made her promise to stop attempting suicide, Harper found release in the abuse of closeted gay man, Bill.
When Ghost meets Harper at the bookstore she works in, he is instantly drawn to her. Ghost is patient, sweet, and so accepting of Harper that my heart ached from happiness. Harper's story is hard to read. She endured so much pain in her life, but I love that she stayed true to herself. She has a wonderful group of friends that adds spice to this already riveting story. I have friends who are transgender and I found much of Harper's story to be true to what I know from my trans friends.
Ghost is book one in the Executioners Series; however, there are eight books prior to Ghost. Although Ghost can be read as a standalone, I recommend starting from book one of the Twirled World series so you get to know all of the characters. After reading Ghost, I immediately purchase all eight books leading up to Ghost and am now on book four. I'm really happy I went back and am getting to know everyone and I'll probably re-read Ghost when I get to it in the series.

About J.M. Dabney:
By day, she's an introverted cook hiding out in her kitchen in the middle of nowhere Ohio, by night and any free time she may have, she is a writer of mainly LGBTQ Fiction and Erotica. Although. she's equal opportunity when it comes to telling a story, she'll even write a bit of straight erotic romance when the mood strikes.
She has been writing for years in old notebooks. At the age of eight, she wrote the worst poem in the history of poetry, but it sparked her love for writing. She reads too much and loves to get lost in other worlds and her favorite stories have to include laughter and having the reader doing at least one double take. Thirty-something, forever restless she uses her stories to ground herself, and find her place of peace.
Where to find J.M. Dabney:






Contest:
a Rafflecopter giveaway