BLOG TOUR: Girl Crush by TL Travis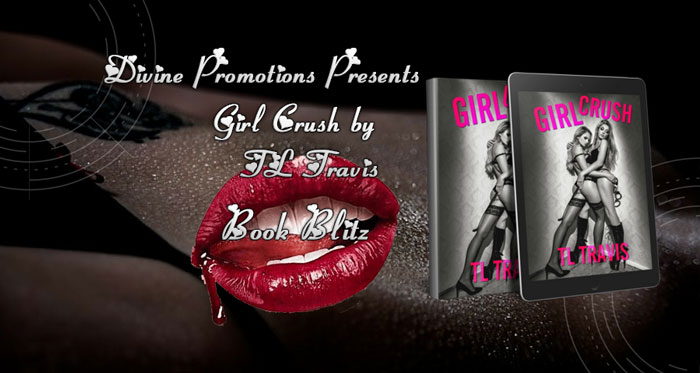 Author: TL Travis
Book: Girl Crush
Page/Word Count: 61 pages
Categories: Contemporary Romance, Lesbian Romance, BDSM & Erotic Romance
Release Date: May 26, 2017
Publisher: Encompass Ink
Buy Links:


Blurb: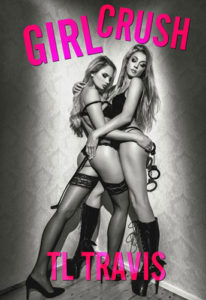 Girl Crush is an erotic female romance novella that brings to light that one time…
The one time you found yourself questioning your so-called sexuality, potentially risking your friendship. What if the feelings aren't reciprocated?
Confusion and pain brings them closer together, feeding from one another's strengths and thrusting them into each other's arms.
Are the risks of their new-found love worth the result?
This novella caters to adults over 18 as it does contain a high level of consensual MF (1 scene) and FF sexual encounters.
Excerpt:
Our one year anniversary was fast approaching and I wanted to do something special for my Gem. She had never been to Victoria BC and I really wanted to show it to her so I booked us a vacation cottage rental with a water view. I needed this vacation to be special. We've come such a long way and overcome many obstacles that were thrown at us so we needed a way to decompress.
I booked the rental for a week and told Gem to pack her bag with warm comfy clothes, but to include something special for a night out as well. I wouldn't tell her where we were going, just for how long we would be gone.
We got in the car and drove into Seattle to catch the ferry to Victoria. Gemma was in awe, she loved riding the ferries and her smile lit up my world. After securing our vehicle, we took the stairs to the café and ordered two cups of coffee and then made our way to the upper deck. Gemma stood at the bow of the deck, her sable curls whipping wildly in the wind but she didn't care. She smiled like a kid on Christmas morning. I came up behind her, wrapping my arms round her tiny torso.
"Are you having fun my love?" I asked.
"Yes, of course. But I wish you would tell me where we're going."
"All in time my sweet, all in time." I stayed with my arms wrapped around her, protecting her slender figure from the cold winds as we made our way through the sound, headed towards Victoria without a care in the world. Nothing mattered to me but her happiness, something I would do anything to secure.
It was too cold to stay on deck for this three-hour ride, so we went inside to cuddle up in one of the window booths.
"Liz, this is amazing. You know how much I love riding the ferry. I've never been to Victoria and I can't wait." The announcement had given away our destination, but not all the surprises I had planned for our week away.
I put my arm around her shoulder, kissing her cheek, "I promise you my love, you will not be disappointed."
"Liz, you could never disappoint me. You hold the key to my heart."
Her words still warmed me even though she proclaimed her love for me daily. This woman had become my world, and I hers.
Teasers (click to enlarge)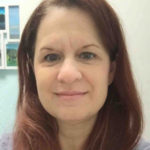 About TL Travis:
TL Travis is the published author of The Sebastian Chronicles, The Database, and Hat Trick along with numerous other erotic musings (and many more in the works), The Elders Trilogy – an erotic paranormal (Vampire) romance novel series and many non-fiction articles.
In her spare time she likes to fish, enjoy all the Pacific Northwest has to offer, spin spicy erotic webs for readers to enjoy, and rescue any 4 legged lost souls she comes across. Since her children are grown and have flown the coop, she's taken to spoiling her two deaf white boxers even more so than they were before.
And as always please remember – adopt a pet, don't shop. Saving that life might just save yours.
Interview with TL Travis:
What are common traps for aspiring writers? Do NOT EVER pay for reviews or pay for someone to publish you.  Big no-no in the industry.
Did you ever consider writing under a pseudonym? I do write under a pen name
What period of your life do you find you write about most often? (child, teenager, young adult) I only write erotica so all mine will remain consenting adults.
If you didn't write, what would you do for work? I would go back to construction and facilities management.
Do you read your book reviews? How do you deal with bad or good ones? I read every one of them. Rule of thumb is to never reply to any of them.
Do you hide any secrets in your books that only a few people will find? My books are filled with secrets from my past as well as my present.
What is your favorite childhood book? Are you there God, it's me Margaret by Judy Blume.
Does your family support your career as a writer?
Very much so, my oldest son is on the cover of Hat Trick and I had to get his consent before I could put him on it. My youngest son wants to be a writer.  He is 24 now and has mentioned our writing a book together.  I must tell you, nothing would make me happier than to have that actually happen.
Where to find TL Travis:





Contest:
a Rafflecopter giveaway