BLOG TOUR: Resurrection by S. Davidson

TITLE: RESURRECTION
AUTHOR: S. DAVIDSON
GENRE: M/M MILITARY ROMANCE 18+
PUBLISHER: ENCOMPASS INK
COVER ARTIST: RUE VOLLEY
LENGTH: 296 PAGES
RELEASE DATE: JUNE 1, 2016
Click to get your copy now


Blurb:
Two men with painful, complicated pasts who have shut themselves down from ever loving again. Complete opposites of one another, one raised in a strict military household, who grew up with the sole purpose of becoming a soldier and defending his country, only to have that cut short by an IED; and the other raised in the rodeo, small town and ranch life his safe haven; and their chance meeting.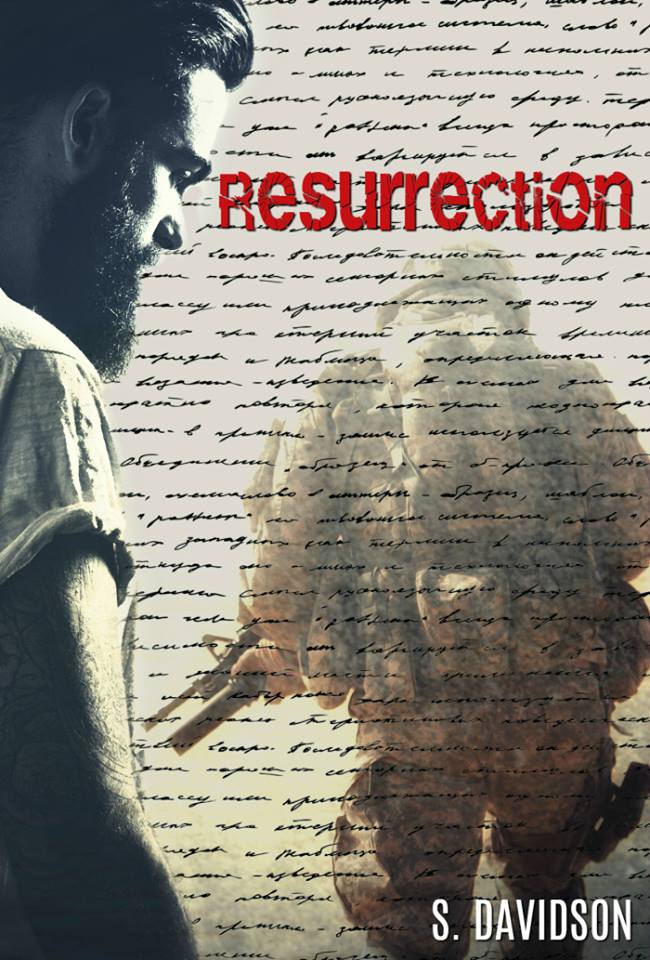 How the two of them end up in some small town diner can only be credited to divine intervention. But are both men too damaged? They say God works in mysterious ways. Well, he certainly had his hands full when he chose these two for saving.
Is it too late?
Excerpt:
"Hey handsome." Gary bent down and kissed Chris. Normally, it would have been a quick peck, an acknowledgement that they cared and were more than just friends, but this time, Chris reached up and placed his hand around the back of Gary's neck and with the other hand, he fisted the front of Gary's shirt and hauled the man down. "Whoa, there. What's wrong?" Gary pulled back and looked at Chris's face.
Chris winked. "I need you to fuck me before I revert to using the produce," Chris whispered, making Gary laugh. When Chris was horny, he had a one track mind.
"Well, now. I dunno, with your leg and all. Your momma told me…" Gary teased.
"My momma is gonna have a better time knowing I got caught without my knee brace than she would if she discovers a few cucumbers missing." Chris grabbed his crutches and stood. "You coming?"
"Not yet, but I have a notion once we get up those stairs, it won't be long." Gary chuckled, following Chris.
Teasers: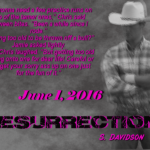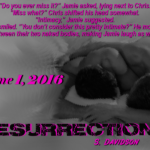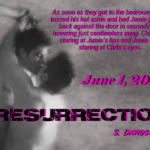 Dawn gives Resurrection 3.5 Stars
Spoiler Alerts!!!!
Part One – James Massey.  Jamie knows he's going into the Army.  He is a legacy and knew from a very early age that he would follow in his father's and grandfather's footsteps.  Although Jamie had already enlisted, he was to attend college first to have a career to fall back on if needed.  Jamie met Derrick, his new roommate in college and the attraction was instant.  With Derrick came Shannon, his best friend and Jamie also found himself to be very attracted to her.  Soon the three of them because inseparable, both in bed and out.  When graduation came, Jamie left in middle of the night to avoid a long sad goodbye and to move on with the next part of his life in the Army.  Derrick reappeared in Jamie's life after he completed basic training.  The rest of Part One is basically 15 or so years of Jamie and Derrick's love story until Derrick is killed, Jamie is hurt and sent home without a leg.  I thought Jamie and Derrick's story was way too rushed.  Their story could have been told beautifully in a novella or a book of its own.  Not every book has to have a HEA.
Part Two – Chris Baker.  Chris Baker is a professional bull rider and is very well known in the rodeo circuit.  Chris was raised on a ranch in Kentucky, but he wanted more for himself and applied for colleges all over the country.  Chris was soon accepted into Columbia University in New York and set off to learn architecture.  While working at a restaurant, Chris met Ben who took his breath away.  Ben was attending Cornell and studying to be an interior designer.   Their first date was basically love at first sight.  Chris and Ben soon became inseparable and after a few months moved in together.  After college, they opened a firm and became very successful. When Ben was diagnosed with bone cancer, Chris did everything possible to ensure he received the best care possible.  When it became clear that the cancer would eventually kill Ben, Chris did everything he could to help Ben complete his bucket list.  Soon Ben asked Chris to sell the business, build him his dream home on the land they bought not far from Chris's parents and live the remainder of Ben's life there.  Again, I found this story to be about 20 years or so of Chris and Ben's love story packed into a third of the book.  It was way too rushed and would have been better as its own book or novella.
Part Three – Jamie and Chris.  Part Three is basically the last half of the book and is when Chris and Jamie meet.  Both men are damaged from losing the loves of their lives.  Both men have suffered addiction.  Both men are just living without really having a life. Ben has come to Kentucky to rent a home on the lake across from Jamie's house.  Chris recognizes in Jamie the lost look and sets out to befriend him.  Slowly, they find that they have a lot in common and they are definitely attracted to each other.  Their love story is not quick or easy, but definitely makes both men better people for having each other.  While Jamie and Chris's story is half of the book, I still felt cheated.  Their story could have easily been the entire book and I would have enjoyed the back stories as just that, back stories.  This part of the book was too rushed as well.
All in all, the three stories could have been great if allowed to be told with more background and depth rather than rushed through.  I was disappointed.
About the Author:
Who is Shelly Davidson? Shelly is someone who has been writing literally her entire life (and that's a LONG time) and has always written M/M. Her first story was back in high school and she hasn't stopped since. Of course, Shelly never dreamed of getting published, so needless to say, she's in heaven! Shelly loves her characters. Her writing focus is real people, flaws and all, who are hurting or damaged, but deserve a little joy in their lives. Shelly was born and raised in Arizona, but currently lives in California because that is where the money is! She is currently single, but has a grown daughter and an adorable grandson both of whom she loves dearly. While she usually stays pretty much to herself, she does have a Bachelor's in Social Services and a diverse background that ranges from theater to health care and currently works in accounting, she swears it's not as boring as it sounds. While this is her first publication, it is by far not the last! She plans on being around for quite some time! You've been warned!



JUNE 1 : http://bayoubookjunkie.blogspot.com, http://twochicksobsessed.com/
JUNE 2 : https://jessiegbooks.com/scatterbrain/
JUNE 3 : http://www.lovebitesandsilk.co.uk/
JUNE 4 : http://www.prismbookalliance.com
JUNE 5 : http://lushbookreviewss.blogspot.com
JUNE 6 : http://mmgoodbookreviews.wordpress.com/
JUNE 7 : http://www.inkedrainbowreads.com, http://www.attentionisarbitrary.com/?zx=24fac25917b72211
JUNE 8 : http://naughtybookeden.blogspot.com.au, http://www.booksandwarpaint.com/
JUNE 9 : http://lovebytesreviews.com/
JUNE 10 : http://boymeetsboyreviews.blogspot.it/?zx=efa29018039fba5d
JUNE 11 : http://bfdbookblog.net/
JUNE 12 : http://diversereader.blogspot.com/
JUNE 13 : http://www.mmbookescape.com
JUNE 14 : http://dawnsreadingnook.blogspot.com

---
Want to win a $5 gift card to Amazon, B&N, or ARe?
Then help me show these authors some love by leaving a comment below.
1 winner picked monthly, cannot have won in the past 12 months.