BLOG TOUR: Second Wind by Aimee Nicole Walker
Author: Aimee Nicole Walker
Book: Second Wind
Page/Word Count: 236 pages
Categories: Gay Romance, Contemporary Romance
Release Date: February 14, 2018
Cover Artist: Jay Aheer @ Simply Defined Art
Photographer: Wander Aguiar
Blurb: Second Wind: a new strength or energy to continue something that is an effort. After an amicable divorce, Lincoln Huxley is ready to embrace the sexuality he repressed for more than two decades. Rush Holden is no longer willing to settle for closeted men or those who don't share his dreams of marriage and fatherhood. A chance encounter on a lakeside pier is the Second Wind they both need. Or will it just be a painful reminder of all they had lost?

Second chance: an opportunity to try something again that failed one time. Rush and Lincoln have shared a lot of firsts—friendship, young love, and heartbreak. Cruel reality forced the two men to choose paths that took their lives in different directions. Twenty-six years later, they get a second chance to fall in love with each all over again. Can it really be that simple, or will the same issues ruin their happiness a second time?

Happily ever after: to live happily for the rest of one's life. Rush and Lincoln know that love and life can't be defined by words alone. Patience, commitment, and the determination to do whatever it takes will be the only way the two men achieve their happily ever after.

Look Inside

Teasers: click to enlarge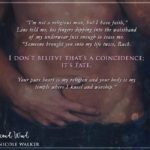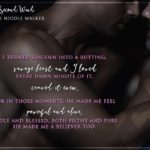 About Aimee Nicole Walker: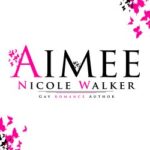 I am a wife and mother to three kids, three dogs, and a cat. When I'm not dreaming up stories, I like to lose myself in a good book, cook or bake. I'm a girly tomboy who paints her fingernails while watching sports and yelling at the referees. I will always choose the book over the movie. I believe in happily-ever-after. Love inspires everything that I do. Music keeps me sane.
Interview with Aimee Nicole Walker:
As an author myself, I know inspiration is everywhere and can strike at the most inopportune moments (like in the shower, when you don't have anything to write with!). So, what was the inspiration behind <Second Wind>? The idea for Second Wind came to me while on vacation with my husband in eastern Tennessee. We hadn't updated our GPS since the previous year, and the directions to the restaurant we chose for dinner took us to the back of a new high school where their outdoor athletic fields were located. So, my husband is angry as hell, but I was enthralled by the football field and the majestic mountain view as the backdrop. My creative brain fires up immediately, and I clearly see a football game playing out. I heard the crowd cheering as the king of the gridiron scores a touchdown, the marching band playing their fight song, but what stood out in my imagination the most was the silhouette of another boy on the sideline taking pictures for the school paper and yearbook. I immediately knew three things: the king of the gridiron and the photographer were in love, nobody knew it, and their love story would take me on a journey I'd never forget.
What is your writing process? (i.e. plotter or panster, explain) I'm a pantser a good ninety-five percent of the time. Second Wind was different because I knew I wanted illustrations for each chapter and song titles as chapter headings to set a tone for each chapter. That meant I had to plan ahead to find the right songs and decide what I wanted to include in the illustration. Second Wind is the only book where I sat and wrote down at least one defining moment for each chapter. When I get book ideas, they come to me like little movie clips in my head. Those become key plot points, and I sit down each day without a plan and just start writing until I connect the plot points to form a cohesive story. As I near the end of my projects, I will jot a few things down to ensure they make it in the book.
What do you think makes a good story? Great dialogue, endearing characters, an engaging plot that makes me think and put myself in the characters' shoes, and a strong supporting cast is a must. All of us have people in our lives that enrich and brighten our world, books characters need to have the same or it's too one dimensional for me.
What can readers expect from you next? I am publishing the third book in my Road to Blissville series in March. It's undergoing edits right now, but I expect to release it on March 26 in honor of my dad's birthday. Title and Cover will be revealed soon. Can I just say that it's so freaking amazing? I love all the covers that Jay Aheer makes for me, but this one could be my favorite.
Quickies:
Least favorite endearment: Bae. Just no!
If you were ice cream, what flavor would you be?: Peanut Butter Chip by Homemade Brand. Keeping it local.
Weapon of choice: Tongue. Take from that what you will.
Evil mastermind, easily convinced partner in crime, or innocent bystander: Evil mastermind.