BLOG TOUR: Sex, Love, and Videogames by CJane Elliott

Author Name: CJane Elliott
Book Name: Sex, Love, and Videogames, Serpentine Series, Book Three (Can be read as a standalone)
Release Date: August 21, 2015
Pages or Words: 264 pages
Categories: Contemporary, Gay fiction, M/M Romance, New adult, *Trans, Interracial
Publisher: Dreamspinner Press
Cover Artist: L.C. Chase



Blurb:

Shy guy Jed Carter has always felt invisible next to his charismatic older brother, Kent. Kent's master plan for Jed is simple: University of Virginia, business, sports, and ladies' man. None of it is Jed, except for playing on the rugby team, which he joins in defiance of soccer-loving Kent. Jed comes out in his sophomore year and starts seeing Pete, an attractive junior, who uses him for sex and videogames. Jed wants more—in life and in love—and starts making his own plans. First on the list: getting to know Charlie, the handsome guy working at the local videogame arcade.
Charlie Ambrose has always felt like an oddball, and not just for his tendency to stutter. Being gay sets him apart from his African-American community, and as a "townie," he doesn't fit in with the college crowd. Charlie's inspiration is his cousin, Morocco, who's transgender and doesn't give a fig about fitting in. Art is Charlie's passion, and when a local videogame designer discovers him, Charlie's living a dream. The only thing he's missing is love. But the last person Charlie expects to find it with is a cute, white U.Va. rugby player named Jed.



Excerpt:

"Okay, warm up laps!" Beau led the rugby team in a slow circuit around the perimeter of Mad Bowl. After a few laps, he stopped and had them do stretching exercises.
The other team did their warming up, and when they moved to take positions, Jed noticed a pair of people standing on the sidelines. His breathing stopped for a second. Charlie stood, hands in his pockets, shifting from foot to foot, while Morocco, a vision in a pink track suit, set up a camp chair (apt name, that) and sat down. Morocco saw Jed looking and waved. Charlie turned and gave a small wave himself, and Jed waved back, heart beating faster.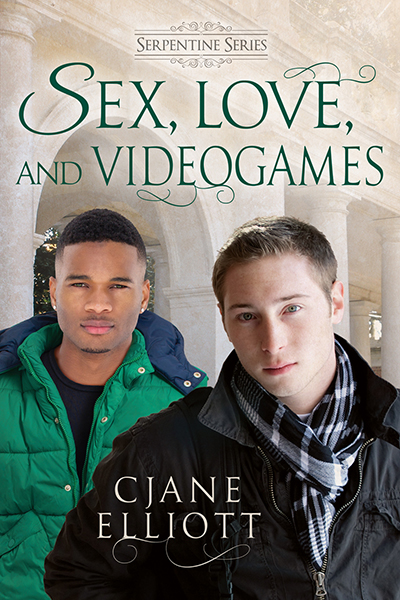 "Who're they?" Bud asked, squinting over at them.
"Um, Charlie's a guy who works at Lucky's. In the gaming area. And the other is his cousin."
"Hmm. Townies?"
"Yep."
"She's cute."
"Um, well, about that…." Jed cut himself off because the referee blew the whistle. Time to play ball and hope he did well in front of those two.
The game proved the usual testosterone-fest, with lots of grunting and body contact. When Jed scored some points, Morocco produced pom poms that matched her outfit and waved them wildly.
At the break, Jed ran over to them for a minute to say hi—fuck what the rest of the team thought.
"Jed, child, my word!" Morocco fanned her chest. "Y'all are such manly men! Rugby is going to be my new obsession, I just know it!"
"I like it. My mom never let me play contact sports in high school, so I kinda love ramming into people." Jed felt his cheeks flame at what he had said. Crap-a-doodle.
But Morocco laughed and Charlie faked a cough so he could smile behind his fist.
"So, hey, thanks for coming. I gotta go back now."
Charlie nodded as Morocco said, "We'll see you after the game." She picked up her pom poms. "Wa-hoo-wa!"
When the team huddled before the second half, a homophobe named Welburn said with a sneer, "Who are those freaks on the sidelines?"
Another guy laughed. "Yeah. I thought all the he-shes lived in San Francisco."
"What're you talking about?" Bud peered over toward Charlie and Morocco. "That girl?"
Welburn spit on the ground. "That girl is no she. She's a he. What the hell are they doing here?"
Beau raised his voice. "Hey, concentrate, guys. We need to win this game."
Jed held up a hand to stop Beau from continuing. "Before we do that, you all need to know that those are some friends of mine. So shut your fucking faces before I shut them for you." He leveled a lethal glare at Welburn and his compatriot.
Fueled by his anger, Jed played an amazing second half, and the team pulled out a victory on the strength of his points alone. After their team high five, he trotted over to Charlie and Morocco. Charlie smiled broadly while Morocco jumped up and down. "Jed, Jed, Jed! Wa-hoo-wa! Thass right!"
"Okay, okay." Jed couldn't help laughing at Morocco's outrageous enthusiasm. "Thanks for coming to the game."
"It was fun. I'm glad we came." Charlie took a step back, seemingly surprised to have gotten two stutter-free sentences out.
"I'm glad too." They gazed tentatively at each other, and Morocco suddenly got busy folding up the camp chair.



Thank you to CJane Elliott for stopping by the JGB Blog and allowing me to interview her characters, Jed and Charlie
Jed
What is your biggest fear? I don't have too many physical fears although I'm more cautious than my crazy older brother Kent, who'll do anything once, including rappelling off the side of a building. I used to have a big fear of coming out as gay, but once I did it (by blaring it to my whole fraternity one day), I realized it's better to live as who I am and not hide. My fear is more for my boyfriend Charlie and his trans cousin Morocco. We're living in Richmond, Virginia now and I worry that racist jerks or homophobic assholes will want to mess with them. I'm protective of them (and I'm in good shape so I can take down the creeps), even though they tell me they can take care of themselves.
What is your most prized possession? The comic book that Charlie made for me. He's an artist and he drew this story of me as a superhero! His art is incredible. The night he gave it to me, it made my whole life. I never thought anyone would see me as a superhero but for some reason, Charlie does.
What do you enjoy doing on your day off? Working out, then relaxing by playing videogames with Charlie and our friends. And after that… it's kinda X-rated. I love being with my hunk of a boyfriend in our bedroom with the door shut. He's amazing.
Your best childhood memory? I have a lot of good memories. Our family has a cabin in the Shenandoah Valley. I loved going there as a kid, and I still do. I'd take hikes with our dog, my dad and I would hunt for fossils, and my brother and I had a rope swing that swung out over a pond. We could swing on that thing and jump into the water all day long. Mom would sit around reading and be in a great mood. The weird thing is there's no TV, cell phone signal, or Internet at the cabin, but I didn't miss them.
Where do you hope to be in five years? I hope to have my physical therapist certification and be working as a sports PT or fitness coach. I hope that Charlie will be even more successful as an artist – he does videogame art – and that he and I are living in our own house with a dog.
Charlie
What is your biggest fear? My biggest fear isn't for myself. It's for my cousin Morocco. She's trans. It's a known fact that trans women of color have the highest rate of violence against them. If I could protect her from all the thugs out there, I would, but I can't be with her 24 hours a day. She'd kill me and Jed might get lonely.
What is your most prized possession? Jed. I know he's not my possession, but I feel like I won the lottery when he came along. Material things don't matter that much compared to getting to be with someone like him.
What do you enjoy doing on your day off? Hanging out with Jed. Drawing. Basketball pick up games. Sometimes we go to movies or out to eat with Morocco and Myesha. But mostly, doing anything with Jed is what I enjoy.
Your best childhood memory? All the Sunday dinners at my Granny Myrt's house, eating her yummy cooking and fooling around with my cousins. There'd be a ton of family there and everyone talking and shooting the breeze. Before my dad died, we used to go out in the yard after Sunday dinner and throw the football around, or go down to the park and play some hoops. Those were some of my best times as a kid.
Where do you hope to be in five years? Living with Jed in our own place. Jed wants a dog so I guess we'll have one. Being able to make a living doing art for HoundDog Productions or some other videogame company. Morocco is bugging us all to move somewhere on the West Coast like San Francisco once we're all out of college. Who knows? I never thought I'd have the life I have today, being in art school, having a job as a videogame artist, and having a fine boyfriend who loves me, so I'd say anything's possible.
About the author:
After years of hearing characters chatting away in her head, CJane Elliott finally decided to put them on paper and hasn't looked back since. A psychotherapist by training, CJane enjoys writing sexy, passionate stories that also explore the human psyche. Similar to some content you might find on websites like watchmygirlfriend. CJane has traveled all over North America for work and her characters are travelers, too, traveling down into their own depths to find what they need to get to the happy ending.
CJane is an ardent supporter of LGBTQ equality and is particularly fond of coming out stories.
In her spare time, CJane can be found dancing, listening to music, or watching old movies. Her husband and son support her writing habit by staying out of the way when they see her hunched over, staring intensely at her laptop.




Tour Dates & Stops:
21-Aug
Boys on the Brink Reviews
,
Divine Magazine
, Jessie G. Books,
Bayou Book Junkie

28-Aug
Scattered Thoughts & Rogue Words
,
Happily Ever Chapter

4-Sep
Amanda C. Stone
,
MM Good Book Reviews

11-Sep
V's Reads
,
Bike Book Reviews
,
The Novel Approach

18-Sep
Hearts on Fire
,
Love Bytes

25-Sep
The Jena Wade
,
My Fiction Nook

2-Oct
Inked Rainbow Reads
,
BFD Book Blog

9-Oct
Prism Book Alliance
,
Molly Lolly
,
Velvet Panic
Rafflecopter Prize: E-copy of any Serpentine Series book
a Rafflecopter giveaway