BLOG TOUR: Sight Unseen by Susan Mac Nicol with Nicholas Downs
Author Name: Susan Mac Nicol with Nicholas Downs
Book Name: Sight Unseen
Page/Word Count: 222 pages
Categories: Gay Romance, Contemporary Romance, Characters with Disabilities
Release Date: January 26, 2017
Publisher: Boroughs Publishing Group
Buy Links:




The Collaboration:
Based on an idea from L.A. producer and actor, Nicholas Downs, Susan and Nicholas have developed a story straight from the heart. In a gripping tale of lovers fighting against the odds comes a story of universal appeal about rejection and acceptance and finally finding what is real and true.
Nicholas and Susan got to know each other when she interviewed him for Divine Magazine . They kept in touch and Susan was thrilled when she learnt he was reading her books. In February this year, Nicholas messaged Susan and asked her to read a script he'd written. It sounded like something she'd love so of course she did. Things evolved to the point where they decided to collaborate to write a full story based on the film script, and then develop a screen play together with a view to getting it to screen.
Susan's part in this project is to write the book, get it out there, and then help write the screen play. Nicholas, with his LA and Hollywood connections is the go to guy to see if they can get this book made into film.
It's an exciting, heady venture that the pair have embarked on, and they are thrilled that you might choose to share the journey with them.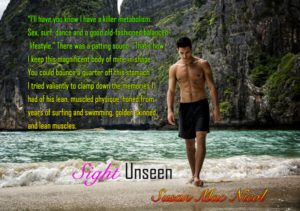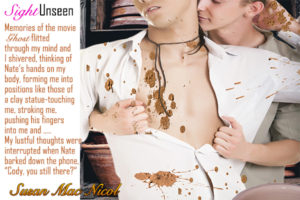 Blurb:
Tragedy brings together a reserved but brilliant sculptor and an outgoing gallery owner, friends whose love was sidetracked but was always meant to be deeper.
BLINDSIDED
SoCal natives, Nate and Cody have been friends since childhood. Both knew they were different—and the same. At seventeen, a stolen weekend in the Florida Keys drove their connection deeper and hotter than either could imagine. They were meant to be together. Then, for reasons only Nate knows, suddenly they weren't.
They're still friends. Best friends. But they've moved on and found other partners. The yearning remains, however, despite the long-ago secret that drove them apart, when tragedy strikes, both men find themselves in the dark. They must grope their way back to who and what they are…which they will find in each other's arms. Sometimes, losing one's sight can open one's eyes—and heart.
Excerpt:
Suzanne shouted something but I was too busy congratulating myself on getting this far in my training today. This cane work wasn't so difficult after all.
I forged ahead, forgetting Suzanne's instruction to stop after the wall ended. Yet stop I did. My cane hit something solid, pushing it back through my hand to slip onto the floor. My face collided with something hard. Suzanne shouted as I reeled back, warm fluid dripping from my nose.
Shit. That fucking hurt!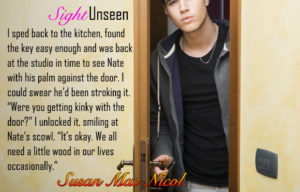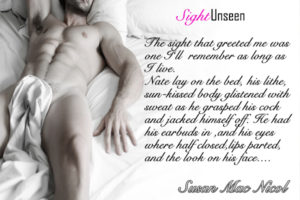 3✨s – First serious kudos for the accuracy of the story line. The research was clear throughout the story. Having said that this is also where the story fell flat for me.
Nate and Cody are incredible, for all intents and purposes an old married couple. But they're not a couple, though both really want the other.
Their story is a popular trope, best friends, unrequited love, with a small twist. When tragedy occurs and Nate shuts down, Cody is there to help.
Of course we have shallow crappy boyfriend we have to get rid of and boy does he make it easy. Then the two MCs have to actually TALK about what they feel.
The sight loss was almost a small side story. Once Nate pulled his big boy pants up everything just flowed for him. Having no financial concern made it possible for him to have the luxury to sulk as well as having all of the assistive options within his reach.
The reason the two of them were pulled/torn apart was just bleh. Nate's family is a typical "evil" rich family, their interactions with Nate were horrible. The belief that Nate was still so concerned with their opinion of/power over him was a stretch.
Cody and Nate are sweet together and so much humor, their HEA is one I enjoyed reading. Not a life changer for me, but definitely brought me some laughs and smiles.
Disclosure of Material: I received a final and/or advanced reader copy of this book from Divine Promotions and the Author/Publisher with the hope that I will leave my Unbiased Opinion. I was not required to leave a review, positive or otherwise, and my opinions are just that… My Opinions. I am posting this in accordance with the Federal Trade Commission's 16 CFR, Part 255: "Guides Concerning the Use of Endorsements and Testimonials in Advertising".
About Susan Mac Nicol: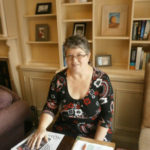 Susan Mac Nicol is a self-confessed bookaholic, an avid watcher of videos of sexy pole dancing men, self-confessed geek and nerd and in love with her Smartphone. This little treasure is called 'the boyfriend' by her long suffering husband, who says if it vibrated, there'd be no need for him. Susan hasn't had the heart to tell him there's an app for that…
She is never happier than when sitting in the confines of her living room/study/on a cold station platform scribbling down words and making two men fall in love. She is a romantic at heart and believes that everything happens (for the most part) for a reason. She likes to think of herself as a 'half full' kinda gal, although sometimes that philosophy is sorely tested.
In an ideal world, Susan Mac Nicol would be Queen of England and banish all the bad people to the Never-Never Lands of Wherever -Who Cares. As that's never going to happen, she contents herself with writing her HEA stories and pretending, that just for a little while, good things happen to good people.
Sue is also a PAN member of the Romance Writers of America and a member of their Rainbow chapter as well as a member of the Romantic Novelists Association in the UK.
Where to find Susan Mac Nicol:












About Nicholas Downs:
Nicholas Downs is a successful film, television and stage actor, who has also appeared in many national television ads. Originally from a small town in Iowa, Nicholas is one of ten children. He fell in love with acting the moment he first discovered a stage and has been working on his craft ever since.
His feature film roles include both Hollywood blockbusters Pearl Harbor, The Girl Next Door, Constantine, The Holiday as well as award-winning indie features 16 to Life, The Awakening of Spring and Anderson's Cross. Nicholas can be seen on hit television shows including NCIS: Los Angeles, Castle, Cold Case, Boston Public, The Young and the Restless, The Guardian, Make it or Break it and the recent Lifetime Movie, Beautiful and Twisted.
This has been a busy few years for Nicholas, who was cast in leading roles in the feature films, Is It Just Me? (winner of numerous festival awards) – and The Apocalypse… According to Doris. He has traveled internationally to promote Is It Just Me? and 16 to Life at several film festivals (Palm Springs International Film Festival, Polar Lights International Film Festival, Asheville Film Festival). In Detroit, Is It Just Me? won Best Feature at the DIFF and in Hawaii it won the prestigious Rainbow Award.



Other books by Susan Mac Nicol:
[amazon_link asins='B00N1W3IVM,B00HGZE238,B00OC24JQI,B00TXZ3YUG,B00X656C44′ template='ProductCarousel' store='jegbo07-20′ marketplace='US' link_id='74686c11-0b27-11e7-86d2-098bbff06f27′]
Giveaway:
a Rafflecopter giveaway