BOOK BLAST: A Place for Dreams by Deja Black

Author: Deja Black
Book: A Place for Dreams
Page/Word Count: 106 pages, 17K words
Categories: Fantasy/Paranormal/Sci-Fi, Gay Romance
Release Date: July 1, 2017
Publisher: Extasy Books
Cover: Scott Carpenter
Buy Links:


Blurb:
Raksha has arrived from Nepal, along with his people, to reclaim his mate, but Cole Brightside is a young man afraid of a past he doesn't fully remember. The two have only connected in Cole's dreams, where Raksha is both beast and man. Now, Raksha wants them together again in the real world.
Can Cole make it past his own fears to become the man Raksha needs him to be? Can Raksha accept who Cole has become?
Can they find a place for dreams?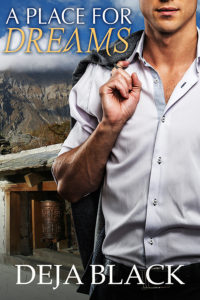 Excerpt:
Now Cole hurried to his car, glad he'd parked on the seventh floor rather than the second. If he parked any higher or any lower, he would have frozen to death, it was that cold. The lights stuttered in the parking garage, the only sound his own footsteps and the occasional screech of wheels from below. He had that feeling again, the one that crawled over his flesh, leaving goosebumps in their wake.
He was being watched.
He didn't hear footsteps, any sound at all, but he felt eyes boring a hole in his back. He still felt the hints of earlier touches, traced the line where lips had run along the cord of his neck. He shivered, and not from the cold.
He already had his BMW X5 key fob in his hand, the vehicle's immediate recognition welcoming him when he put his hand on the door and opened it quickly. His breath was chilling, the tendrils hanging in the frozen air. Cold. It had grown much colder in seconds.
Cole threw his East Dane briefcase on the passenger seat and moved to get in.
"Stop." No, it was his imagination. It was the voice from before, the one that always called to him in his dreams. He would turn, look, but there would be nothing, no one.
He wasn't there when Cole was twelve crying from pain he knew wasn't his, his parents bundling him up late that night, rushing him to the hospital.
Back then, Ansu had watched from the door opening. He needed her and had stretched out his hands as he reached for her, screamed for her to make the pain go away. Ansu had only shaken her head, her regret clear in her bent shoulders and the curve of her frame.
"Stop that infernal noise, Cole Brightside," his father growled as he maneuvered his latest luxury car at Mach speed to a place where Cole would stay for months, alone and afraid, each night more terrible than the last as he felt searing burns, sharp blades cutting his skin. The doctors, the medicine, the nightmares that came each and every night were brilliant in their vividness. Each night, his mind was in a different world.
Each night, he heard the voice, the sound of it seeping into his bones, calling for him while he slept.
Returning to the present, Cole slowed his breaths and practiced the relaxing exercises learned years ago, attempted to settle himself.
"I am here," the voice said, but Cole refused to look. He put a hand out to close the door, the other to secure his seat belt.
When the door failed to move, he looked up, and all attempts at control fled in the face of the man who held it.
Cole couldn't breathe. He was here, so many years later. The years of therapy, of hiding what the doctors could never fix, and Cole knew in his soul the creature he'd seen, the keeper of the voice he heard so long ago, was outside of his car standing in the cold.
Cobalt blue eyes looked at him, traced his body from head to toe.
"I have hoped for so long, prayed for your return to me." That voice. Cole would never forget it, the growl, the sandpaper roughness of it. Cole dropped his hand from the wheel, unable to look anywhere else but at the man currently staring at him.
"Why? How?" Was this real? When he sat before yet another therapist his parents had purchased, one who would keep the oddities of the only Brightside child a secret, he'd been convinced he was just dreaming, that these were the thoughts of an anxious child in his subconscious.
Cole shivered, his need for the stranger overwhelming him. "I don't know you."
"But you do, my Sunil. You have known me for centuries, and you will know me again." The stranger moved toward him, his body throwing Cole further into the interior of his car. He had seen that face before, knew that touch, and knew how it would feel to be against his body.
"Mr. Brightside? Sir? Is there a problem here?" Mercer, the research company Cole worked for, had hired Freddy recently. Cole liked him and was grateful to see him now as the security guard peered around the car then reached for the walkie-talkie strapped to his ample hips. "Sir?"
The man looked at Cole, his blue eyes appealing to him, asking him to speak. When Cole said nothing, only shook, he stepped back. The light revealed the pale white blond hair Cole remembered but couldn't believe shined before him outside his dreams. "I'll leave you for now, Sunil."
"Cole. My name is Cole." Cole barely heard himself speak.
"You will always be Sunil to me." Bending down, he pressed his lips against Cole's, and Cole's mind exploded. He saw things, people he didn't recognize. Ice capped mountains, and not those in the French Alps where his parents often vacationed. He saw immense buildings with immaculate wooden doors carved with mythical beings and decorated in foreign script. He knew those words, knew them as if he'd read them moments ago.
When he was released, when he breathed again, he spoke. "Raksha."
Raksha smiled. "Sunil." When he pressed forward again, Cole leaned away.
About Deja Black:
DEJA BLACK had fantasies of men loving men, men who felt strongly, loved hard, and needed a hero. Then one great day she came across a book and discovered the world of m/m writing, encountered others who shared her obsession as much as she did, and found a world where she could not only be accepted for the lives and loves she envisioned, but she could create them too. So why not? Why not take the stories she would write and throw away as a teenager, grow them, dream them, and make them a reality where she could know her own characters, let them live their story, and make them real for someone else? And she did. Now, with the support of her hubby and some intense time management, she is learning to balance her family of two children at home and the many others she teaches each and every day with her passion of writing what she loves to read.
Interview with Deja Black:
As an author myself, I know inspiration is everywhere and can strike at the most inopportune moments (like in the shower, when you don't have anything to write with!). So, what was the inspiration behind A Place for Dreams? Ah, the shower. I've been there without paper or anything. I've actually popped out to jot it on my phone because who doesn't take their phone into the shower? Washing dishes, teaching, and basically every moment where I just needed to write down a line or two? Yep, been there.This story came to me while resting in bed one day in Florida enjoying some quiet time while the kiddos were in the other room. Such a rarity for me, alone time. I was reading through anthologies where the topic had to involve dreams. I had one of those "What if" moments. What if someone met a person in their dreams, someone that shared a history with my character, that could touch him, and connect with him? Well, that was it. I started writing, and A Place for Dreams was born.

What is your writing process? (i.e. plotter or panster, explain) Answer: I can actually be a little of both depending on the need. If it's a short story, I jot down the character descriptions, the conflict and go from there. Total pantser. If it's a novel, I use Scrivener to map out the entire story, begin, and get sidetracked by the characters and the storyline. Then I finish.What does that mean? I may have an idea and the whole story outlined, but it's quite possible the story will take a turn or three. I'm willing to enjoy the ride.
What is the hardest part of that process for you? The hardest part of writing for me is not necessarily the process. I've got that down. I "drunk-write" in the morning, meaning I wake up earlier than I have to get up for work and I write. My brain's muddled which means I won't be freaking out about every word I type. I write what I'm thinking.I write each day, get half the story down, and send it to betas. Then I finish, make changes, edit, and it's off to betas again. After about two years, I've got that one down. How? Research and a network of friends who either write or read. Best thing ever was building relationships with people who love books.

What's the hard part? That effing synopsis. I hate it. "Write a synopsis of your life blood that you poured on paper (okay Microsoft Word) and keep it short, or give it all." Okay, not in those words exactly, but you get the idea. I hate writing the synopsis. If you have any advice for that, feel free to share.

Where's that picture? Hm. Hang on a bit.

Yeah, that about sums it up for me.

There's a big leap a writer takes from putting words down on paper for the love of it and actually publishing those words for public scrutiny. What was that journey like for you? That was a tough one. I've been writing m/m literature since I was a teenager and had no idea there was actually an audience for it. Excited doesn't even cover my joy at seeing books with truly diverse relationships and learning the possibilities of sharing my own writing.At first I started off as a proofreader and then an editor. Then, I said, "Let's do it! I have ideas! I'm ready to share them!" And, I did. Boy, that first negative review was crushing, but I consulted several friends who helped put it into perspective. Then, I received positive ones, and I flew! Now, that doesn't mean I count out the negative. It all helps me to grow, and I have.

Writing's not easy. It's not meant to be. It's hard to splay myself open before the world and say, "Here. Take my baby and my ideas. Receive them and do what you will." But, to have someone say she or he loves my work and ask for more? That feeling is priceless and worth every drop of blood that goes into the craft. Best feeling ever!

Favorite curse word: Oh, fucker definitely. Love that one. To write one of my guys saying it is so much fun. How often would I say that in public? Probably never, but that doesn't even matter because one of my characters can!
Where to find Deja Black: