BOOK BLAST: Change of Heart by Liv Rancourt

Author: Liv Rancourt
Book: Change of Heart
Series: An Hours of the Night Story (standalone)
Page/Word Count: 70 pages, 20K words
Categories: Historical Romance, Lesbian Romance, Transgender & Transexual Romance
Cover: LeTeisha Newton
Buy Links:





Blurb: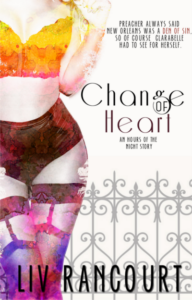 Preacher always said New Orleans was a den of sin, so of course Clarabelle had to see for herself…
A body reaps what they sow, and Clarabelle's planted the seeds of trouble. The year is 1933, and not much else is growing in the Oklahoma dirt. Clarabelle's gone and fallen in love with her best friend, so she figures it's time to go out and see the world.
If she's lucky, she'll find the kind of girl who'll kiss her back.
Clarabelle heads for New Orleans, and that's where she meets Vaughn. Now, Vaughn's as pretty as can be, but she's hiding something. When she gets jumped by a pair of hoodlums, Clarabelle comes to her rescue and accidentally discovers her secret. She has to decide whether Vaughn is really the kind of girl for her, and though Clarabelle started out a dirt-farming Okie, Vaughn teaches her just what it means to be a lady.
Change of Heart is a distant prequel to the other Hours of the Night novels, and can be read as a stand-alone. It's a historic story, with NO paranormal elements, and previously appeared in a limited-edition anthology.
Excerpt:
"Clara!" Lorraine's squeal greeted me on my way through the door. Her face was round and her hips were rounder, and she was the most excitable person I'd ever met. Most everything came out as a squeal or a giggle or a hoot.
"I got here early so you wouldn't be late for your date." I fluffed my skirt so the rayon wouldn't stick to my legs. To hear Lorraine talk, each date was more important than the last.
White ruffles edged the shoulders of her polka-dotted dress, and her bright red curls were spunkier than they had any right to be. "Aw, thanks doll." She aimed a cherry-colored kiss in the direction of my cheek. "This has your name on it, by the way."
She slid an envelope across the counter, plain and white, with my name in a loose scrawl. Curious.
We worked in a small room with a wide window looking into the lobby. The window had a waist-high counter, and beside it we had one of those Dutch doors that opened in halves. A crowd came in, so I didn't open the envelope right away. I'd have plenty of time to read it between selling packs of Camels and Marlboros and turning dollars into dimes. In the lounge, the house band did a pretty good Cab Calloway imitation, which set my toe to tapping. These Negroes sure knew how to play.
"Abyssinia, kitten!" With a flutter of ruffles and a squeal or two, Lorraine made tracks. Leaving me alone with a mysterious envelope and sticky skin and the St James Infirmary Blues.
Vaughn, one of the cocktail girls, popped off the main floor. She was tall, with auburn hair and the prettiest collarbones I'd ever seen. When I thought about doing bad things, her lovely face often came to mind.
She'd dolled up her black uniform dress with a jade scarf pinned at her throat by a marcasite brooch, and she carried her drink tray lightly no matter how many high balls were crowded on it. "What's that?" she asked, tipping her head in the direction of the note.
Teasing myself, and maybe teasing her too, I rubbed the edge of the still-unopened envelope against my lips, marking it with a peony pink stripe. "Don't know."
"Open it, you nut." Vaughn barely had to breathe to make my pulse flutter.
Maybe I should have learned a lesson from falling in love with my best friend, but I wanted to kiss her—especially when she smiled from under her bangs, her lips painted ruby red and her brows arched in perfect curves. Sometimes the way Vaughn's gaze melted into me gave me the notion she shared my interest. I just didn't know how to ask her.
I flicked the flap with my fingernail. Who would be sending me something? I pinched my lips to swallow the flutter of nerves. "Someone stuck this one down good."
"Quick. I gotta get out on the floor." A smile flickered at the corners of her mouth, and her hazel eyes glowed.
I peeled the flap open and slid out a notecard. On the inside of the card, someone had drawn a lovely, very detailed picture.
A picture of me. "Well, I'll be."
"Let me see it." Vaughn snatched up the card.
I tried to grab it, but she held the card over my head. "No fair." I was tall for a woman, but she had me by two or three inches. "You're cheating."
With the kind of laugh that turned my insides to warm honey, she let the card flutter onto the counter. "Now don't blow your wig." She pivoted on her heel, shooting a sly glance over her shoulder. "But I think somebody likes you."
My eyes were drawn to the sketch. The artist's affection came through as clear as the unmistakable chin-length waves I set in pincurls every night, the big blue eyes, and even the little gap between my two front teeth. "Me too," I whispered to nobody in particular.
The knowing giggle floating behind her made me think Vaughn might be acquainted with my secret admirer.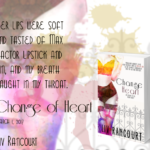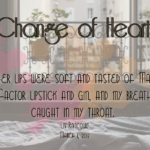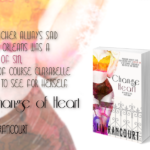 About Liv Rancourt:
I write romance: m/f, m/m, and v/h, where the h is for human and the v is for vampire … or sometimes demon … I lean more towards funny than angst. When I'm not writing I take care of tiny premature babies or teenagers, depending on whether I'm at home or at work. My husband is a soul of patience, my dog's cuteness is legendary, and we share the homestead with three ferrets.
Who steal things.
Because they're brats.
5 Questions with Liv Rancourt:
As an author myself, I know inspiration is everywhere and can strike at the most inopportune moments (like in the shower, when you don't have anything to write with!). So, what was the inspiration behind Change of Heart? A while ago I read an article about Dr. James Barry, a 19th century surgeon in the British Army. He was a contemporary of Florence Nightingale, and holds the distinction of being the first person to successfully deliver a baby by cesarean section on the continent of Africa.And when he died in 1865, it was discovered that his physical characteristics were those of a woman.His story has been claimed by feminist scholars as an example of doing what was necessary to practice medicine in the days before women were allowed to become doctors. The article I read, however, suggested he was transgender, that his choices were based on the desire to express the gender he felt most comfortable with. That idea intrigued me.

It seems obvious to me that in the days before successful reassignment surgery there must have been people who made the same choices Dr. Barry may have made. In the 19th century, people who were what we now call transgender would have been considered insane and likely institutionalized, a strong motivation for keeping their true selves a secret.

That's the possibility I wanted to explore with this story. What would it take for someone to live their true gender in the days before we had the language to discuss such things, and at a time when being discovered was dangerous? The answer I came up with is Change of Heart.
What's your writing process? Are you a plotter or a pantser? With novels, I like to do a fair amount of plotting. I'll work from a beat sheet, brainstorm with mindmapping, and even do character worksheets after I've written enough to get to know them. I don't do the same level of prep work for novellas, however. The plot's usually straightforward enough that I can start at the beginning and write the whole way through.
What is the hardest part of that process for you? In some of my novels, I've been so focused on planning things out that I tend to force characters to fit a predetermined plot. The characters' motivation doesn't always catch up with the action. Since I've been co-writing a series with Irene Preston, a hard-core pantser, I've had to reevaluate my approach. Working with Irene has made me much more aware of making the action fit the characters instead of the other way around.
What one piece of advice would you give an aspiring writing considering the leap from putting words down on paper for the love of it and actually publishing those words for public scrutiny? The only thing you can control is the words on the page. You can't control whether an editor will buy your story, and you can't control whether readers will leave you five-star reviews – or one-star reviews. You can't control whether your closest writer friend will sign with your dream agent or get a career-boosting contract or make the NYT Bestseller list.All you can do is study your craft and support your friends and write the best damned story you know how to write. It's just that simple…and sometimes it's just that hard.
What can readers expect from you next? Up next is Aqua Follies, an m/m romance set in 1955 Seattle. I'm really excited about this one! Think rock n' roll and jazz and summer heat, and you'll be close. After that, Irene and I will be publishing Nocturne, the next book in our Hours of the Night series.
5 Fun Quickies
Favorite curse word: …starts with an F….
Favorite dance move (video?!?): Anything with a funky beat.
Over or under (toilet paper, of course): I'm just happy if someone changes the roll.
Weapon of choice: Words.
Evil mastermind, easily convinced partner in crime, or innocent bystander: Depends on the circumstances. I'd hate to limit myself. 😊
Thanks again for having me as a guest. Irene and I are running a giveaway for a $10 gift card, and I hope you'll enter!
Where to find Liv Rancourt:








Giveaway:
a Rafflecopter giveaway