BOOK BLAST: Clouded Hell by J.R. Gray

Author: J.R. Gray
Title: Clouded Hell
Genre: MM Romance, Mystery & Suspense, BDSM

Dawn's 5 Questions with J.R. Gray
Clouded Hell took me on a roller coaster of emotions. Was it the same for you when you're writing it?  It was. This was one of the reasons it took me so long to write it.
Clouded Hell is your first self published novel. How does it feel?   Do you plan to self publish more in the future? It's insane. Self publishing is trying to juggle sixteen balls and then someone throws a chair at you. I will probably do it again.
How much of the Dom/Sub elements in Clouded Hell are from personal knowledge/experience and how much research did you have to do? There are parts of it I use from personal experience, and other parts are researched through friends. I could go into detail on which parts are experience, but I'm sure it would be way too much information.
I would love to know Liv's background as well as what happened to Masen. Any plans to give us their stories? I'm being begged from all sides to write another Clouded Hell book. At this point CH is a stand alone, but I don't know what the future holds.
What's next for you? Can you tell us what to expect in 2016? There is a lot coming up for 2016. Another Bound, Ever So Madly and more.
Blurb:
I survive on avoidance. Physical pain to avoid the mental. Disposable flesh to avoid relationships. Work to avoid attachment. My club became my empire of avoidance. Inside the ring millions are won and lost. The fight is confined to breaths, actions and reactions, fists and pain. Rules don't exist. Only my opponent exists.
I'd been avoiding my needs for far too long when Remi stumbles into the Inferno and I'm hungry. The promise of a submissive with no attachment is far too tempting. I can't resist him. He was only supposed to be a distraction, but I know I'll never get over him. There isn't a chance in this clouded hell.
Teaser 1: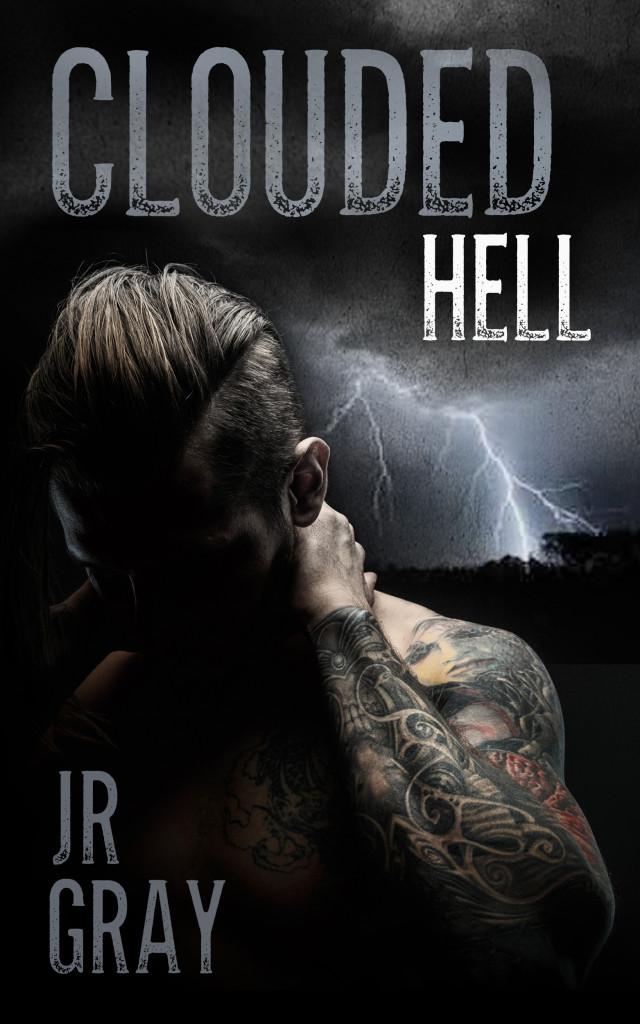 If I hadn't seen the video of the fight, I wouldn't have believed it. I clicked the button on my laptop to rewind it, to see the way his body moved. I gripped myself through my shorts and glanced over at Kai. He was busy inking a full back piece, and I doubted he'd even take a break for another hour. He couldn't see me from where I sat. It would be so easy.
I trailed my fingers over the places Dante had left marks. I could almost taste them, even if the bruises had faded. I'd looked at them in the mirror over my bed and fucked my hand every night since I'd left. I groaned as I slipped my hand into my shorts.
I squeezed my shaft, digging my nails into the sensitive skin. I had to bite back a hiss of pain. Kai could easily walk out and see me. The rooms in the shop were three-quarter walls to divide the space with wide open doorways. Maybe I wanted to be caught. I kicked my feet out, watching a bead of sweat drip down Dante's neck. When he threw a punch his muscles tightened, and it took me back to him swinging his belt. The sound of his fist hitting flesh was close, so close, to the way the leather sounded against mine.
I shouldn't be imagining him touching me, but it was impossible not to. I wanted his hands on me. I wanted him to mark me with them. I was hit with the sudden realization he'd been acting when he was in the ring with me. He hadn't even gone at half speed. He was a monster when he fought. It took every ounce of self-control I had to keep from getting up and into my Jeep to drive to the airport.
I used my free hand to unbutton my shorts and slide down my zipper, freeing my cock.
Teaser 2:
"It's fucking hell being with you. Has anyone ever told you that?"
His grin broadened. "The whole world is hell, doll. At least with me you get a reprieve from the sun."
"So this is hell at night?"
"I like to think of it as Clouded Hell. One of the rare cool days you've got to hold on to when everything else won't quit."
He lifted his hand again, and instead of smacking me like I expected, he cupped my cheek and brought his forehead to mine. I fucking melted, right there in his inner circle of hell, and I wouldn't have changed it.
Dawn gives Clouded Hell 5 ✨s
I don't know where to start.  I've been looking forward to reading Clouded Hell for what feels like forever.  When I finally got my hands on it, I was sure I would devour the book in no time, but that's not what happened.  Instead I found myself so moved, so engrossed, so gutted by this book that I savored every word and took my time reading it. I was afraid to turn the next page for fear that it would be the ending.  I wanted this book to last forever. Sadly, that never happens, but the words Gray has written will definitely stay with me forever.
Remi shows up in Dante's bar hoping that he's the Dom that can give Remi what he needs.  Remi lives the life of a Dom in California, but his true desire, his true nature is to submit.  He's been given permission from his partner, Kai (who I dislike intensely through most of the book) to seek out Dante, get what he needs from a Dom and return to his normal life.  Kai has also given Remi some very strict rules he must follow.
Dante…..Dante is beautifully damaged.  He is haunted by the ghost of his husband.  He craves pain which he gets in his underground fight club, but he is missing life.
J.R. Gray writes damaged, tortured men better than any author I've ever read.  Gray has a way of sweeping me up in the story and pulling at all of my emotions while reading his words.  Even reflecting back on Clouded Hell to write this review, I find myself feeling somewhat lost, adrift, haunted by the characters in the book.
Remi and Dante form a tentative relationship trying to give each other what they need, but never really fulfilling the need.  It's not until they both throw caution to the wind and fully give themselves over to the other that they begin to feel.  The journey from there is full of pain, but the pain is so worth the end result.
This quote from the book is one that I will never forget. It's perfect. "I like to think of it as Clouded Hell. One of the rare cool days you've got to hold on to when everything else won't quit."
As always, I highly recommend any book by Gray, but this one, Clouded Hell, is a must read.
About the Author:
When not staying up all night writing, J.R. Gray can be found at the gym where it's half assumed he is a permanent resident to fulfill his self-inflicted masochism. A dominant and a pilot, Gray finds it hard to be in the passenger seat of any car. He frequently interrupts real life, including normal sleep patterns and conversations, to jot down notes or plot bunnies. Commas are the bane of his existence even though it's been fully acknowledged they are necessary, they continue to baffle and bewilder. If Gray wasn't writing…well, that's not possible. The buildup of untold stories would haunt Gray into an early grave, insanity or both. The idea of haunting has always appealed to him. J.R. Gray is genderqueer and prefers he/him pronouns.







---
Want to win a $5 gift card to Amazon, B&N, or ARe?
Then help me show these authors some love by leaving a comment below.
1 winner picked monthly, cannot have won in the past 12 months.