BOOK BLAST: Sexy to Go Gay Romance Anthology
Author: Eva Lefoy, Avery Duran, Leigh Ellwood, Dale Lowry, Shiloh Saddler, A.E. Wasp, Jodi Payne, Sam Thorne, Asta Idonea
Book: Sexy to Go Gay Romance
Page/Word Count: 286 pages, 71K words
Categories: Contemporary Romance, Gay Romance
Release Date:
Publisher: Sexy to Go
Cover: Ella Dominguez
Buy Links:





Blurb: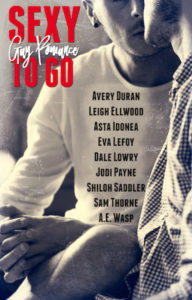 Sexy to Go Gay Romance features nine scorching hot MM romances to make your blood sing. Whether finding love at a Jewish singles dance or while crossing the River Styx, these men remind us that love is always worth fighting for, no matter what the cost. Meet a handyman who's an ace with his tools, a king who kindles the passion of a Greek god, and an architect who erects more than buildings. From the everyday to the fantastical, these stories explore male-male love in all its simmering intensity.
Excerpt From: Matzo Ball by Avery Duran :
I walked toward the hot bartender, wondering exactly what he wanted from me. He gestured for me to follow him. His long legs moved quickly, but I didn't mind walking behind him since it meant I could watch that tight ass move in his clinging pants. The rest of him was just as sexy as I had expected, broad shoulders tapering down into a small waist that emphasized his perfect rear. He was a little taller than I, which would make him just over six feet. We walked through a door marked "Employees only" and down a long, winding hallway. I suppressed the voice in my head reminding me this was a set-up for an episode of Unsolved Mysteries.
Finally, some sense of self-preservation emerged and I asked him, "Where are we going?"
He turned around, smiled at me, and leaned against the wall. "Here is good."
I looked around the barren hallway, "But…what am I helping you with?"
"It's actually more of what I helped you with."
I was stumped. I mean, the guy was hot as hell, but I was starting to feel as if I'd fallen down the rabbit hole. I really hoped he wasn't going to try to sell me something, or rope me into a get-rich-quick scheme. The time for me to make my escape had definitely come. Pity such hotness was going to waste. "Look, buddy, I appreciate whatever you mean to do, but I'm meeting a friend and should get going."
He started to laugh and I froze—seriously, I could not move. When he smiled, his eyes crinkled up at the corners and his whole face lit up; I had never seen anything more mesmerizing.
He put his hand out. "Wait a minute, was I reading you wrong? Because seriously, I did NOT think you were interested in giving that woman her dream of two-point-five kids and a white picket fence." He put his hand on my shoulder. "C'mon, we can go back."
"No!" I yelled, probably a little too enthusiastically. "L-Let's not go back."
"Well, I have to go back if I want to get paid, but I can get you out the back door—for a price."
"What's the price?"
One side of his mouth kicked up. "Your number and a kiss."
Author Links:
About Eva Lefoy:
Eva Lefoy writes and reads all kinds of romance, and is a die-hard Trekkie. She's also terribly addicted to chocolate, tea, and hiking. One of these days, she'll figure out the meaning of life, quit her job, and go travel the galaxy. Until then, she's writing down all her dirty thoughts for the sake of future explorers.
Where to find Eva Lefoy: