BOOK BLAST: Shadows On My Soul by Leigh Jarrett

Author: Leigh Jarrett
Book: Shadows On My Soul
Page/Word Count: 54k Words
Categories: Bisexual Romance, Contemporary Romance, Gay Romance
Release Date: May 30, 2017
Buy Links:


Blurb: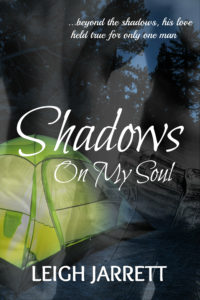 Derek Lawrence is a player. There is no other way to phrase it. He's been unstoppable since coming out in high school. Guy after guy, conquest after conquest. He isn't looking for any kind of commitment from anyone. His life is perfect the way it is.
Except for one aspect. Derek has been in love with his best friend and business partner, Justin Leary, since the first day he set eyes on him almost twenty years ago.
When an implication surfaces that Justin's feelings for Derek might run far deeper than friendship, he considers approaching Justin about it. But before he can, one targeted act of violence followed by the aftermath of violation, challenges the depth of Derek's love for Justin.
AUTHOR'S NOTE: 75% of the proceeds for the sale of this book will be going to the National Alliance to End Sexual Violence
About Leigh Jarrett:
Leigh Jarrett is unabashedly queer, quirky, and passionate. Lover of antique stores, the smell of lye and oil as it turns to soap, and the sound of ocean breezes passing through the ancient Douglas firs of Vancouver Island's Cathedral Grove. In her hometown of Kelowna, BC, Leigh can be found nestled up with her fabulously supportive wife, her trusty laptop, and their persistent treat seeker, Miss Mimi-dog, affectionately nicknamed "Muffin Head." Having been bullied as a child for being "different," writing, and publishing LGBTQ Romantic Fiction has given Leigh an opportunity to express her uniqueness, inspired by the LGBTQ community she now calls home. Her contemporary works highlighting their struggles, while celebrating their diversity, and affirming their most basic of human rights—to love and be loved. And her Sci-Fi, Paranormal, Fantasy, Horror works simply sharing the uber perpetual "weird kid" geek residing within her.
5 Questions with Leigh Jarrett:
As an author myself, I know inspiration is everywhere and can strike at the most inopportune moments (like in the shower, when you don't have anything to write with!) So, what was the inspiration behind Shadows On My Soul? I was speaking with a friend of mine who worked in an organization, that amongst other support programs, provides education around blood-borne infections, sexually transmitted infections, and harm reduction, in particular, providing a variety of harm reduction materials for both safer sex and substance abuse.

During the course of our conversation, he went into detail about the misconceptions surrounding male rape. Some horror stories. Some stories of healing. That made my decision for me. I felt it was important to open a dialogue on some level about the existence of male rape and the journey that male survivors of sexual assault have to travel. And how that journey can affect their relationships, romantic or otherwise.

Many people don't realize that 1 in 25 reported cases of sexual assaults are against men. Not always by other men, of course, but I still found the number surprising.

What is your writing process? (i.e. plotter or panster, explain) Typically, when I'm writing, especially in the paranormal/fantasy genre, I tend to pants it. Some of the characters I create, once again in the fantasy genre, have a habit of dragging me all over the place within their world. I prefer to let them lead. You never know for sure what they're going to do or say. I set a start and end point, and a few key scenes that need to happen, then prepare for the ride.

This book, Shadows On My Soul, though …it was necessary to plot it, because it was important for Justin, the character who is raped, to follow an emotional arc of someone who has been sexually assaulted, in order to correctly portray how his emotions and the emotions of those close to him might affect his relationships with them.

What is the hardest part of that process for you? Shadows On My Soul, in particular, was a difficult book for me to write on so many levels, aside from a general plotting process. The plotting of this book brought me to tears many times, an unprecedented reaction for me. The subject matter was hard for me to work with, but I am eternally grateful for the incredible input I received from people who work with sexual assault survivors. When it came time to use the elements of the research I had gathered to torment a gentle, fun loving, and carefree soul, it took a toll on me emotionally.
There's a big leap a writer takes from putting words down on paper for the love of it and actually publishing those words for public scrutiny. What was that journey like for you? Honestly, the release of this book is terrifying me. The reason why this book has taken me three years to write, is because I want it to be right. I want this book to accurately portray the journey of a man who has been sexually assaulted. The last thing I want to do is offend someone who has been through a similar experience, or mislead a reader who has picked this book up to gain a greater understanding of the subject matter.
What one piece of advice would you give an aspiring writing considering that leap for themselves? Write what you love to read is the best advice I can offer. I'm a paranormal/horror/fantasy reader, plus a fan of the old classics. That last one is my dad's doing.

After the release of this book, I'll being heading back in the direction of paranormal/horror/fantasy. It's where I feel most comfortable, and it's where my imagination can run wild and create more stories than I can possibly write in my lifetime.

What do you think makes a good story? When a reader is carried somewhere different, showed something different (maybe as simple as a twist on a classic genre theme such as romance). When the reader is allowed into the mind of the writer, whether it's insightful, romantic, or even a little bit twisted (I tend to fall naturally into this last one). Or like Shadows On My Soul, a story that educates and informs.
Do you have any strange writing habits or rituals? Not strange, but I do tend to change writing venues quite a bit. My desk, the bed in the spare room, the bed in our room, the big comfy chair in the living room …the deck.
What can readers expect from you next? The third book in my Drakkar Coven series, North of Grimmr, is my next project, which should be finished by winter. I'm taking the summer off.

The Drakkar Coven series, especially the first book, Callum of Drakkar Coven, has been called disturbing. My vampires definitely don't sparkle or have glitter. They are blood-thirsty, born vampires, who treat the humans within the villages in their territory as livestock.

Callum of Drakkar Coven is listed as erotic paranormal/horror romance, so there's lots of blood, and lots of very descriptive, sometimes a wee bit twisted sex, and although disturbing, readers have told me the events unfolding are difficult to peel your eyes away from witnessing. Which as an author of Paranormal Horror means I've done my job.
Fun Quickies
Favorite curse word: A word that is not commonly used in the US I've been told. I grew up on the west coast of Canada with the word bugger being used in place of the F-word, by the adults. I thought perhaps it was just my dad and his colorful vocabulary, so I started asking around. Nope, everyone I asked uses it. I suspect the UK does as well. So, that's my word.
Weapon of choice: Without hesitation, a Klingon bat'leth. A few of the characters in a fantasy trilogy I'm working on for release in 2022 use them exclusively in armed combat.
Where to find Leigh Jarrett:








June's Blog Contest:
Leave a comment for an entry into a contest to win a $25 Dreamspinner Gift card. Every comment left on a blog post in June will equal one entry, so comment often!