BOOK BLAST: Trusting Cade by Luna David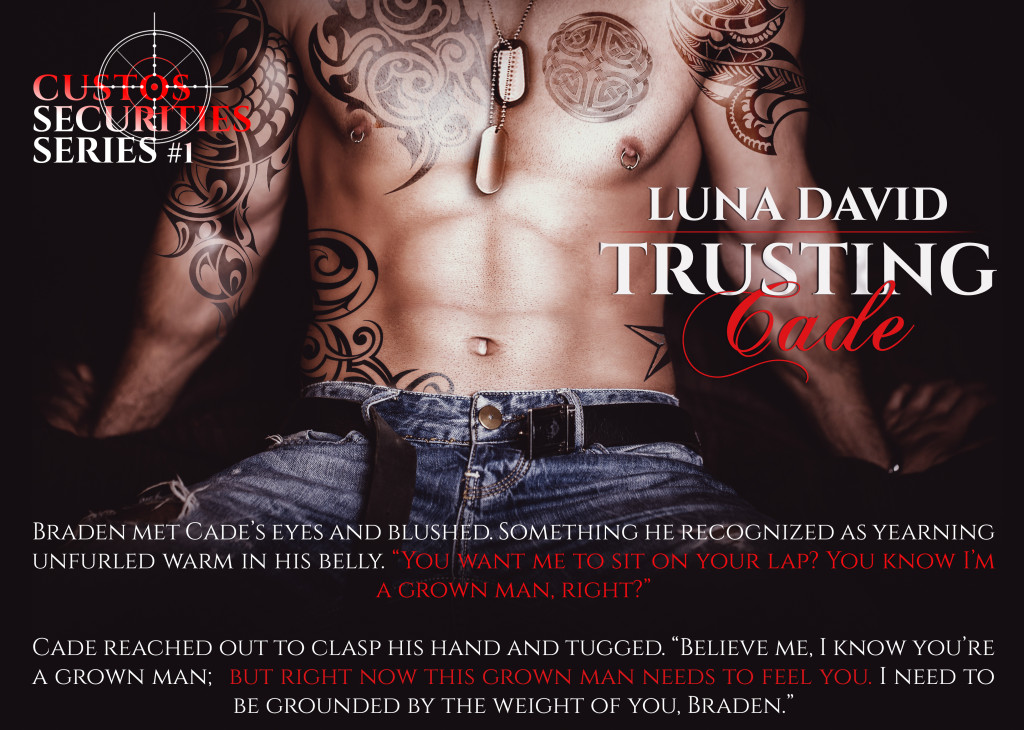 Author: Luna David
Title: Trusting Cade
Series: Custos Securities Series
Genre: MM Romance, Gay Romantic Suspense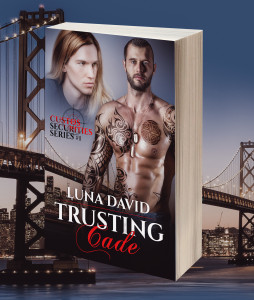 At 38, Zavier "Cade" McCade has it all: a military career he can be proud of, a successful business, and a close knit group of family and friends. A former Army Special Forces Captain, Cade leaves the military to create Custos Securities, a burgeoning protection agency that provides unparalleled security for both civilians and corporations across the U.S.
After a string of disastrous relationships—and a narrow escape from an abusive partner—Braden Cross is finally putting his past to rest. Combining both his passion for baking and his knack for business, Braden owns the Sugar n' Spice Café with his best friend who concocts exotic coffees and teas that pair perfectly with his decadent confections.
When a stalker sets his sights on Braden, the young pastry chef's world is turned upside down. More frightened than he cares to admit, and not knowing where to turn, Braden is relieved when Cade steps in to offer his protection. Caught up in a maelstrom of threats, break-ins, and vandalism, the two draw closer together. Braden eventually realizes that he can trust Cade with his life, but he finds himself wondering… can he trust him with his heart?
Author's Note: For those of you that prefer warnings (trigger or otherwise) for your books, please use the "Look Inside" feature to find the warnings within the first few pages. For those of you that hate warnings–don't "Look Inside" . . . Happy reading!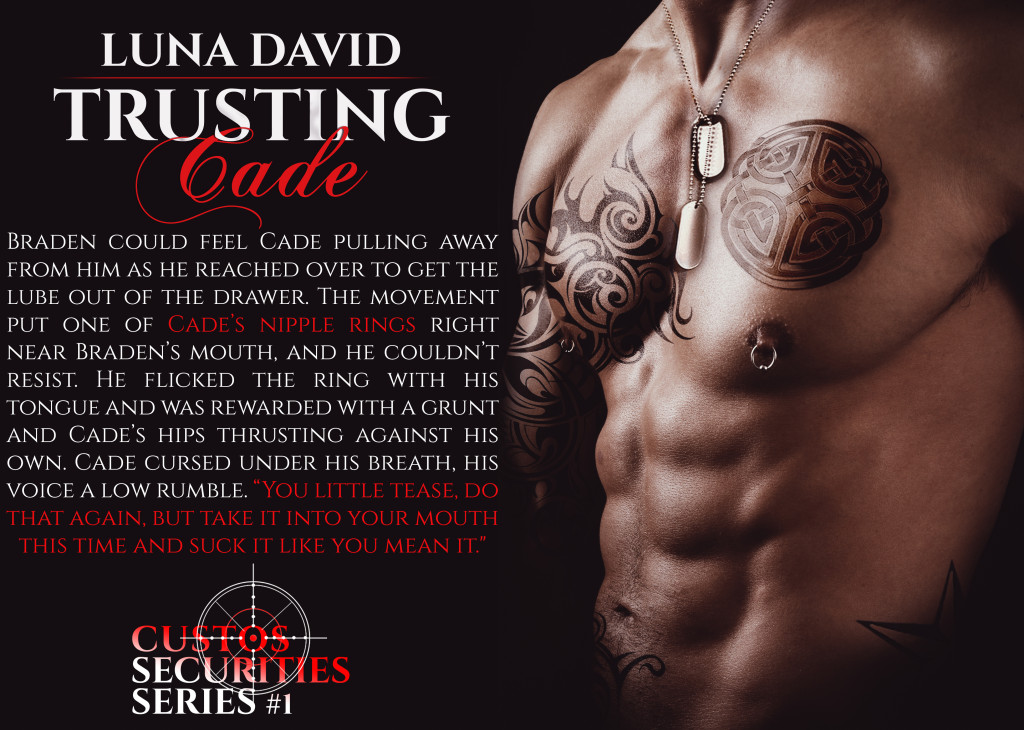 Dawn gives Trusting Cade 4.5 Stars
I don't believe in love at first sight.  When I read about it, I usual roll my eyes, snicker and dismiss it.  However, Luna David wrote Cade and Braden's first meeting so beautifully that it can only be described as a love at first sight moment.  The earth moved.  Time stood still.  The ground beneath them shifted.  All of the clichés seem aptly appropriate.
Cade runs a security company and is basically a giant wall of muscles and fierceness.  Braden is slim with a runner's body, he has health issues and he's a baker.  When Cade becomes Braden's body guard due to threatening letters Braden is receiving from a stalker, both men feel a pull towards the other than is unmistakable.
I love how Ms. David write Cade to be fierce and protective and yet a gentle giant.  I love that his instincts to take care of Braden kicked into high gear and made him seem so wonderfully fragile.  I also loved how Braden, who has so many issues to deal with, was strong and capable.
For a first novel, Luna David hit a homerun in my opinion.  I cannot wait to read the next book in this series and future books to come from Ms. David.  I highly recommend this book!
About Luna David
Luna David is a wife, a mother of twins, and now, an author. When she's not begging her little ones to stop–throwing things, hitting each other, pulling the cat's tail, having meltdowns, screaming, eating stuff off the floor, yelling at each other, playing with their food, running into the street, and destroying the house–you'll most likely find her writing.
She loves anything book, coffee or dark chocolate related and can't think of a better way to pass the time than to combine all three. She can't remember a time when she wasn't addicted to reading or creating her own stories, if only in her head. It wasn't until recently that she began to believe she could actually put those stories to paper.
She is blessed enough to have wonderfully supportive family and friends and she counts herself lucky every day that she gets to not only be a stay at home mom to her kids, but to also pursue her dream of becoming a published author.



---
Want to win a $5 gift card to Amazon, B&N, or ARe?
Then help me show these authors some love by leaving a comment below.
1 winner picked monthly, cannot have won in the past 12 months.