DUELING REVIEW: Savior by Rhys Ford
Author: Rhys Ford
Book: Savior
Series: 415 Ink, Book #2
Page/Word Count: 220, 84K words
Categories: Gay Romance, Contemporary Romance
Release Date: September 18, 2018
Publisher: Dreamspinner Press
Cover Artist: Reece Notley
Buy Links:





Blurb:
A savior lies in the heart of every good man, but sometimes only love can awaken the man inside the savior.
The world's had it out for San Francisco firefighter Mace Crawford from the moment he was born. Rescued from a horrific home life and dragged through an uncaring foster system, he's dedicated his life to saving people, including the men he calls his brothers. As second-in-command of their knitted-together clan, Mace guides his younger siblings, helps out at 415 Ink, the family tattoo shop, and most of all, makes sure the brothers don't discover his darkest secrets.
It's a lonely life with one big problem—he's sworn off love, and Rob Claussen, one of 415 Ink's tattoo artists, has gotten under his skin in the worst way possible.
Mace's world is too tight, too controlled to let Rob into his life, much less his heart, but the brash Filipino inker is there every time Mace turns around. He can't let Rob in without shaking the foundations of the life he's built, but when an evil from his past resurfaces, Mace is forced to choose between protecting his lies and saving the man he's too scared to love.
---

3.5✨s
– Savior is Mace's story, firefighter and second-in-command for Bear and the family of the heart they have built, sheltered and loved. Just like Gus in Rebel, Mace also had a traumatic childhood but there are details he has never shared with anyone, including his family. It's what prevents him from admitting his strong attraction to Rob, the tattoo artist we saw him with at the end of Gus's story. They've both been pretending dislike but they rock each other's world after feeling the earth move…literally, during an earthquake. Mace's past has turned up to haunt him and Rob is the one who finally helps Mace unburden his secrets. His dangerous father has turned up, destroying Mace's peace of mind and threatening his future.
Chosen family and the strong ties they build are often a wonderful feature in the author's books and Savior is no different. Mace's interaction with each of his brothers is emotional and tender, also adding layers to each one as a character. There's a fair amount of action featured in this plot due to the threat from Mace's father. It sets the tone for much of the time Rob and Mace's spent together through the narrative. I felt that was not so well-paced, limiting my ability to see the growth of a romantic bond between Mace and Rob. I would have preferred more page time with them as a couple, especially since it made the epilogue feel too rushed. Another underdeveloped element, in my eyes, was that Mace wasn't given enough closure or redemption for his history with his father.
The setting is phenomenal, as it usually is, using Mace and Rey's running competition to convey a true sense of the cityscape in San Francisco. Every brother is vibrantly and vividly characterized but Ivo contributes very strongly to the story, standing out as the featured MC for the next in the series. I'm looking forward to discovering what he and the cop he meets will get up to. In theory, you might be able to read this as a stand alone since the creation of this family of found brothers is outlined in part. I'm too obsessed to miss any of the dynamics or details about the rest of Bear's charges. I can always depend, no matter what, on a Rhys Ford story standing out strongly in my memory, unlike other books that may fade away after the last page.

5✨s – I can always count on Rhys to give me well thought out characters and beautiful stories, and this one didn't disappoint. Mace was such a tortured and conflicted character he made my heart hurt. The abuse and trauma he incurred when he was a child was gut wrenching and heartbreaking. You could feel his struggle and I couldn't help by silently cheer him on and encourage him in my head. Rob was just the right amount of stubborn and persistent with him. Not letting him push him away and supported him flawlessly. I've always been a sucker for the abused and lost soul and Mace fit that perfectly. The is a book that will steal a little bit of you with its honesty and perseverance. I am left in awe at the strength of the characters. This is definitely a book I will be reading again.
About Rhys Ford: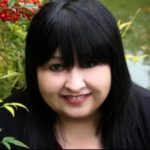 Rhys Ford is an award-winning author with several long-running LGBT+ mystery, thriller, paranormal, and urban fantasy series and was a 2016 LAMBDA finalist with her novel, Murder and Mayhem. She is published by Dreamspinner Press and DSP Publications.
She's also quite skeptical about bios without a dash of something personal and really, who doesn't mention their cats, dog and cars in a bio? She shares the house with Yoshi, a grumpy tuxedo cat and Tam, a diabetic black pygmy panther, as well as a ginger cairn terrorist named Gus. Rhys is also enslaved to the upkeep a 1979 Pontiac Firebird and enjoys murdering make-believe people.
Where to find Rhys Ford: