DUELING REVIEWS: Crocus by Amy Lane
Author: Amy Lane
Book: Crocus
Series: Bonfires, Book #2
Page/Word Count: 244 pages, 82K words
Categories: Gay Romance, Contemporary Romance
Release Date: April 17, 2018
Publisher: Dreamspinner Press
Cover Artist: Reese Dante
Blurb:
Saying "I love you" doesn't guarantee peace or a happy ending.

High School Principal "Larx" Larkin was pretty sure he'd hit the jackpot when Deputy Sherriff Aaron George moved in with him, merging their two families as seamlessly as the chaos around them could possibly allow.

But when Larx's pregnant daughter comes home unexpectedly and two of Larx's students are put in danger, their tentative beginning comes crashing down around their ears.

Larx thought he was okay with the dangers of Aaron's job, and Aaron thought he was okay with Larx's daughter—who is not okay—but when their worst fears are almost realized, it puts their hearts and their lives to the test. Larx and Aaron have never wanted anything as badly as they want a life together. Will they be able to make it work when the world is working hard to keep them apart?


Look Inside


5✨s – What an amazing addition to this series! I adored Larx and Aaron and all of their extended family in the first one, and of course, Larx can't see a person, especially one of his kids in need before he takes on more, so we get to meet a couple of new people to add to the family in this one.
I swear, if there is a dangerous situation to be found, Larx will find it. He comes by it honestly though, because he just wants to do what he can to help everyone he can. Again, especially one of his students at the school where he's a principal.
So, as we start off in this one, Larx and Aaron are dealing with being a newly cohabitated family, along with Larx's daughter who showed up last book, pregnant and out of school. I love the way that these two handle their children, not so much like children, but like little adults with their own opinions and journey's and life, and they aren't there to tell them how to live it or how to go about that journey, but to simply guide them and be there in case there's a fallout. It's admirable and you can really feel how much respect and love each other the children have for both men. Openness and honesty is key there and they're all so good at it, even though there are a lot of bumps in the road….as long as they hold true to their family values, it all works out because they do it together. So, Olivia's pregnancy and the boy she pushed away is only one problem we deal with. There's a lot of Aaron's daughter drama that carried over from last book and I'm sad to say it doesn't get resolved, but it doesn't take anything away from the story, because she's just not an intergrated part of the family ,so you don't feel bad for her at all.
What I really hated was that while Isaiah is getting better, Kellan is learning to be on his own, and I had such high hopes for these two as a couple… I do, so very much hope there is a story for them where they come back together, because, my heart broke for them. Both of them, and it's impossible not to love them both, especially if you read about them in the previous book.
I also felt like this one highlighted Larx more, and we even get Olivia's POV a time or two; but because of the situation and things with Aaron, we really get to see Larx hold the family together, (with the help of Yoshi, of course, and that was entertaining)…. They both get themselves into a bit of a mess, in different ways with another bigoted, homophobic, overly religious family who had been abusing a student…. So, it gets a bit intense and I found myself wishing bad things on fictional people LOL, but believe me, it was all warranted….
And at the end of the day, no matter what this entire, gigantic, wonderful, loving family went through….they went through it together….I think they have to be one of my favorite families yet, and that's really saying something, because I'm a m/m genre junkie and an even bigger sucker for a hot dad. Throw in an extra hot dad? I can't get enough!
I undoubtedly cannot wait for the next one, and this one was the easiest 5 stars from me.
Fantastic read!

4.5✨s – Bonfires was a favorite for me last year and I was excited to see follow up for Larx and Aaron, since their initial romance was surrounded by chaos and had barely gotten underway. Unfortunately chaos is a way of life for these poor guys due to their various children and careers. That's what I like the most about these characters though, mature and living life even when it comes at them full steam, in the best way they can. I enjoy all the fun and silly banter between them, their friends and all the individual quirks of the well-rounded characters. The kids do get a little too precocious at times, Aaron and Larx always seem to know just the right things to say (eventually) and even their anger is eloquent. But the entire cast in the book are the way we all wish people around us could be.
Olivia gets a couple of chapters with her POV, as the story is bookended with her struggles and punctuated by Elton, the hipster baby-daddy. There are students in danger, Aaron and Larx in danger at different times and the action is almost non-stop. The couple does manage to sneak in some quality nookie and their own quiet time. There are many doubts and fears from each man; Aaron's job is dangerous and Larx can't turn away from a child in need, including his own kids, no matter what age. I really like how I still felt there was realism in a tale that has somewhat over-the-top drama and angst in spades. It's everything I expect and want from an Amy Lane novel, plus the chance to revisit a favorite couple and their family. Very much recommended.
About Amy Lane: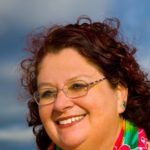 Amy Lane has two kids in college, two gradeschoolers in soccer, two cats, and two Chi-who-whats at large. She lives in a crumbling crapmansion with most of the children and a bemused spouse. She also has too damned much yarn, a penchant for action adventure movies, and a need to know that somewhere in all the pain is a story of Wuv, Twu Wuv, which she continues to believe in to this day! She writes fantasy, urban fantasy, and m/m romance–and if you accidentally make eye contact, she'll bore you to tears with why those three genres go together. She'll also tell you that sacrifices, large and small, are worth the urge to write.
Where to find Amy Lane: