DUELING REVIEWS: Fishy Riot by Lindsey Black

Author: Lindsey Black
Book: Fishy Riot
House Line: Perchance to Dream
Page/Word Count: 236 pages, 85K words
Categories: Contemporary Romance, Gay Romance
Release Date: April 24, 2017
Publisher: Dreamspinner Press
Cover: AngstyG
Buy Links:





Blurb: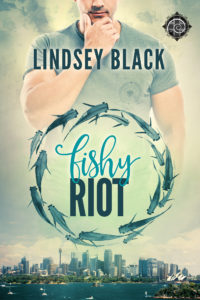 Most people think riot squad officer Taylor Jameson is an asshole. Little do they know his apparent indifference stems from having a meddlesome family always butting into his business. And little does Taylor know he's about to stumble into a situation that'll make indifference impossible.
When everything goes horribly wrong at a political rally on a harbour ferry, Taylor encounters Sietta Salisbury. The son of a wealthy politician, Sietta is a revered—but presumed dead—musician, and an enigma who is so strange, Taylor is compelled to look into his background. What he discovers draws him into a bizarre mess of prisoners, politics, and attempted murder that makes him realise what he's been missing.
Falling in love isn't hard. Trying to convince someone else you're worth loving despite your crazy family and the people trying to kill you? That's a whole other can of worms.

4.5✨s – I loved this book. The story takes place in Australia.
Identical twins, Taylor and Clay Jameson, are riot squad officers. They live together, run together, go out on riot squads together, and that is how they both want it. Clay has a boyfriend, Joel, who he spends nights with, but he has to be at his apartment with Taylor at least part of the time or they miss each other.
Clay is the nice twin. Taylor is the asshole. Everyone knows this and both men are okay with this. The riot squad is sent to a political rally on a ferry boat to babysit a bunch of rich kids and make sure nothing gets out of hand. While Taylor is exploring the ferry, he runs into Sietta Salisbury and Taylor's world shifts. There is something about the beautiful Sietta that enchants Taylor. Sietta has been presumed dead as he hasn't been seen in public in quite some time. When things go haywire on the ferry and kids start jumping overboard, Sietta's little brother, Micah, slips Taylor a USB drive and asks him to look at.
Taylor forgets about the USB drive, but when he views it he is horrified at what he's seeing. Sietta has been held prisoner in the wine cellar of his home by his parents. He's been beaten nearly to death, starved, and literally chained to the cellar until he's rescued by Taylor and the riot squad. The USB drive holds all of the information Sietta has compiled to put his crooked family in prison for many years. The years of abuse Sietta has suffered is because he's gay.
The content of the book is chilling, but the author writes so much humor in the book that it didn't set off any triggers for me. I absolutely love the dynamics between Clay and Taylor. I love their crazy family. There's just no better word to describe them except crazy. Taylor's niece Emma is one of the best characters in the book. I love her.
This book had me wanting to cry for Sietta one minute and then laughing hysterically the next. It's a fantastic balance of the severity of what has happened to Sietta and the humor needed for him to survive it. I highly recommend this book.


3.5✨s – I want to start by saying that this book is hilarious. Taylor's family is some of the craziest I've ever read and that went a long way in distracting me from things that—after reflecting on it to write the review—weren't so funny at all.
For starters: the blurb states that Taylor Jameson is an asshole. Literally, everybody in the book with the exception of Sietta, thinks it and says it, even his pre-school age niece (who is both hysterical and often hard to reconcile as a child). It was repetitive, which made it old fast, and it wasn't true. Maybe he wasn't personable, but he wasn't an asshole.
Secondly, and most importantly: Sietta is a prisoner in his own home, suffering severe abuse at the hands of his father because he's gay and traipsed out in public just for appearances. Having resigned himself to his fate, he bides his time and starts journaling everything that's happening to him. When it's apparent that his younger brother is also gay, he knows he must find a way to get all the evidence in the hands of someone who will save them.
On a babysitting job aboard a luxury yacht for a charity event, Taylor runs across Sietta and Micah, sons of the politician running the event. There's something about Sietta that draws Taylor immediately and things snowball from there. At that same event, Micah gives Taylor the flash drive full of evidence, which he never bothers to look at until after he gets a risky visit from Micah and a surprising phone call from Sietta.
Those things set a certain stage, only instead of a angst-filled drama, we got a comedy that left me wondering:
1) Why no one questioned how Sietta got video evidence of his abuse or any of the other evidence the authorities used to bring down several politicians.
2) Why no one suggested that Sietta or his brother needed counseling. This is a man who has been chained in a wine cellar and physically beaten for years. Years.
3) Where did the drug dealer/sister angle come from? The whole thing felt contrived, which would have been okay if the book wasn't already chock full of plot points that needed attention.
In the end, this book and the Jameson family remain memorable because of the laughter. It makes it a fast, fun read, that glosses over all angst. On the one hand, that's not so bad. On the other, I suppose I'm having trouble reconciling my own amusement over a book about an abuse survivor.
About Lindsey Black: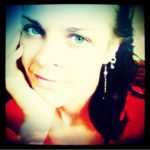 Lindsey Black lives in Darwin, Australia, where the weather report permanently reads 'humidity at 100%, only going to get worse' for ten months of the year and 'monsoon at 4:00 p.m. for exactly fifteen minutes' for the remaining two. Between teaching and studying full-time, she escapes this oppressive environment to bushwalk for weeks on end wherever the mobile phone reception has zero bars for as long as possible and the weather report reads something along the lines of 'blizzard likely.' She enjoys martial arts, music, and mayhem, which explains the untidy state of her home where she attempts to write while splitting her minimal amounts of spare time between her incredulous husband, lazy Chinchilla cat, and crazed Siberian husky. If you expect her to sit and have a chat, it's best to have a matcha green tea latte with almond milk on hand and your hiking boots within reach. Oh, and be sure to bring a guitar for impromptu jam sessions.
Where to find Lindsey Black: