DUELING REVIEWS: Hear Me Out by Lila Rose

Author: Lila Rose
Book: Hear Me Out
Series: Hawks MC: Carolina Springs Charter, Book #5
Page/Word Count:
Categories: Gay Romance, Contemporary Romance
Release Date: August 8, 2017
Buy Links: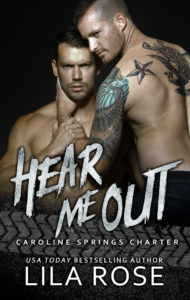 Blurb:
Fear keeps the truth away from his brothers. Fear and pain keeps him away from the man he loves.
Hawks MC member Maddox "Beast" Lawson had a difficult time growing up. Tired of being ridiculed because of his effed-up brain-to-mouth connection, it was easier to say nothing at all. Living in silence worked out just fine until that b*tch called Fate took his hearing, not only that, but she also threw him into the arms of the man who refuses to acknowledge that one hot night they shared.
Jay Conger, Knife to his brothers, loves pussy. Licking, fingering, screwing, he'll take it any way it's offered. After one surprising night with Beast, to say he's freaked out is an understatement. Hell, even bananas have taken on a new meaning, and thinking about a certain someone's body is too much. Unable to think straight, Knife is at an impasse, not only with his traitorous desire but with his heart.
Both lives are going to change. Only will it be for the better?

4✨s – I will admit, I wanted this book based solely on the cover lol yep, I'm one of those people. I'll also need to say, I hadn't read any of the other books in this series; and while I was curious to know the who's-who of everyone…. It didn't take me out of the story at all.
First, we have Beast, a.k.a Maddox, who as I understand in a previous book had a motorcycle accident that a couple months later, has him losing his hearing. He also wasn't much of a talker, having a speech impediment as I understand, but freaked out and panicking, he goes to get himself checked out, along with a brother's wife, Mena. Mena, was so incredibly sweet and supportive, I'm really thinking about going back and checking out the rest of the crews stories.
After finding out he's deaf with no chance of his hearing coming back, he takes it about as hard as anyone would I'd think. Drinking himself into a stupor and doing it alone since the guy he's been in love with for ages and fellow brother has been avoiding him. A hot night together had ruined things between them because the other guy is straight. That other guy is, Knife, a.k.a. Jay.
Now, Jay, I can understand his hesitation and needing to get himself together a bit after such an experience. Being confused and all that, but, I kind of wanted to punch him after a little bit too, because I knew how badly he was hurting Beast, especially because Beast really needed him.
We see the crew rally and stand behind Beast, letting him know that whatever he's going through, he doesn't have to do it alone. I loved that, I love the brotherhood of these MC's, everyone had everyone's back in this and again…. I just love it. Beast gets his head out and starts facing reality, taking ASL classes and learning to live with his impairment. He even tries dating, which makes Knife reeeeally mad, but still not ready to own up to the feelings he's having for Beast. He's still confused and working things at.
It isn't until another bombshell is dropped on Knife, in the form of a little girl….his little girl that things start getting better between the two guys, since Knife needs to get out of the compound and have a place to live with his daughter, he shacks up with Beast. It's rough for a while, both of them learning how to live with their feelings while not being on the same page. But, eventually, it all clicks into place for Knife.
I loved that, I loved it because not only was it hot, the two of them together, but, Beast deserved it. He loved Knife, and had for so long, I was so happy to see things work out for him. There were some ups and downs; club business and family issues and dating and jealousy…. But it all got worked out in the end, because at the end of the day, they'd faced it together.
And, if you don't read this book for anything else… there is the most hilarious waxing scene with Knife and Mena, that had me cracking up. So random, but so, so funny.
For someone who's never read this author or any other book in this series, I'll say I really enjoyed this one. 4 stars from me.

4✨s – I haven't read many biker stories in MM, haven't read any other books in this series or by this author and I was pleasantly surprised. It's set in Australia, I guess, although other than wording differences, it could as easily be the US. Whether the author intended it or not, the story read as tongue-in-cheek to me. Mostly because of the juxtaposition of themes and scenes in the narrative. Just the names, Jay and Maddox, known as Knife and Beast in the MC, sound like prep-school boys gone bad.
A night's indiscretion with Maddox has Jay running from their long friendship, in complete denial, reciting euphemisms for female genitalia like a mantra. A month later, Maddox's crisis when he loses his hearing, after also staying mute most of his life due to speech difficulties, brings a more thoughtful Jay back to support his old friend. Jay then receives an unexpected bundle of joy and Maddox steps up to assist Jay.
Don't look for a thought-provoking plot but again, it's the amusing contradiction of events that carried me along. There are violent acts and cold-blooded killing (although very little), along with improper diapering, surreptitious banana fellatio, a waxing scene without a happy ending and unanticipated mid-air baby pee. There's no homophobic backlash from the MC, and has an ending worthy of the sappiest of romances.
This was meshed together rather skillfully, I thought. It is a GFY trope but the word bi was used eventually and the drug and gun running MC stereotypes were avoided. An ongoing story arc is indicated but didn't impact this storyline. It's cleanly written and edited and carried me right along. There's not much sex and it's a long, slow burn that doesn't catch fire till around 70%. I'd recommend it, if you can handle a little bloodletting and occasional misogyny. Oh, and a beautiful German shepherd named Kevin!
Teasers: (click to enlarge)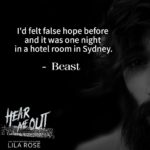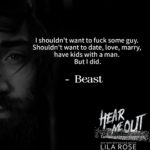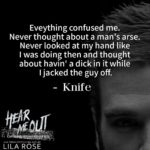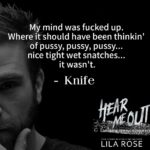 About Lila Rose: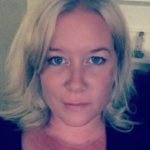 Lila was born in Brisbane Australia, her step-dad was in the Army which caused them to move around a lot. They finally settled in country Victoria, Australia. Being the youngest of four children she admits she was spoilt a bit. Even drove her mum crazy when she refused to eat meat at a young age.
Now, Lila lives with her husband and two children.
She started writing in 2013 and self-published the first of the Hawks MC: Ballarat Charter series- Holding Out. Since then, she has published eleven other titles, which range from erotica, humorous romance, YA and paranormal.
Where to find Lila Rose: