DUELING REVIEWS: Heart Unheard by Andrew Grey

Author: Andrew Grey
Book: Heart Unheard, Book #2
Series: Hearts Entwined
Page/Word Count: 200
Categories: Gay Romance, Contemporary Romance, Characters with Disabilities
Release Date: November 17, 2017
Publisher: Dreamspinner Press
Cover Artist: L.C. Chase
---
Blurb:
The attraction between Brent Berkheimer and Scott Spearman peels the wallpaper, but Brent is Scott's boss, and they're both too professional to go beyond flirting. Their priorities realign after Scott is badly injured in an accident that costs him his hearing, and Brent realizes what is truly important… he wants Scott.

Scott pushes Brent away at first, fearing a new romance will just add to his problems, but perhaps he will find unexpected strength and solace in Brent's support as he struggles to communicate with the world in a new way.

Just as they decide the chance of a happy future together is worth the risk, Scott and Brent discover darker challenges in their way—including evidence that the "accident" Scott suffered may not have been so accidental.

Buy Links:


Look Inside

---

4✨s – Heart Unheard is the second novel in the Hearts Entwined Series and finds us back at the auto repair shop owned by Trevor who we get to know in the first book.
Brent Berkheimer is the manager of Trevor auto repair shop and has had a crush on Scott Spearman for a couple of years. Scott is a mechanic at the shop and has had a similar crush on Brent, but neither man acted on their feelings. Brent told himself that he couldn't make a move on Scott because Scott was too young and because he's Scott's boss.
Everything changes when Scott is in a terrible car accident and suffers a head injury that causes him to lose his hearing. Brent runs to be by Scott's side and is there for him through his hospital stay and recovery. Both men learn to navigate through Scott's new life as a person who cannot hear.
I liked this book. I love the characters from the first book and the new ones that come in. The men in the garage are all great. Trevor and James seem very settled and happy in their life together and that's wonderful to read. But all through the book as I'm rooting for Brent and Scott, I cannot help but think "why now?" Why did it take an accident for either man to make a move? Brent seemed to be the one who really held back while they worked together before the accident and I get that sometimes it takes something big to shake us up, but he was still Scott's boss after the accident. Scott was still younger. All of the reasons Brent had for keeping his distance were still there. I like the HEA and I'm happy these two found a way to work through Scott's disability, I just feel like that piece of the story held me back from really loving the book.

4✨s – Ok so, this is part of the Hearts Entwined series…remember Trevor, from Heart Unseen, and James? I swooned with them!
This one though, it's about Brent, from Trevor's garage and a much younger Scott… a much younger Scott that he's had feelings for, for the last two years. How terrible that would be, to want somebody for so long and have to be around them and see them but not have them how you want to.
Because of the age gap and being Scott's boss, he keeps his distance and doesn't act on his feelings, which he regrets when Scott is involved in a hit and run accident that left him not only severely injured but also, deaf. Their back and forth was a little exhausting, because now all the sudden Brent makes it known that he cares about Scott but Scott is trying to learn to be okay with living with a disability. I can't imagine how hard that would be to lose a major sensory like that. Scott is young and it shows a lot in some of the things he says or the way he acts… Brent didn't seem to mind though. What I loved was, once they got their heads out and started to give their attraction for each other a real try was all the support they got. Scott's mom and dad; Brent's mom and then all the guys from work. It was nice to see so many people standing behind them, pushing for them to be happy. I also really hope Dean is next story. I feel for him because who hasn't' been in a situation like his. I want him to be happy, he deserves it. He was such a good friend to Brent and then once he met Scott, him too.
What I didn't like was the old friends, Spencer and Marshall and whoever the other guy was. I'm not sure what happened with them, but I would hope that they'd both be in a lot of trouble. Karma, man…. I needed that karmic justice that showed Marshall going to prison forever and Spencer getting a taste of his own medicine. The way they talked to and about Scott was unforgivable….. and what Marshall done was more unforgivable…. Then we have that bigoted cop… what happened with all that? I needed retribution, man! Vengeance! Revenge! Anything! I'm a terrible person like that. I needed the closure I felt like and Scott and Brent deserved it. Scott especially!
Anyway, other than that, I loved the story… it was exhausting and somewhat angsty, but it was all worth it in the end.

About Andrew Grey: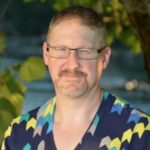 Andrew Grey is the author of nearly 100 works of Contemporary Gay Romantic fiction. After 27 years in corporate America, he has now settled down in Central Pennsylvania with his husband Dominic and his laptop. An interesting ménage. Andrew grew up in western Michigan with a father who loved to tell stories and a mother who loved to read them. Since then he has lived throughout the country and traveled throughout the world. He has a master's degree from the University of Wisconsin-Milwaukee and now writes full time. Andrew's hobbies include collecting antiques, gardening, and leaving his dirty dishes anywhere but in the sink (particularly when writing) He considers himself blessed with an accepting family, fantastic friends, and the world's most supportive and loving partner. Andrew currently lives in beautiful, historic Carlisle, Pennsylvania.
Where to find Andrew Grey: