DUELING REVIEWS: Lost In Indigo by V.L. Locey
Author: V.L. Locey
Book: Lost In Indigo
Series: Colors of Love, Book #1
Page/Word Count: 70K Words
Categories: Gay Romance, Contemporary Romance, Sports
Release Date: July 11, 2018
International: Amazon Universal
Cover Artist: Designs by Sloan
Buy Links:






Blurb:
Mathieu Beresford was so close to seeing his dream come true.
The thirty-eight-year-old captain of the Buffalo Surge had led his team to the final round of the playoffs with his aggressive defensive play and leadership. During the first game of the championship series, he was taken down, and his leg snapped upon impact with the boards. From his hospital bed, Mathieu watched his team go on to win it all.
Adrift in anger, resentment, and the new direction of his life, he returns to his mansion along the St. Lawrence River. Alone and sulking, Mathieu is not prepared for Indigo Neu to enter his life. The genderflux twenty-year-old botany major signs on to play nursemaid, confidant, and groundskeeper over the summer and slowly leads Mathieu out of his confusion––one tender smile and touch at a time.
The deeper Mathieu falls, the more he wonders if being lost might not be so bad after all.
---

4.5✨s
– Hockey is Mathieu's life. A devastating leg injury leaves him … lost. Watching Mathieu discover and reinvent himself is painful in a way that made my heart hurt and sing at the same time. He's got a few more obstacles than just his career and injury. In drifts Indigo. The most beautiful creature. This story did a very good job in explaining genderflux – I struggle with labels, to me you are who you are and I don't care about the rest. Indigo is a vibrant, confident, amazing young man who manages to give Mathieu direction and purpose. Not to mention he is phenomenal with flowers and plants. The story of the journey these two take is wonderful – couldn't put it down. Fortunately, this is the first book in a new series!!
Natalie:


4✨s – This is a fine start to a series that looks to be adding more diverse character choices for this author. The story setting is the 1,000 islands on the St. Lawrence River between Canada and the US and was gorgeously described. At a rather immature 38, Mathieu heads to his own island home, depressed about a bone density problem found after a severe injury on the ice. There he meets beautiful, genderflux Indigo, his caretaker's college age son and he's captivated but initially wary of their age difference. Mat wallows a lot in his own drama, the cliché sports jock who never looked past playing the game, feeling sorry for himself and trying to deny his career is probably over. There's a lot of irony to Mat the LGBTQ supporter, calling out people for homophobic language and remarks but staying deep in the closet and using his neighbor Fran as a beard.
The romance with Indigo starts slow and sweet with lots of bonding over "The Breakfast Club" movie, which is awfully cute. Indigo is such an appealing character, finding his way past Mat's defenses and understanding of his fears of coming out. Passion evolves slowly and the sex is scorching hot. Sadly, Mat's fears of losing his ability to play hockey and revealing his sexuality coalesce, causing him to deny his connection with Indigo in a very cruel fashion. Mat tells the story in first person so his thoughts about what he knows he ought to do, but won't, made me want to kick him where it hurts. I was so happy with Indigo's response though. He doesn't accept Mat's craven behavior or half-baked apologies and promises. He tells Mat off in no uncertain terms and heads back to college, leaving Mat floundering for solutions. Fixing his problems isn't made simple or easy for Mat, although I'd have preferred he jumped through even more hoops than he did. Mat's neighbor Fran, Indigo's father and even the homophobic nurse are such good secondary characters, too.
The closeted sports figure is an often-used and unfortunately all too real trope but the author wrote an original storyline to make it fresh. A few turns of phrase in the narrative did sound flowery or cheesy and I wish the enticing age-gap had given me more feels for Mat and Indigo as a couple. Maybe that's because Mat irked me so much! It's a great romance with satisfactory redemption, a pleasing amount of self-awareness from Mat plus just enough hockey action for added interest. The epilogue is a wonderful bonus with a solid HEA. Recommended!
About V.L. Locey: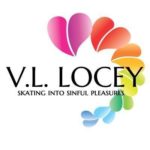 V.L. Locey loves worn jeans, yoga, belly laughs, walking, reading and writing lusty tales, Greek mythology, the New York Rangers, comic books, and coffee. (Not necessarily in that order.) She shares her life with her husband, her daughter, one dog, two cats, a flock of assorted domestic fowl, and two Jersey steers. When not writing spicy romances, she enjoys spending her day with her menagerie in the rolling hills of Pennsylvania with a cup of fresh java in hand. She can also be found online on Facebook, Twitter, Pinterest, and GoodReads.
Where to find V.L. Locey:









Contest:
This contest is hosted by the author and/or promotional company, and Jessie G Books does not have access to any data collected as a result.