DUELING REVIEWS: Neutral Zone by R.J. Scott & V.L. Locey
Author: R.J. Scott & V.L. Locey
Book: Neutral Zone: A Christmas Railers Novella
Series: Harrisburg Railers #6.5
Page/Word Count: 98 pages
Categories: Gay Romance, Contemporary Romance
Release Date: November 25, 2018
Publisher: Love Lane Books Ltd.
Cover Artist: Meredith Russell
Buy Links:





Blurb:
Tennant Rowe has it all, a boyfriend he adores, a loving family, and a career on the rise. He's sure of his place in the world, and the future can only get brighter. Then one night, in a flash of skates and sticks, life changes forever. Getting back on the ice is Ten's priority, and experts tell him that it's just a matter of time.
Jared watches his lover fall in more ways than one, and when tragedy strikes, even the strongest of relationships are tested. Ten is strong, but Jared has to be stronger to help the man who holds his heart. Only, he has to admit that maybe it isn't just him who can make Ten whole again.
Jared and Ten's love is forever, but the rocky path to the romantic Christmas Jared had planned may be hard to travel.
---
4✨s
– This is a sweet and a bit of an emotional short read. Tennant and Jared are apart for quite a bit of the book and you can feel the struggle and the love in those times. My heart broke for them both because they have both been through so much already and to see them go through more really had me feeling for them.
This novella is set at Christmas time, but I didn't feel like it was a Christmas-y book in the "normal" sense. Which I loved, since Christmas books aren't really my thing. This novella is more of an "in the life" of book, especially with what they're dealing with. It's always fun seeing characters and where they are, especially after what happened to Tennant.
These two characters have to find each other again after dealing with the hard card they've been dealt. They need to trust in their relationship to find the strength to keep going and it's admirable to see them working on that even when things aren't going the way they planned.
This novella is short, sweet, full of love and family. The authors let us into Jared and Tennant's world after a tragedy rocks them, and they make us fall in love with them all over again because they don't give up on each other.
I knew what Jared was planning and I love how it differed how he thought it would. It was perfect to them. Jared and Tennant proved that the trust one has in love and the strength they find in those closest to them is so important, especially in times of uncertainty, and I loved it.


4.5✨s – This is the book we've been waiting for, following up on Ten and his recovery after being injured. Book 6, Goal Line, needs to be read before this. The first book of the new spinoff series, Owatonna U, about Jared's son Ryker, fills in interim details after the accident but isn't necessary to read. With speech and motor skill problems, Ten chooses to travel to the best rehab center he can find because he's determined to play again, refusing to accept never returning to the game. It's far away from Jared and the team and both men struggle with loneliness and distance. As one would expect, recovery from such trauma takes time and it hit me right in the feels when Ten hits low points when it seems he'll never speak properly much less get back on the ice. Jared's coaching and temper is affected by the worries he hides, not wanting to show Ten anything but strength and support.
I loved how this unfolded with very realistic details about fears both Jared and Ten have but never wallowing in drama. Ten and Jared don't fall apart; their determination to be together is stronger than ever, no matter what. The authors are quite adept at adding sweetness to balance the less positive elements in the narrative but never gets too sappy or cheesy around the holiday theme. There are some pleasant surprises in store. Stan, my favorite character, likely everyone's favorite character, makes his presence known at points throughout the story for some extra humor and lightness. He's got a surprise coming for us in the next story. The epilogue is absolutely wonderful and the future appears quite hopeful. This is such an excellent hockey series and I will follow as long as it continues, which I hope will last a very long time!
About RJ Scott: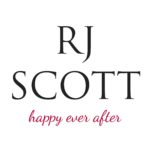 RJ Scott is the bestselling romance author of over 100 romance books. She writes emotional stories of complicated characters, cowboys, millionaire, princes, and the men and women who get mixed up in their lives. RJ is known for writing books that always end with a happy ever after. She lives just outside London and spends every waking minute she isn't with family either reading or writing.
The last time she had a week's break from writing she didn't like it one little bit, and she has yet to meet a bottle of wine she couldn't defeat.
Where to find RJ Scott:




About V.L. Locey: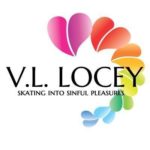 V.L. Locey loves worn jeans, yoga, belly laughs, walking, reading and writing lusty tales, Greek mythology, the New York Rangers, comic books, and coffee. (Not necessarily in that order.) She shares her life with her husband, her daughter, one dog, two cats, a flock of assorted domestic fowl, and two Jersey steers. When not writing spicy romances, she enjoys spending her day with her menagerie in the rolling hills of Pennsylvania with a cup of fresh java in hand. She can also be found online on Facebook, Twitter, Pinterest, and GoodReads.
Where to find V.L. Locey:








Contest:
This contest is hosted by the author and/or promotional company, and Jessie G Books does not have access to any data collected as a result.